For the majority of us, our PCs are not only used for storing important files, but also entire media collections (music, movies, TV shows, and stuff like that). And when it comes to enjoying and managing that media on different devices, nothing does the job better than home theater/media player software, such as the hugely popular Kodi.
Free and open-source, Kodi is crammed with a whole bunch of amazing features, such as an extensively customizable interface, solid community support, and numerous add-ons. But as good as it is, what if you're looking for something different?
No problem, as there's no lack of solid Kodi alternatives out in the wild. Can't wait to get into the nitty-gritties? Let's check them out.
Best Kodi alternatives
1. Plex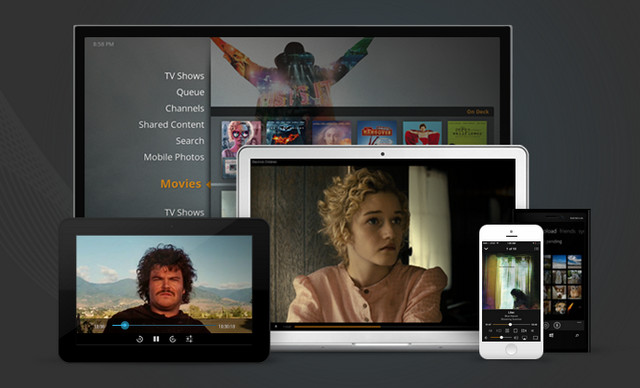 Undoubtedly one of the best Kodi alternatives that you can get, Plex is loaded with a truckload of features. In fact, it is perfect for streaming locally stored digital media to multiple devices (e.g. smartphones, set-top boxes) over the network, thanks to its client-server architecture. However, Plex also has a home theater software application, which still lets you view/manage your media library through an immersive user interface. And just like the add-ons that make Kodi so great, Plex has quite a collection of channels, that let you watch streaming content based on a variety of topics, such as news and technology.
What's more, since Plex's media server module takes care of transcoding media for streaming to different devices, it can even run on low powered PCs, and optimize bandwidth usage. Other notable features include availability on a diverse range of platforms, and a premium level subscription, which gives you even more features, such as movie trailers, and wireless syncing of photos to the media server.
Wanna know how Kodi and Plex compare with each other, in detail? Read here.
Platform Availability: Windows, Mac OS X, Linux (Desktop); iOS, Android, Windows Phone (Mobile), Android TV, Roku, Chromecast, Xbox, PlayStation (Others)
Price: Free, Paid subscription starts at $4.99/month, for additional features.
2. Emby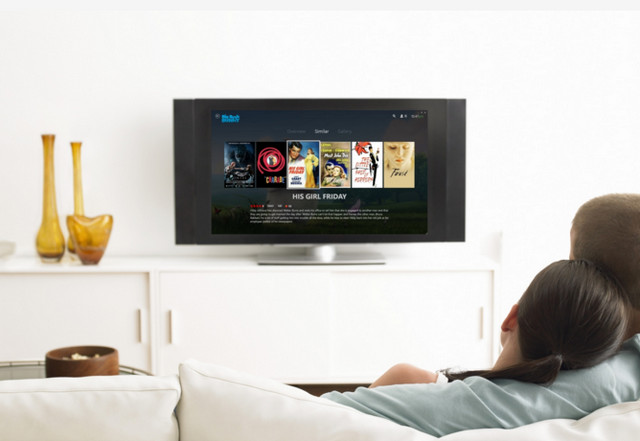 If you like the media streaming approach of Plex, but not the fact that it comprises proprietary software components, then the open-source Emby might just be the Kodi alternative for you. It's also built on the client-server approach, and makes streaming locally stored media to network connected devices super easy. Emby also includes a bit of live TV functionality, and lets you manage DVR recordings as well. But more importantly, Emby comes with features like parental controls, and web-based tools to edit metadata, search subtitles, and more. Emby can also transcode media files according to different target streaming devices, and supports streaming to DLNA compatible devices as well
Emby even has a Kodi add-on that gives Kodi library management features of Emby. Also, the premium subscription unlocks features such as cinema mode, and backup/restore of server configuration. That being said, Emby is still new, and not as polished as Plex.
Platform Availability: Windows, Mac OS X, Linux (Desktop); iOS, Android, Windows Phone (Mobile), Android TV, Roku, Chromecast, Xbox, Samsung Smart TV (Others)
Price: Free, Paid subscription starts at $4.99/month, for exclusive features.
3. MediaPortal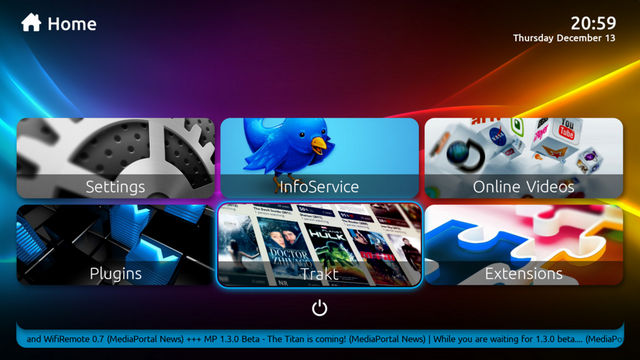 It may not be as popular as feature loaded as some of the other entries on this list, but MediaPortal still has a healthy amount of features. In fact, its highlight is the Digital Video Recording (DVR) functionality, that lets you easily watch, schedule, and record live TV. Not only that, MediaPortal includes robust support for a wide range of TV tuner cards. And of course, you can play videos, music, and DVD/Blu-Ray discs as well. Then there is the ability to tune in to Internet radio stations. It's also pretty extensible, and has a selection of quite a few plug-ins, which can be used to do everything from viewing latest sports scores to watching YouTube videos.
It is open-source, and was initially forked from XBMC. That being said, MediaPortal is only available for Windows platform. Also, even though there are remote control apps available for iOS, Android etc., they are either defunct.
Platform Availability: Windows
Price: Free
4. OSMC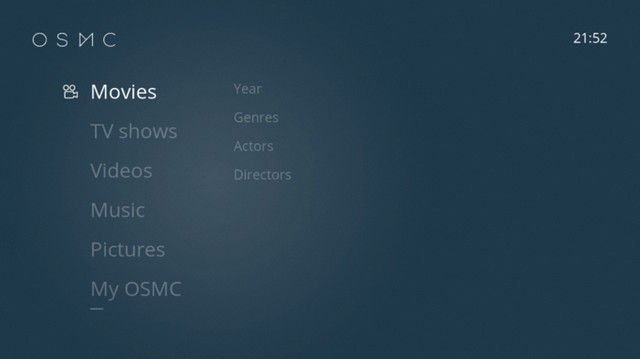 Despite being fairly new, OSMC (short for Open Source Media Center) has quite a bunch of features, and offers a convenient way of playing back media stored on local network attached storage, as well as the Internet. Interestingly, it's also based on Kodi. More specifically, it can be considered as a specialized Linux distribution that has Kodi as the main application. What this means is that it can also utilize all the add-ons that work with Kodi.
OSMC supports a wide variety of TV tuners and Wi-Fi adapters, and also has a desktop environment and web-based version UI planned for future development. However, (for now) it can be installed only on limited digital media players, including Vero, its own flagship player.
Platform Availability: Apple TV (1st Generation), Raspberry Pi, Vero
Price: Free
5. Universal Media Server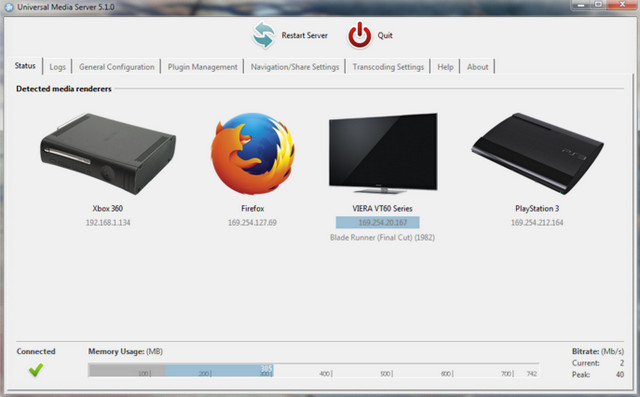 If no-fuss media streaming capability to DLNA compatible devices is all you want, Universal Media Server is going to serve you just fine. It has an extremely simple UI, and can be set up fairly easily. Universal Media Server supports streaming to a huge variety of devices, and can transcode most of audio, video, and image formats without any configuration. Among its many features are bit-rate adjustment according to network speed, and a web interface to work even with devices that don't have DLNA support.
Universal Media Server is Java based, and also includes quite a number of plug-ins for doing everything from getting movie info from IMDB to integrating with MediaMonkey music database.
Platform Availability: Windows, Mac OS X, Linux
Price: Free
SEE ALSO: Best Windows Media Center Alternatives
Try something else than Kodi
Kodi is one of the best (if not the best) home theater/media player software applications available, having a solid set of features like community support, multiple add-ons, and compatibility with a wide array of devices and platforms. However, as seen above, there are quite a few alternatives that you can use. Whereas some offer both local playback and network media streaming functionalities, others are focused on specific areas (e.g. Live TV, DLNA streaming). Try them out, and let us know your favorites in the comments below.