Humans have reinvented several methods and principles to increase productivity of their work over and over again. As the way we work is changing so is the way to  manage the work. The latest and greatest productivity method which most companies use today is the multi-platform team collaboration service. One of the most well known tool which provides this service is Trello. We have already talked at length about the working of Trello. In brief, it's a task and project management tool that uses boards, lists, and cards to help users manage everything. But as we have come to expect, no one app can satisfy everyone. So if you need some features that Trello doesn't have, or if you want to try out several similar apps before you decide the one that fits your need, here are the 10 best Trello alternatives for project and task management.
Best Trello Alternatives in 2019
Key Features
While there are many advantages of starting early in the business world, there's an upper hand if you launch your business after everybody else: you can learn from the mistakes and create a better product. That might be the case of MeisterTask. This relatively new kanban-style task and project management app might not be as famous as Trello, yet, but it offers several things that Trello lacks.
There are several professional task management features in MeisterTask that you might miss on Trello. There is time tracking, a way to display tasks across multiple boards, and native integration with other external tools such as Slack, Zendesk, and GitHub. The free plan also allows users to change the background of the workspace, something that you can only do with upgraded Gold version of Trello.
Pricing and Availability
MeisterTask is incredibly intuitive. It works in any standard web browser and offers native mobile apps for iPhone, iPad, and Apple Watch; with the ability to send push notifications from the web app in Android devices, and native wrapper for the web app with notifications & dock icon for Mac and Windows.
The service is free for everybody to use. But if you want more features such as unlimited integrations and workflow automation with Section Actions, there is the option to upgrade to Pro for $9 per user per month.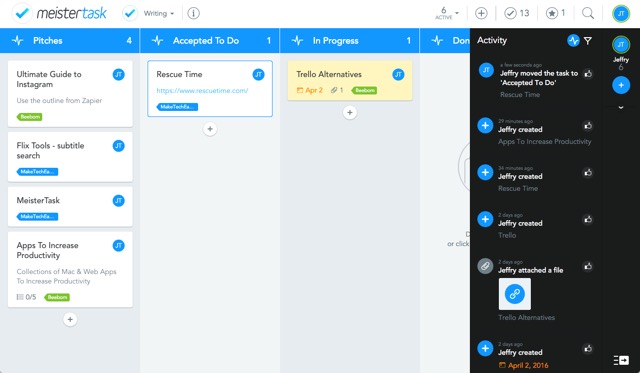 Key Features
Jira is built specifically for software developers. The goal is to provide every member of the team with a tool to guide them through all the development stages of the project. Starting with the planning stage where the team decides on the story, list down potential issues, plan sprints and distribute tasks across the members. Then, continue by tracking the whole progress and prioritize on the most important task, until the project reaches the release time. After that, the team can evaluate everything using the available report generated along the project, and can get ready to move on to the next releases. You can expand Jira features with add-ons and integrations.
Pricing and Availability
The tool is cloud based with no desktop or mobile application available. You can try Jira Software for free up to seven days, after which you will have to pay $10/month for a small team with up to 10 members. For a team above ten members, here's the list of available monthly plans.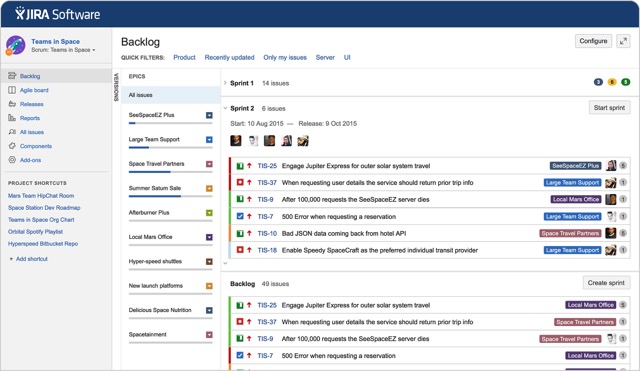 Key Features
Classifying Bitrix24 only into project and task management services would be an understatement. The Bitrix24 suite includes a host of tools merged into one. It's a combination of Social Network for a team within the company's intranet, Task and Project management system, Chat and Video communication system, Document management, cloud storage Drive, Calendar and Mail system, Customer Relationship Management (CRM), Telephony, Human Resources Management System (HRMS), and more.
And since we are using Trello as the comparison, Bitrix24's Task and Project Management system is also a powerful one. It has project and task management features, Gantt Chart, task dependencies, employee workload management, counters and roles, checklists, templates and automation, workgroups, task report and builder, external users, and tasks via email.
Pricing and Availability
With all of the features above, it's a bit surprising that the cloud version of Bitrix24 is available for free for unlimited users. There are several limitations compared to the paid version, but it's more than enough for most regular users. There are the Plus, Standard, and Professional plan for $39, $99, and $199 monthly subscription respectively.
Bitrix24 can be used via the cloud, using mobile apps for iOS and Android, desktop apps for Mac and Windows, and the self-hosted server version.
Key Features
If you are looking for a free Trello alternative which works more or less same like Trello, then this might be the option for you. Wekan is an open-source project management software which looks quite a bit like Trello as in it offers a Kanban experience with boards, lists, and cards. The app can be used a team so you don't lose out on any team functionality. You can still assign tasks to team members and chat with them.
Wekan also offers more powerful cards then Trello as it allows users to add tables and data using markdown, add labels to cards, time tracking widgets, and more. Overall, this is one of the best free Trello alternatives and if that is what you are looking for, you should try it out.
Pricing and Availability
As I said, this is an open-source software so it's completely free to use. The only drawback of this software is that it is not available for mobile devices. That said, it can be used on all three desktop platforms including Mac, Windows, and Linux.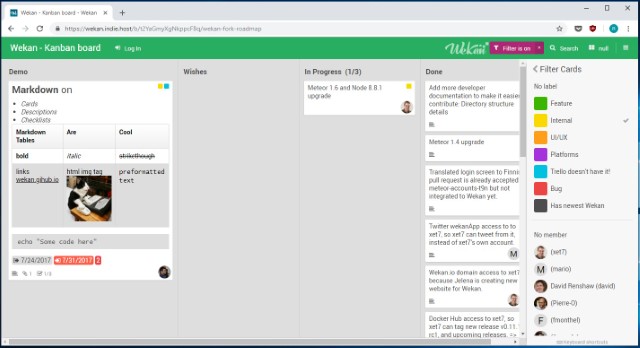 Key Features
Notion is one of the newest project management software to hit the market and it has already gained a huge user base thanks to its versatile and feature rich user interface. Notion aims to bring a one-stop solution to all your project management needs whether it be research, task management, data organization, or anything else that you might need. Depending on your needs, you can use notion as a note-taking app, a knowledge base, a task manager, and a data collection tool or any combination of the above. What's best about Notion is that even though it brings so many tools, it never feels crowded.
I have been using Notion for the past six months and I have been very happy with it. I love the fact that I can adapt Notion to my needs. Its versatile user interface gives me so much more control than Trello and I can use it do all sorts of stuff. I also love that Notion is still in its initial stage so new features are being added on quite a regular basis. In fact, the developers even take user suggestions into account and deliver on a feature if enough users ask for it. Overall, this is a great project management software. If you want a versatile project manager, then this is one of the best Trello alternatives that you can try.
Pricing and Availability
Notion has a limited free plan which should be good enough for a small team. The free plan supports unlimited members but had an upload limit of 5MB. If you want unlimited file upload limit along with some extra features such as priority support and version history, it will cost you $4/month for individual usage and $8/user/month for teams. Do note that the "Team" package comes with some extra features. For large enterprises, the pricing starts at $16/user/month.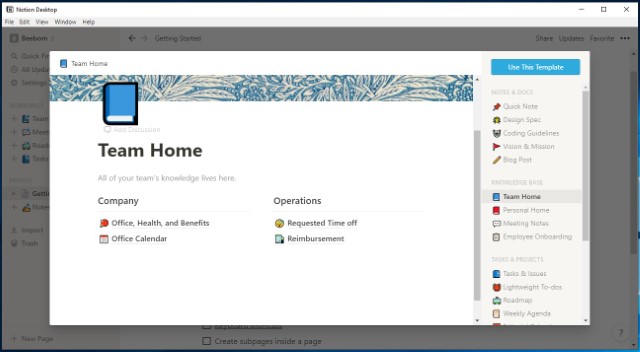 Key Features
While some services are trying to add as many features as they can, Asana is taking the opposite approach. It simplifies the project and task management so that the process is easy enough for everybody to use. It comes with necessary features such as tasks, projects, sections, due dates & times, attachments, and hearts. Asana is also strong on the communication front with support for task and project conversations, and team pages. Other features are Views, Team Management, and Integrations.
Pricing and Availability
Asana prefers users to sign up with their work email address so that it can automatically connect you with your team mates using the domain in the address. But it's also possible to continue the registration process with a personal email address. Asana is free for a team of up to 15 people. For more team members and more features, you can upgrade to Premium for $9.99 per member per month. Asana is available as web-based service and in app form for iOS and Android.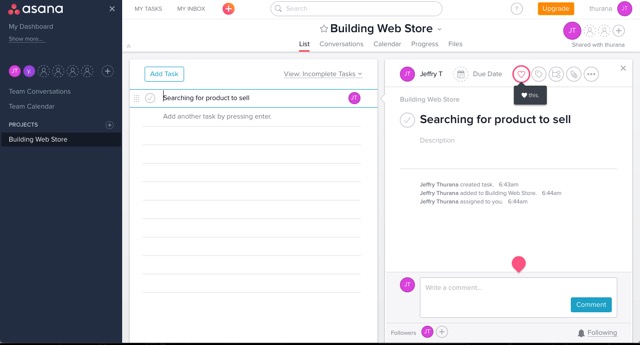 Key Features
Airtable is one of my favorite project management software that I have ever used. First of all, I am in love with its colorful UI which looks incredibly good and makes everything so easy to find. When it comes to features Airtable allows you to easily organize and manage tasks, small to large projects, ideas, customers, and more. If you want to me to describe Airtable, I would say that it is a spreadsheet on steroid. While spreadsheets just allow you to add numbers and texts, Airtable allows you to add rich-fields such as drop-down menus, file attachments including documents and images, long notes, and more.
One of my USPs of Airtable is the different viewing modes. You are not limited to see your data in the spreadsheet view, rather you can organize data by filters and groups, see a calendar view, a gallery view, and more. Airtable also brings all the team features that Trello is known for including tagging team members in a task, messaging them directly inside the app, assigning projects to different teams, and more. Finally, Airtable also gives you access to Trello-level third-party app integration with apps such as Mail Chimp, Google Calendar, Google Drive, WordPress, and more.
Pricing and Availability
Airtable is available to use on all the major platforms including Web, macOS, Windows, Android, and iOS. The free version offers quite a healthy feature set with unlimited bases, 2GB of attachments/base, and more. If you overgrow your free plans and want extra storage and features, your plans will start at $10/user/month for the Plus plan and $20/user/month for the Pro plan. While the Plus plan increases the limits of the free plan, the Pro plan offers extra features such as additional color and styling options, advanced calendar features, and more.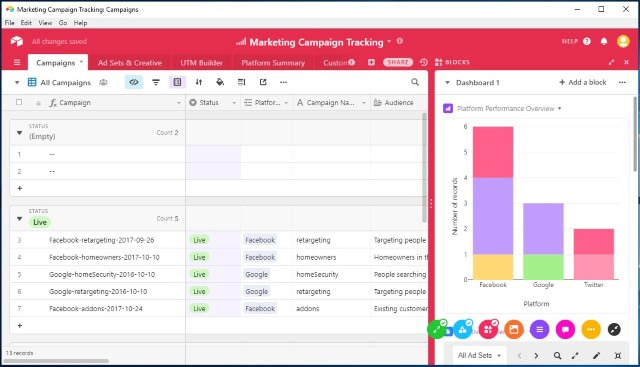 Key Features
Hive is a powerful project management tool for teams that aims to increase the productivity of your team by making the planning process smooth. Just like Trello, Hive offers a Kanban board experience where project managers can create a board, record tasks into cards and assign them to team members. However, unlike Trello, Hive also offers a Gantt view which allows its users to see projects in a timeline giving them a better view of time they are spending on each project. There's also a calendar and table view if you want to use those.
Talking about the features, Hive offers a great third-party app integration experience as it supports more than a 1000 apps. It also brings all the team collaboration features such as real-time editing, messaging with team members, file upload and sharing, and more. There's also built-in analytics which allows managers to monitor and report on projects so that they are completed on time. Another feature that I love is the built-in time tracking which allows team members to record the time they have to spend on each project. This is a great tool to see if a project required more resource that was previously anticipated and thus allowing us to change the estimation in the future.
Hive is a powerful tool for teams, and if you like what you read, you should definitely try it out.
Pricing and Availability
One major drawback of Hive for small teams is that there is no free version of the service. There is only a 14-day free trial which you can utilize to check out the service. Also, there's only one pricing plan which starts at $12/user/month which might feel a bit costly to some users. However, if you are someone who can afford this, Hive is definitely a great project management software and will serve your team very well.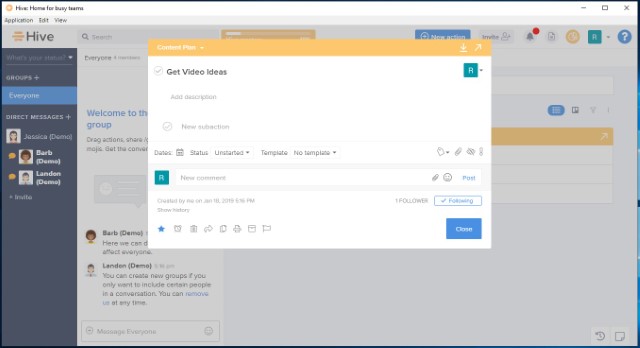 Key Features
One of the main selling points of Wrike is its role as the command center. Instead of a simple integration with third-party tools that we already use, Wrike provides users with the ability to use everything from one place. You can start your tasks anywhere and connect them to Wrike. For example, if you connect Gmail with Wrike, you'll have a button in Gmail to turn your emails into tasks. Wrike also comes with all the project and task management goodies such as creating task and projects, communication channels with other team members, built-in document editor, and more.
Pricing and Availability
Wrike is free for a team up to 5 members. For a larger team and more features, you can upgrade to Professional plan starting from $9.80/user/month. Wrike is available on the web, iOS, and Android.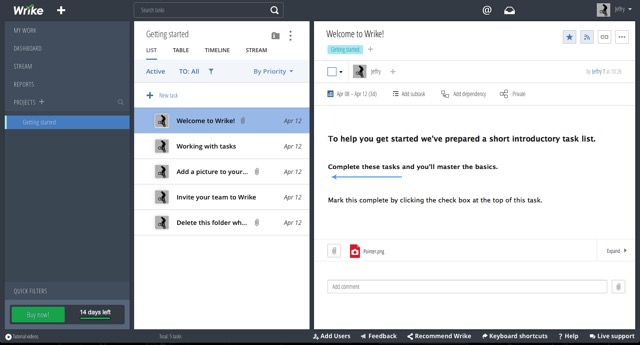 Key Features
Remember the Milk – one of the veterans in the field – is another to do and task manager that focuses more on personal users. Its main premise is that users should be able to add a task quickly and easily, so it features the ability to add everything about a task in one single line. Most of other alternatives require multiple windows to add more details about a task. Another cool thing about the app is that you can opt to get reminders via multiple channels such as email, text message, IM, Twitter, and mobile apps. You can also add colorful tags to your tasks, break the tasks into multiple sub-tasks, share and assign tasks to others, and use smart lists to organize those tasks.
Pricing and Availability
The service is available for free for anyone to use. But if you want to get more features, you could upgrade to Pro account for $39.99/year. Remember, the Milk is available through the web and as a Mac desktop app (Windows and Linux version is coming soon); iOS, Android and Blackberry mobile apps; Microsoft Outlook extension (Windows only), and will come to Apple Watch and Android Wear.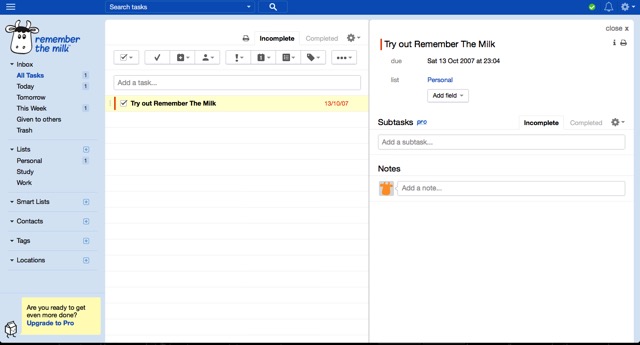 Team Communication Apps
Many of the aforementioned services feature the ability to communicate with the team member but you can also use team communication apps to manage your tasks and projects, even though they are not as fully featured and less convenient. You can add them to one of the tasks and projects management services as extensions, or you could use the simplicity of team communication apps to manage simple tasks directly in the app. Some examples of these apps are Quip, Slack, and more.
SEE ALSO:  Slack Alternatives: 10 Best Tools For Team Communication
Use These Trello Alternatives for Better Task Management
Trello is a very popular project and task management tool but if you have been looking for an alternative, the aforementioned services should work fine. So, try them out and you might even find some of these services better than Trello. Also let us know which apps made the cut for your Trello alternatives list. Let us know in the comments section below.