Kodi is the best IPTV solution if you are a cord cutter and don't want to deal with cable TV companies. There are many extensions like Cartoon Network and BBC channels which are limited to certain countries. Users are unable to watch their favorite shows because these channels are geo-blocked on the internet. In such cases, we need a VPN for Kodi to unblock the content. Besides, VPN also secures your identity online so it's always good to have a VPN connection. So in this article, we are going to share the 10 best free Kodi VPN apps you can install on your device. We will also share a native Kodi method which will allow you to access geo-blocked content without the need of a VPN service.
List of Free Kodi VPN Apps of 2019
VPN is an essential tool to protect your online identity and can help you bypass geo-based content restrictions. There are scores of free and paid VPNs which do the job sufficiently well. However, with free VPNs, there are trade-offs on the privacy front. So, if you are really serious about protecting your privacy then you should always consider paid VPNs. Having said that, in this article, I have tried to bring 10 free VPN for Kodi which have an acceptable privacy policy. So go through the list and choose the one which seems to work for you.
1. ProtonVPN
ProtonVPN is the best VPN for Kodi if you want unlimited data and privacy protection of some sort. Surprisingly ProtonVPN does not have any data limits and you can use it to stream online content endlessly. You can also bypass geo-restrictions for TV channels and online streaming platforms on Kodi. The only cons here is that the network speed is decent at best. The free tier provides only 3 server locations to choose from. So if your location is close to the server, you might get good performance otherwise you will have to be content with the average performance. Well, if you want something for free then you have to compromise on some front.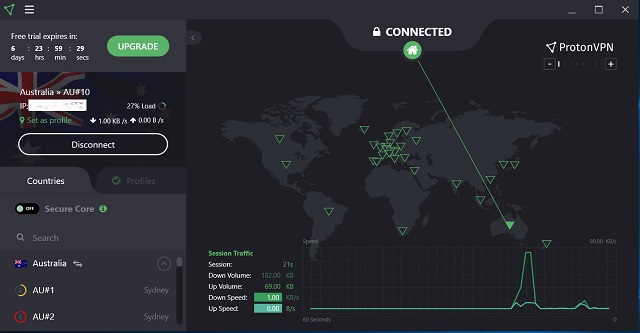 Besides the performance, ProtonVPN claims that it doesn't log and share the browsing data to third parties. It's great that ProtonVPN doesn't compromise on the security front. To use the free version, you will have to sign up for a ProtonVPN account and you will be good to go. For the first 7 days, it even lets you access the Pro version for free. So the bottom line remains, if you don't want any data limits and can put up with the decent network speed then ProtonVPN is the best choice for your Kodi needs. And in case, you are not happy with the performance on Kodi, you can upgrade to the Pro version which provides top-notch performance and advanced security features.
Platform Availability: Windows, Android, macOS, iOS, Linux
Install: ProtonVPN (Free, Pro version starts at $5/month)
2. Betternet
Betternet is a new entrant in the free VPN category and it's making quite a noise among the Kodi community. The offerings are pretty similar to ProtonVPN except that it provides good performance as well. You get unlimited data to stream and of course, you can circumvent geo-restrictions on certain websites. Betternet has a unique business model where they provide the free VPN service without logging the browsing data. Basically, the VPN makes you watch short video advertisements before connecting to a virtual network. This way they earn revenue from the advertisers. On mobile, they offer sponsored apps to users to install. This again makes money from app publishers.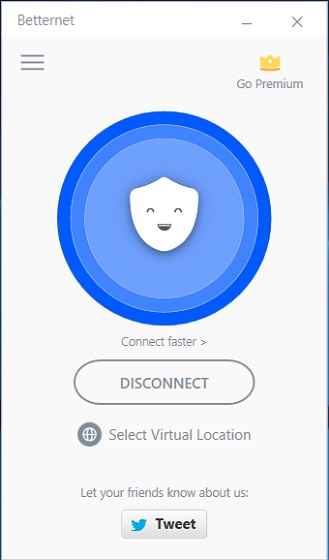 In a nutshell, you get better performance without sacrificing your privacy. All you have to do is watch a video advertisement or install sponsored apps. The good thing is that you get good network speed so that you can enjoy Kodi without any limitations. All in all, Betternet is a solid VPN for Kodi and you should definitely try it.
Platform Availability: Windows, Android, macOS, iOS, Chrome OS
Install: Betternet (Free, Premium version starts at $2.99/month if you choose a yearly plan)
3. SigaVPN
SigaVPN is a completely free and open-source VPN which you can use for all your Kodi VPN needs. There is no cap on bandwidth, no logging of browsing data, no throttling and it is fully protected from DDoS attacks. It's almost like a dream VPN for Kodi, right? Well, it's a community-based VPN and runs on user donation. Donation is not mandatory, but if you regularly use the service you can and should donate the developer to keep the project running. So far, SigaVPN has server locations in New York, Las Vegas, Netherlands, and Luxembourg and it's expanding to other regions as well. The installation process is a bit complex as it runs on OpenVPN, an open-source application for running VPN service. If you are an open-source guy and can delve deeper to protect your privacy then SigaVPN is the best free Kodi VPN app on the market.
Platform Availability: Windows, Android, iOS
Install: SigaVPN (Free)
Note: On SigaVPN website (link above) and click on "Guides" on the top-right corner to understand the installation process.
4. VPN Gate
VPN Gate is a unique VPN created by the University of Tsukuba, Japan for an academic project. It has servers worldwide and run by volunteers across the globe. The great part is that it's completely free, secure and does not log any kind of browsing data for commercial purpose. You can use VPN Gate to unlock geo-blocked content on Kodi and watch your favourite shows. Besides, this VPN also makes your online presence anonymous with proxy IP and various kind of network tunneling. Since the project is entirely academic, it doesn't have a native client for its VPN service.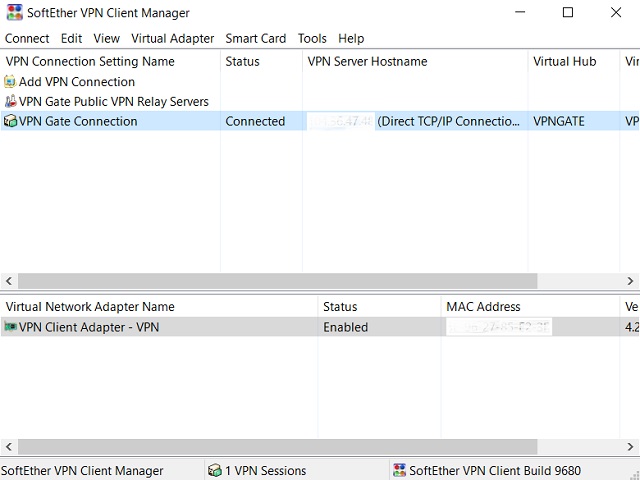 However, you can use SoftEther, an open-source server application which can run VPN Gate on its platform. The installation process is a bit clumsy, but if you are an advanced user, you can easily set it up. After all, you are getting free VPN service with superb performance and no data tracking. If you are looking for a free Kodi VPN app, you should certainly check it out.
Platform Availability: Windows, macOS, Android, iOS
Install: VPN Gate (Free)
Note: Here is the installation guide for VPN Gate.
Freemium VPN for Kodi
5. Windscribe
Windscribe is a massively popular freemium VPN which provides all the premium perks, but with a data cap of 10 GB per month. Basically, you get 10 GB of free data in a month and you can use it to stream content on Kodi or anything you like. The best part is that there is no throttling, no logging or sharing of data, full security protection with encryption, and a long list of server locations to choose from. Further, you can anonymously browse content on Kodi, bypass the geo-restrictions of major TV channels, and so on.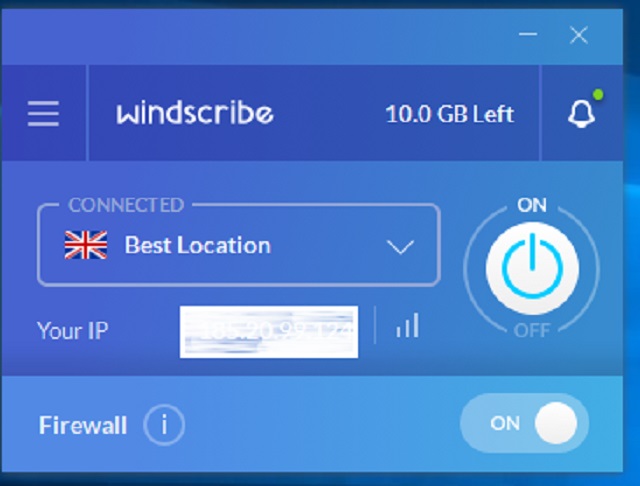 However, the 10 GB data limit may become a bottleneck for heavy users. But you must also note that free services come at a cost. On free VPNs, the performance remains mediocre or there are annoying ads or generally, the VPN sells the browsing data. For online anonymity, you should use freemium VPNs, especially for Kodi streaming. To conclude, Windscribe is an awesome freemium VPN with sufficient data limit and you should definitely check it out.
Platform Availability: Windows, macOS, Android, iOS, Linux, Chrome OS
Install: Windscribe (Free, Pro version starts at $4.08/month if you choose a yearly plan)
6. TunnelBear
TunnelBear is another freemium VPN with all the necessary features to protect online anonymity while browsing Kodi. It's one of the highest rated VPNs among the Kodi community. It provides the fastest network speed without any latency. There is no funny business with your browsing data and it keeps the security top-grade. Like Windscribe, you get all the premium features, but with a data cap of just 500 MB per month. Nevertheless, you can top-up the data by simply tweeting from the app or inviting new users to its platform. You get an additional 1 GB of data in a month with a tweet or a new user addition.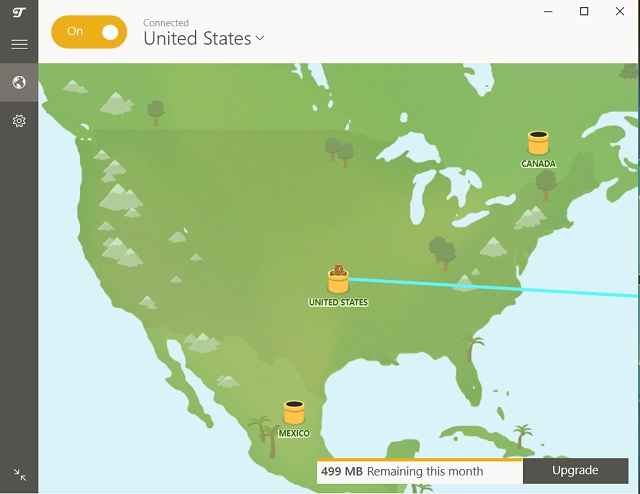 1 GB of data might be sufficient for light users, but it's simply not viable for casual or heavy users. In that case, you can upgrade to a premium plan for unrestricted data and network speed. While Windscribe has a higher data limit, I find the performance on TunnelBear way better. All in all, go ahead and install TunnelBear and see if it's sufficient for your Kodi entertainment.
Platform Availability: Windows, macOS, Android, iOS, Chrome OS
Install: TunnelBear (Free, Pro version starts at $4.99/month if you choose a yearly plan)
7. Hide.me VPN
Hide.me VPN is making quite a wave in the freemium VPN for Kodi market. It offers some really advanced security features with great network speed. Hide.me VPN has privacy protection online and full encryption from point to point network ends. You can unblock geo-location restrictions on Kodi and stream content as you like without any performance deterioration. Also, it has servers in more than 55 locations across the globe. So you will always get the highest network speed from the nearest server. In comparison to other freemium VPNs, Hide.me provides 2 GB of data per month under the free tier. While it's not adequate for streaming large contents, you can opt for a premium plan. Believe me, it's worth getting a paid Kodi VPN app if you will always want to be on the safer side.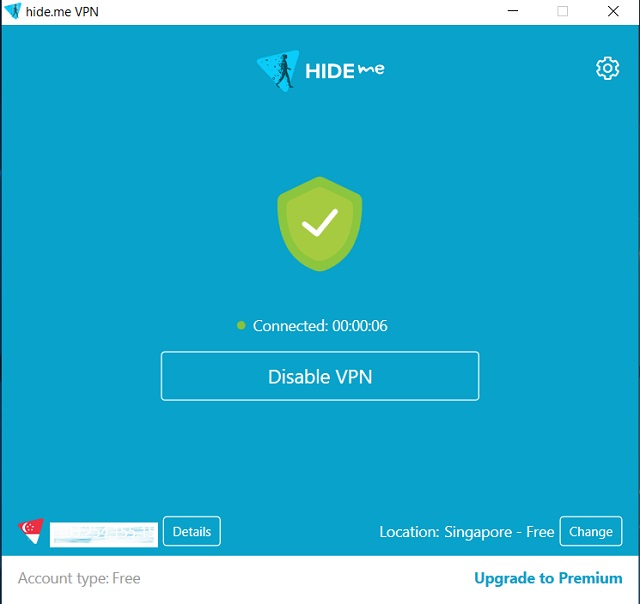 Platform Availability: Windows, macOS, Android, iOS, Chrome OS
Install: Hide.me VPN (Free, Premium version starts at $5.41/month)
8. Speedify
Speedify is a freemium VPN for Kodi which works pretty great and has a stellar network speed. It provides consistent and reliable performance no matter where you are. It is because Speedify has 35 dedicated servers installed across the world. In terms of privacy, Speedify has encryption support and provides full anonymity to users while browsing Kodi. Besides, you can bypass geo-restrictions on Kodi and watch blocked content without any issue. Also, Speedify neither keeps a log of browsing data nor does it share data to advertisers. Having said all of that, Speedify provides all the premium perks but with a data cap of 5 GB per month. For most people, 5 GB sounds can be sufficient. But if you want more data, you can upgrade to a premium plan for limitless data and speed.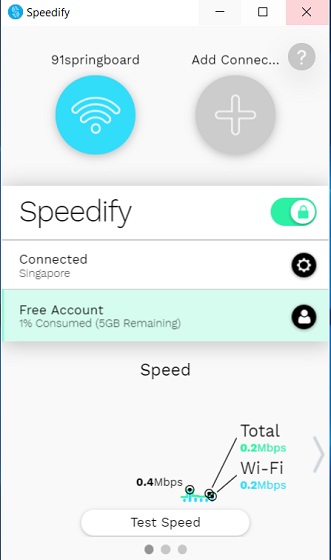 Platform Availability: Windows, macOS, Android, iOS
Install: Speedify (Free, Premium version starts at $8.99/month)
9. OkayFreedom
OkayFreedom is kind of an okayish Kodi VPN service under the freemium category. It provides 2 GB of monthly data with all the paid VPN features. It provides good performance while streaming content on Kodi and blocks your identity online with all privacy protection. Unlike other freemium VPNs, you don't have to sign up or provide credit card details which is pretty great. Also, the application is quite light and non-intrusive. It sits in the system tray and you can turn on/off the VPN without much fuss. Besides, you can choose the server location from a long list of countries so you are covered there. The only downside is that free tier is ad-supported which means, you might encounter sponsored ads while streaming content on Kodi. All in all, it's a pretty basic Kodi VPN app and you can opt for the premium plan if 2 GB of data doesn't cut for you.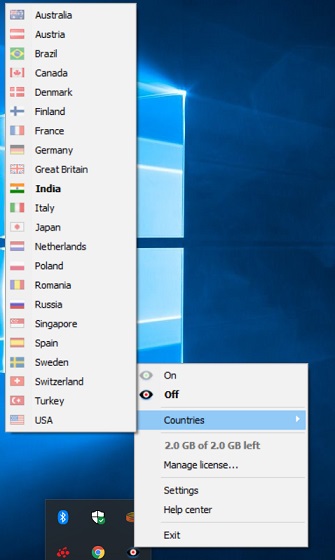 Platform Availability: Windows
Install: OkayFreedom (Free, Premium version starts at $29.95/year)
10. Hideman
Hideman is our final VPN for Kodi in this list. It's also a freemium VPN but the model is quite unique. You get all the unlimited perks of a paid VPN every day but just for 1 hour. That's interesting, but not sufficient, right? Well, if you are a new user, you get 6 hours of additional time limit. I think it's a pretty good Kodi VPN alternative if you are not a heavy user. Also, the standard VPN features are all there. No logs, no throttling, and overall good performance. Under the free tier, you can only choose your server location from Russia so that's a bummer if you wanted more flexibility. Nevertheless, it's a pretty good VPN and you can use it for brief Kodi entertainment.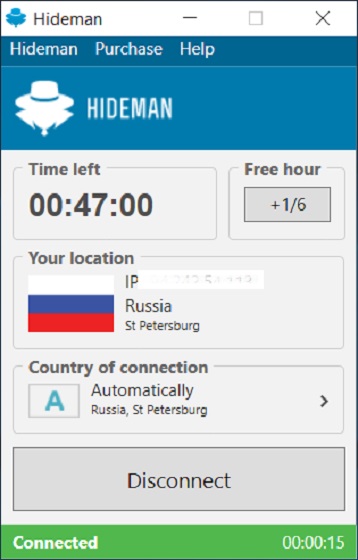 Platform Availability: Windows, macOS, Android, iOS, Chrome OS
Install: Hideman (Free, Premium version starts at $9/month)
How to Set a Proxy Server on Kodi
VPN is a more secure and powerful tool to make your online identity anonymous. However, a proxy server can also help you achieve the same thing without a third-party app. The good news is that Kodi has support for proxy servers so you can easily set it up natively. Here is how you can do it.
1. Open Kodi and click on the Settings gear icon on the top-left corner.
2. After that, click on "System" on the bottom-right corner.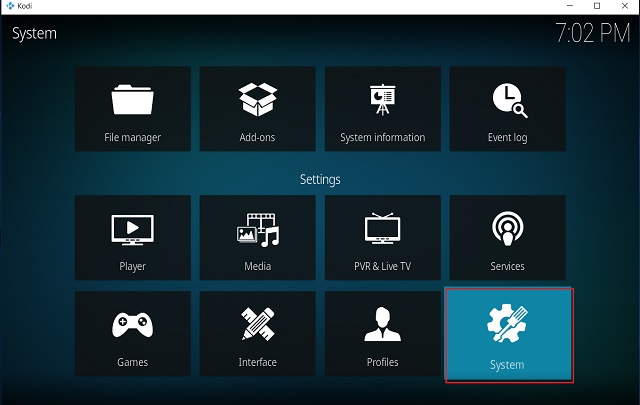 3. Here, click on "Basic" and the menu will change to "Standard".
4. Now, click on "Internet Access" tab. Here, enable "Use proxy server" toggle and provide the details. Now you are all set to use Kodi anonymously and without any VPN.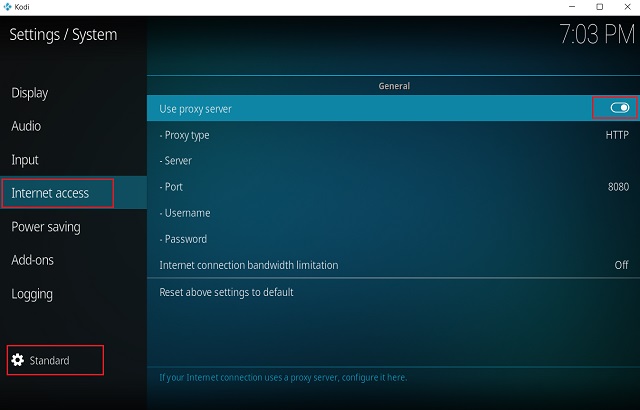 Note: You can get a list of Free Proxy servers by doing a simple Google search.
SEE ALSO: How To Install Kodi On Amazon Fire TV Stick
Stream Content Anonymously with These Free Kodi VPN Apps
So that ends our list of free Kodi VPN apps. In this list, I have mentioned 4 completely free VPNs which have no data limit whatsoever. Other than that, there are 6 VPNs which have all the premium features but have a certain data limit. We can see that paid VPNs provide great performance and top-notch security. If you don't want to expose yourself on the internet while browsing Kodi, you should opt for a freemium or a paid one. Nevertheless, the free versions too have some decent privacy safeguard so you are protected to some extent. And, if you don't want to use VPNs then can also use a proxy server. Anyway, if you liked the article and want to see similar posts on Kodi then let us know in the comment section below.