When it comes to music player applications, Winamp is a name that needs absolutely no introduction. A staple of just about every PC back in the days, the legendary software introduced many of us (including, yours truly) to the whole concept of enjoying music on our computers. Fast forward to the present day, and it has been superseded by a number of great music player programs.
But even though the official website of Winamp (now owned by Belgian online radio aggregator Radionomy) states that "there's more coming soon," as of now, its stable downloadable version is more than two years old. So, if you rely on Winamp for your music needs, it's time to start looking at some alternatives.
And this is the article that's going to help you find the best Winamp alternatives out there. So what's the wait? Get your music ready, and jump in!
1. MediaMonkey
Looking for not just a music player, but also a powerhouse media organizer application? MediaMonkey is just the Winamp alternative you need. It can easily manage media collections spanning hundreds of thousands of songs, both local and network stored. Advanced functions let you sort & organize music based on genre, artist, and things like that.
MediaMonkey supports nearly all music formats (e.g. MP3, FLAC, AAC), and thanks to its syncing prowess, it can backup and sync media with numerous Android, iOS and Windows devices. And if you're still not impressed, it even lets you share media with UPnP and DLNA compatible devices like TVs. Oh, and let's not forget the various add-ons available for it, which help MediaMonkey speak song title, stream music over the web, and do lots of other cool things.
Platform Availability: Windows 10, 8 and 7 (Desktop); Android (Mobile)
Price: Free version as well as a Paid version costs $24.95
2. Foobar2000
Developed by a former freelance contractor for Nullsoft (the company behind Winamp), Foobar2000 is probably the most flexible and extensive music player out there. Sure, its UI looks pretty dated, but underneath that, it hides tons of features. Foobar2000 has a highly modular design and you can completely customize which modules (e.g. playlist manager) are shown. (For example, the companion screenshot below shows the latest version 1.3.10  displaying the Album art, Track info, Playlist, and Spectrogram modules).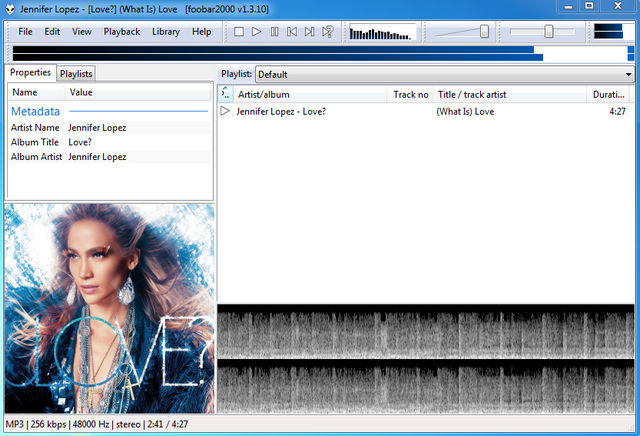 It can rip Audio CDs and convert media in numerous different formats. Foobar2000 can even read media files stored in archives such as ZIP and RAR. Other features include customizable keyboard shortcuts, portable installation, and an extensive SDK that allows features like playback stats, UPnP streaming etc. that can be added to the software.
Platform Availability: Windows 10, 8, 7, Vista, and XP (Desktop); Development for all major mobile platforms planned, via crowdfunding support.
Price: Free
3. MusicBee
As en easy to use music player that also has some media management thrown into the mix, MusicBee makes a really good case for a reliable Winamp alternative. It can play all popular formats, and supports gap-less playback as well. There's built in tag editor, which lets you easily edit or add ID3 tag information to songs, and the same can be fetched online too.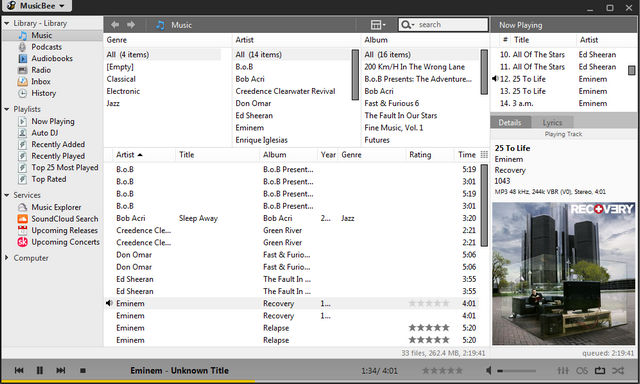 MusicBee's Auto DJ mode lets you automate music playback, complete with configurable settings like library sources, similar artist track playback etc., which can be saved as custom filters. Oh, and the Music Explorer module can be used to browse the top charting artists, albums etc., thanks to MusicBee's integration with the Xbox Music service. Also, the plug-in support (including those of Winamp) lets you add extra features (e.g. device syncing) to the software.
Platform Availability: Windows 10, 8, 7, Vista, and XP (Desktop)
Pricing: Free
4. Clementine
Totally free and open-source, Clementine is loaded up with everything you'd want in a music player software, and then some more. It not only lets you effortlessly play (and manage) your local music library, but also listen to Internet radio from diverse sources, such as Spotify and Jamendo. In addition, there's support for smart and dynamic playlists, and the application can automatically fetch missing tag information from the MusicBrainz database as well.
You can also search & download podcasts and check lyrics and artist bio. Oh, and did we mention that Clementine can search and play songs stored in cloud storage services such as Dropbox, Google Drive, and OneDrive? There's just one thing, Clementine has not been updated in the last two years, which is a little bit of a bummer.
Platform Availability: Windows, Mac OS X, Linux (Desktop); Android (Mobile, as Clementine Remote app)
Price: Free
5. AIMP
For those wanting a straightforward music player application that packs a healthy balance of features and simplicity, AIMP is the Winamp alternative to go for. Just load up your music library, and enjoy it with AIMP's 32-bit audio processing for a great experience. It comes with a number of audio effects, such as Flanger and Voice remover, and can even record Internet radio to standard audio files.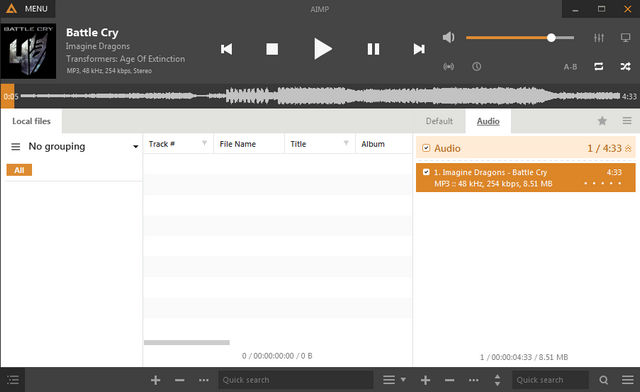 However, perhaps the most unique feature of AIMP is that it can load the currently playing track (up to 250 MB) into the RAM, thus resulting in a more seamless playback. And that's not all. AIMP's feature list includes configurable global hotkeys, automatic shutdown, and support for numerous plug-ins.
Platform Availability: Windows 10, 8, 7, and Vista (Desktop); Android (Mobile)
Price: Free
Worthy Mentions
Windows Media Player: If you don't want to use a third-party software, Windows' native media player can be a decent Winamp alternative. And while it's true that Windows Media Player lacks features like advanced codec support for audio formats, it's more than enough for basic usage.
VLC Media Player: There's hardly any audio (or video) format in existence that VLC Media Player can't handle. If you don't care about things like advanced library management, skinning support etc., the best video player will work as a perfect Winamp alternative for your needs.
SEE ALSO: 10 Best Video Players For Windows
Lots of great Winamp alternatives!
Winamp has always been (and still is) one of the most feature laden and popular music player applications. And while it'll be surely awesome when it comes back, for the time being, the above discussed applications are going to serve you just perfect. Try them all, and sound off your thoughts in the comments below.