Valve's Steam became the most popular digital marketplace for the gaming community over the past decade and it's all because of the huge collection, great deals, a safe and secure platform for gamers to manage their library. It is simple and has worked for the community, but Steam doesn't come without its flaws. The platform takes a 30 percent revenue cut from developers has often laughable customer service, and a lack of indie games. That's what pushes many gamers to look for worthy Steam alternatives.
Thankfully, there are a number of Steam alternatives available on the market, some trying to offer games at discounted rates, some making titles available via 'pay what you want' model, while others trying to offer indie developers a platform to cut through the chaos and be able to promote their games without breaking their bank account. So, if you're tired of Steam and are looking for something new to quench your thirst for PC gaming, then you can check out the 10 best Steam alternatives listed below.
Best Steam Alternatives in 2019
1. Good Old Games (GOG)
GOG is part of CD Projekt group, the developers of The Witcher game series. It offers some amazing deals on popular computer games and DRM-free classic computer games at very cheap prices that you can enjoy anywhere you want. Moreover, you can find the best indie games on GOG with very generous price tags.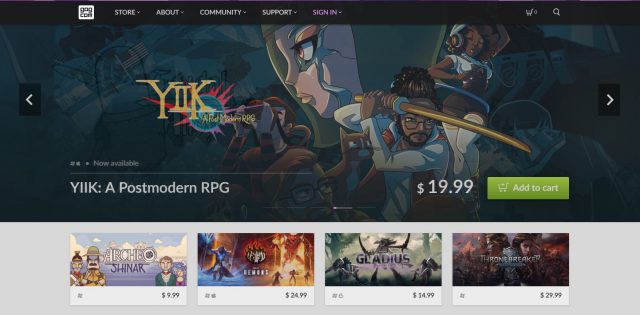 GOG does not boast of a large games line-up as Steam but it still has a decent collection of amazing games for your PC that you can enjoy. Also, it regularly brings sales and crazy discount deals. For instance, at the time of writing, it is currently running a Summer Sale promotion where you can snag top titles like The Witcher 3 and many more at heavily discounted prices. 
2. Origin
Origin gives players a one-stop shop for all EA titles. Each month, visitors can expect discounts on their favorite franchises, including The SIMS and FIFA. Team gaming is a highlight with live chat and audio for an experience that mimics consoles. Want to broadcast on Twitch? Origin makes it easy. Free trials, as well as demos, are available for most of the games in the ever growing collection.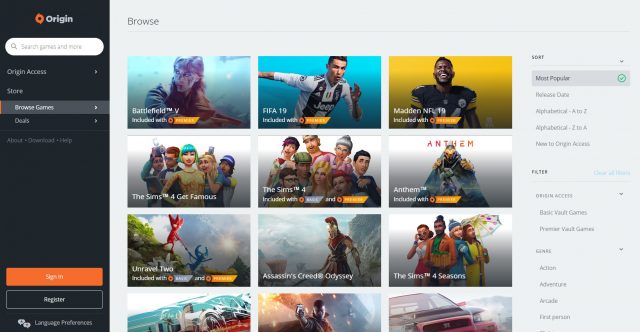 Origin Access presents an all-access subscription program for gamers who love trying out the newest titles. This EA property offers its users previews of upcoming titles as well as up to 10% discounts on every game purchase. Unlike some services, the company makes it easy to cancel the purchase at any time. This is one of the best Steam alternatives that you can use right now.
3. GreenMan Gaming
This newer entry to the streaming game market is trying to set itself apart from the competition by establishing a console-streaming program. Although it's still in its early stages, the company promises to have it up and running soon. When it comes to other platforms, GreenMan offers a similar design to its counterparts. Users can find a growing list of PC as well as Mac titles among the site's expanding catalog. Early access is also available on anticipated franchise entries from the industry's most well-known companies.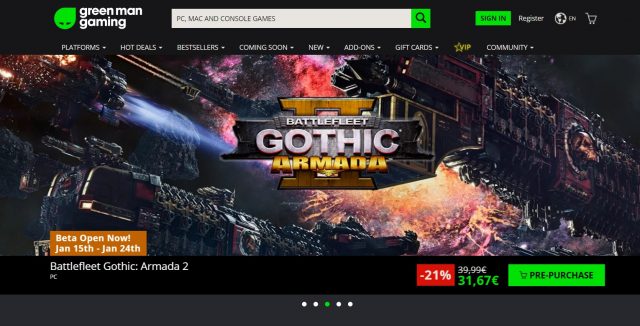 Gamers with a taste for indie titles will also enjoy the service's promotion of one-of-a-kind choices that cover the best of indie gaming. When it comes to deals, the site provides a rotating selection of choices that are discounted up to 90% off of retail prices.
4. G2A
G2A is structured in a way where users can buy, sell and trade keys for games from every platform. G2A's design mirrors that of larger services such as Origin and GOG.Com. One of the service's most intriguing aspects is its Random Key offers. Gamers can choose to buy one or more Steam keys that will give them access to randomly selected games. It's an interesting option for users that are open to switching genres and anyone looking to broaden their gaming horizons. In addition to the usual payment options, G2A is now accepting Paypal.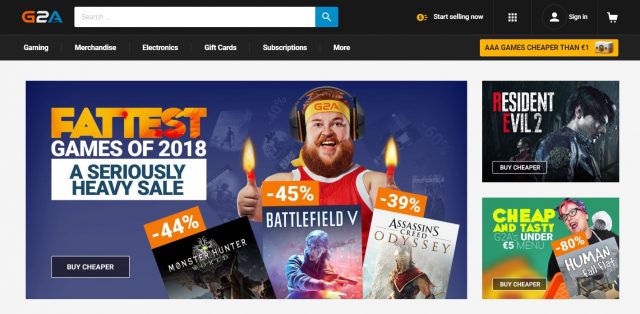 The G2A Goldmine program gives gamers a chance to make money doing what they love. There's a referral system that relies on social media tools, which could lead to some interesting payoffs if your number of referred friends is high enough.
5. Humble Bundle
As the name suggests, it's all about the bundle at Humble Bundle. Gamers can choose from their own selections or bundles curated by Humble's team of experts. Available games cover famous titles as well as an indie selection from emerging developers. A connection with Twitch makes it easy to find undiscovered titles or purchase selections that other gamers are highlighting in their feeds.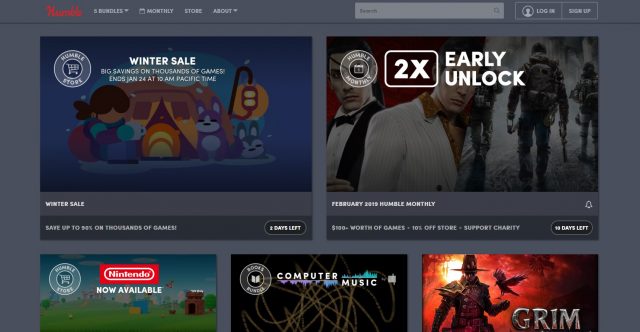 The Humble Monthly program offers additional discounts while sending players specially selected choices from new and established franchises. Promotions are always available through the site. These revolving promotions include special deals during E3. What sets Humble Bundle apart is its book section. Fans of graphic novels and books from popular genres are presented in bundles that are uniquely tailored to each user.
6. GamersGate
GamersGate, not to be confused with the controversial movement, offers PC and MAC users a full catalog of games. The company has brought together titles from the largest publishers to introduce a one-stop destination for games. Indie developers have also been welcomed into the service to bring a wider variety for its users. Gamers can take advantage of a no-nonsense rewards program too.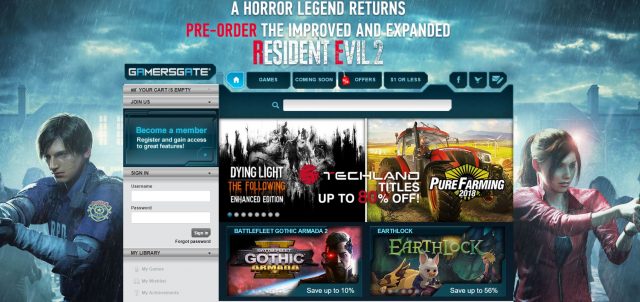 Players earn the program's blue coins through regular activity as well as participation in the service's Tutor area. The Tutor area of the GamersGate brings users together to help players from around the world conquer challenging levels or chapters of games. The good news is, the Tutor feature is available at no additional charge, which is pretty cool. As far as Steam alternatives are concerned, this is quite good.
7. Microsoft Store
I know most of us don't even open the Microsoft Store on our Windows 10 PCs, for the obvious lack of good apps, but there's a game store baked right into it. You can simply head to the 'Games' tab in the Microsoft Store to check out the collection of game titles available on there. You may, however, need to do some searching to find specific titles you're looking for under the category and rating filters.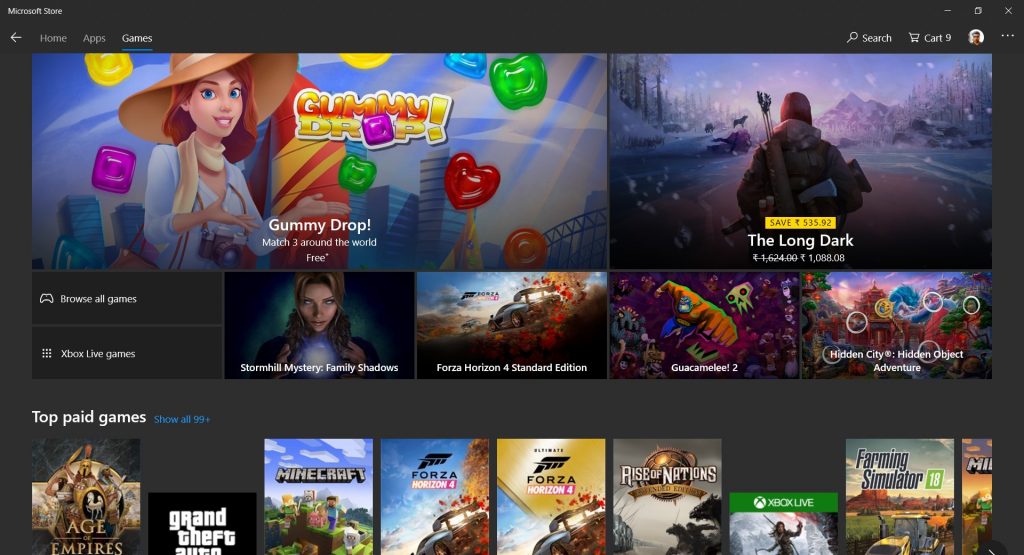 There's a ton of popular games like Forza Horizon 4 and Rise of the Tomb Raider, among many others available via Xbox Live on the Microsoft Store. And hardcore gamers totally hate it because all of these games are restricted to the Microsoft Store and not available anywhere else, which is a pain in itself.
8. Discord Store
Taking over the reins from TeamSpeak, Discord has grown to become the most popular chat platform among core gamers. However, did you know the platform also features a game marketplace called Discord Store? It went live earlier last year with a handpicked indie game collection including titles like Hollow Knight, Dead Cells and Into The Breach among several others.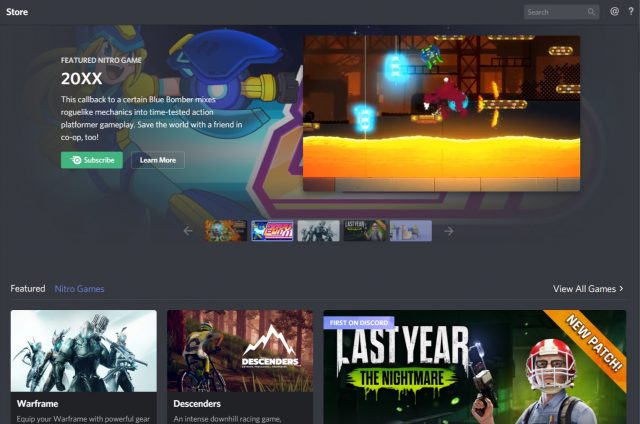 Discord Store, accessible via its website and apps, is now prepping to take on Steam in 2019 by switching its revenue sharing system from the conventional 70/30 split to start offering developers 90% of the revenue, which is uncommon (but generous) for a game marketplace. Discord Store will also get a self-serve game publishing platform later this year to make it easier for developers to submit their games to the marketplace. Discord is poised to become one of the biggest game stores on the market and is on of those Steam alternatives that you should keep an eye out in the future.
9. Itch.io
Steam is the biggest marketplace for games, with new titles being added every so often. Indie games can easily be turned a blind eye due to popular titles hogging the limelight, thus, it is where Itch.io steps in to fill the gap. It is the marketplace for hosting indie titles with a classic 'pay what you want' model, where developers can easily upload games with an asking price of $0 or more. If you love Indie games, this is one of the best if not the best steam alternatives you can use.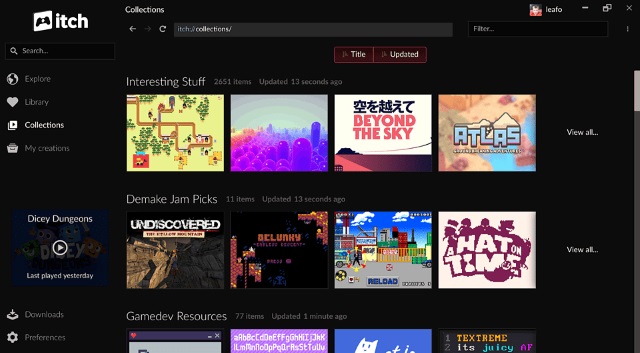 The highlight of Itch.io is that developers, be it a team or independent ones, have total control over the distribution of their game titles and they can also customize the game's page as they like. While I love the idea of customization and it gives the game page's a personal feel, they can appear too flashy or cluttered at times. There's a vast collection here and you should definitely check it out.
10. Epic Games Store
With everyone looking to compete with Steam, there's no way that Fortnite creator Epic Games could just watch from the sidelines. It debuted the Epic Games Store towards the end of last year with around a dozen PC game titles, with some of them being exclusives and unreleased games such as Ashen, World War Z, and more. Yes, there aren't a ton of games on here but there's scope for success.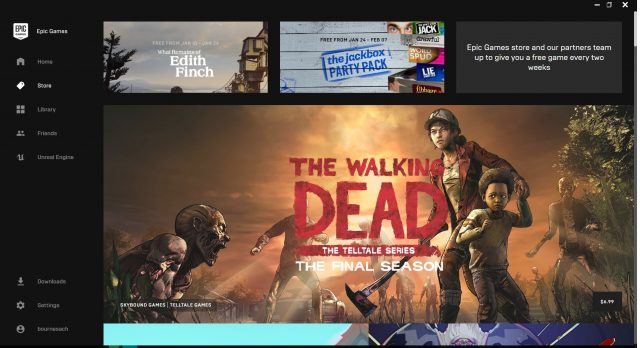 We all know the Epic Games Store isn't going to replace Steam anytime soon, but it will bank on a burgeoning collection, timed exclusives, and an alluring 88% revenue-sharing scheme for developers – much better than Steam and comparable to Discord's cut. Epic Games Store also plans a tighter integration between the game developer's social media and game pages, which should be interesting.
Bonus: 1. Kartridge
Let me start off by saying that Kartridge is seriously a cool name for a game distribution platform. It reminds you of the old days when cartridges were all the rage. As for now, it appears like Kongregate has also decided to help indie developers get some traction with Kartridge. It was launched just a couple months ago in open beta and already has quite the healthy portfolio of games, badges, rewards, and chat features.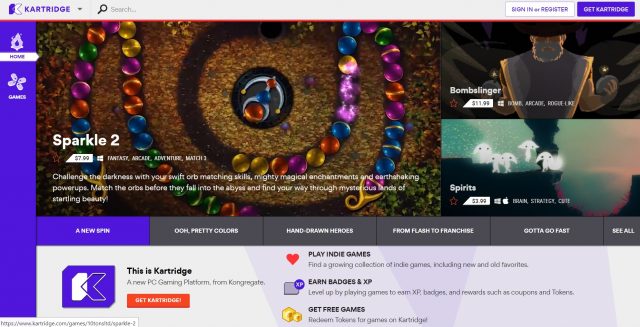 Kartridge is not ready to blow past Steam just yet but it wants to make indie titles more discoverable while topping off the experience with community and engagement features we've talked about. Here too, game developers can customize their game page and be in control of the experience they want to render to their audience.
Bonus: 2. Amazon
Amazon has become the standard for online shopping, but it still has a way to go when it comes to matching its rivals in the games market. However, if you want, you can use Amazon as a Steam alternative. Games are structured through the site's games and apps section. Each game is sold much like a music or app download. That in itself poses a problem, as the site fails to match what gamers need to find when searching for streaming options.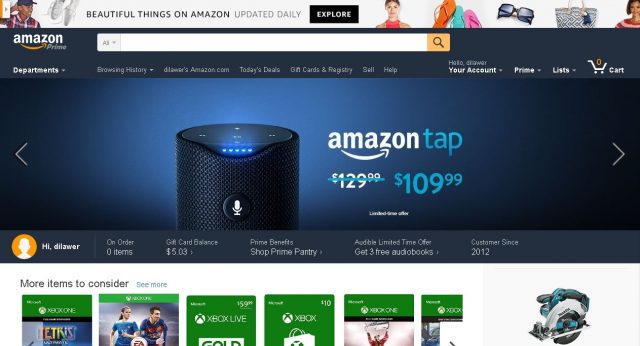 Deals are rarely presented through the site, and if one appears, it is usually limited to one-day sales. Customer service is one of the selling points of using Amazon. If a problem occurs, there is always someone standing by to help. Gamers accessing selections through the Amazon Fire Stick will also find it very convenient to purchase titles through Amazon.
SEE ALSO: 15 Amazing Games Like Skyrim You Should Try
Try out these Steam Alternatives for your gaming solutions
Steam may be the golden standard of gaming services, but many competitors are steadily emerging and showing they can be just as competitive as this glorious service for gamers. All of this means only one thing, i.e it's a really exciting time to be a PC gamer in today's world. The more the services, the better the experience, and are the title options, pricing, and even deals. Hope you found the Steam alternatives you were looking for and if you've got any popular ones in mind that we may have skipped on, well, let us know down in the comments section.