Digital storage systems have evolved significantly over the last few years but the fears of losing your important data are still valid and pressing. Whether it is to stay protected against an unexpected or accidental failure of a hard drive crashing/ PC getting corrupt or to defend against any online infection such as WannaCry ransomware that may delete important files or lock you out from accessing them, backing up data to a safe trove makes sense. There is a variety of backup software out of which you can choose the best option for you to choose. Based on the confidentiality of your data – or your system's defense against online attacks, you can either choose paid or free options.
Below, we've listed out the best backup software for Windows users, catering to different backup requirements. We've tried to incorporate the factor of ease of use since we understand that backup up data or restoring it isn't the most entertaining task out there. We've limited our research to Windows PCs because Macs already have Time Machine and slick iCloud backup skills which omit the need for backup on a regular basis.
12 Best Backup Software for PC in 2019
1. Acronis True Image 2019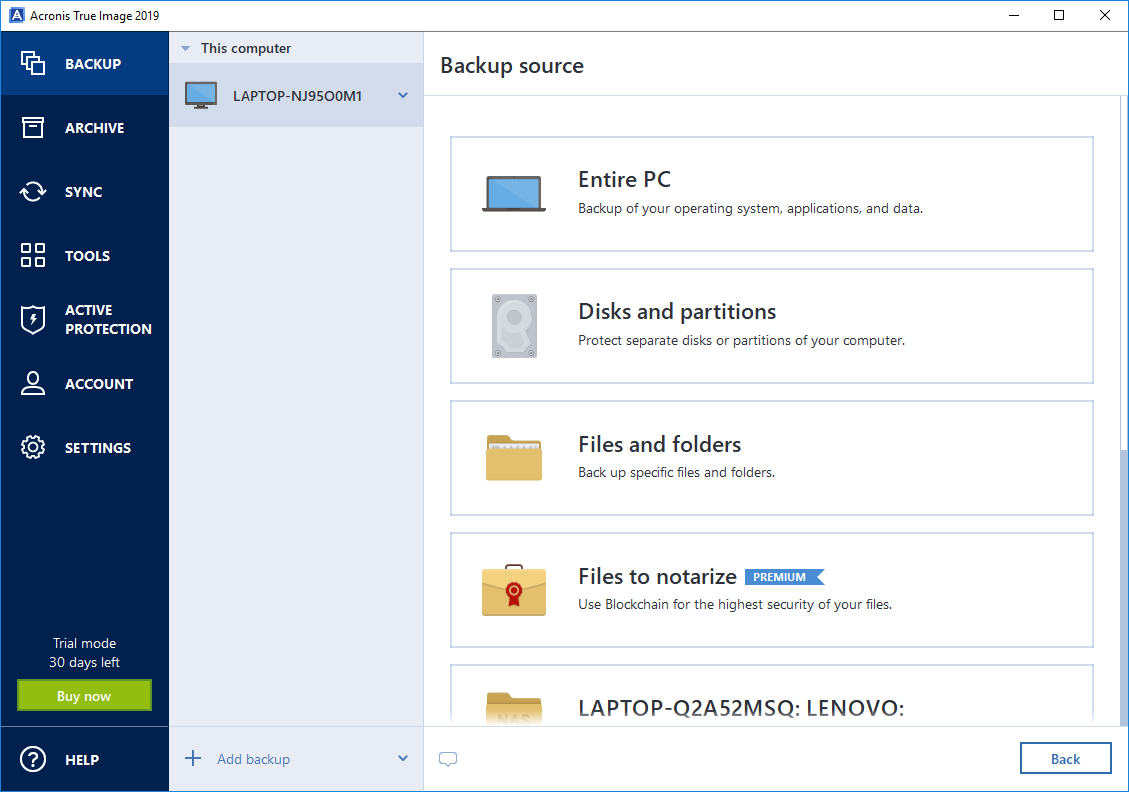 Acronis True Image is one of the most versatile options – and deservedly on the top of the list, which allows users to take full images of disk drives along with the flexibility of scheduling, besides taking incremental or differential backups. Apart from the elaborate options to back up the entire PC, select drives, or just some folders and files, you can use dedicated options to create recovery disks. Acronis True Image has significantly embraced the cloud and will also allow you to back up images to the cloud so that you can access it across multiple different devices or use the same image for multiple devices.
Apart from these features, Acronis recently added support for Office 365 so that users can backup and restore their emails using True Image 2019 and as well as a cryptomining blocker which can detect and weed out malware intended to use your system's resources for cryptomining.
Acronis True Image also allows you to remotely manage and modify your system using a mobile device or another Windows machines using Parallels Access feature. Then, there's a feature which lets you roll back on a certain backup method if you don't like it, and a dedicated cleaner helps you wipe off unwanted or duplicate backups. Lastly, you also get an encrypted vault where you can store all your backups securely. If you're looking for a holistic backup solution, Acronis True Image is genuinely worth the investment.
Other than that, Acronis True Image 2019 has also received a new Cyber Protection update that brings along a bunch of added features. There's 'Acronis Survival Kit' which basically creates a backup media of all the essential items on your system including the boot media, system partition, and all your backups, so you can fully restore your entire system in case of a catastrophic failure.
If you prefer using a USB-based storage (like an external hard drive) to back up your system, you can set up Acronis True Image to automatically start backing up your system as soon as the backup media is attached — this is very similar to how Time Machine works on a Mac and is a reliable and easy way to ensure regular backups without having to manually start back ups every time.
Acronis True Image 2019 also comes with a ransomware detection tool that uses AI to detect ransomware and protect your PC. Acronis claims that its tool has stopped over 200,000 ransomware attacks, plus with True Image, that same protection gets extended to all your NAS drivers, and data on network share.
Key Features: Full PC image backup and restore, automatic scheduled backup, back up over the same hard drive and cloud backup, and strong AES 256 encryption.
Pricing: 30-day free trial and $49.99/year after that. Currently, with the on-going holiday sale, you get a 40% discount and can buy the yearly subscription for only $29.99 and get 250GB cloud storage.
Compatibility: Windows 10, 8.1, 8, 7, XP
2. O&O DiskImage 14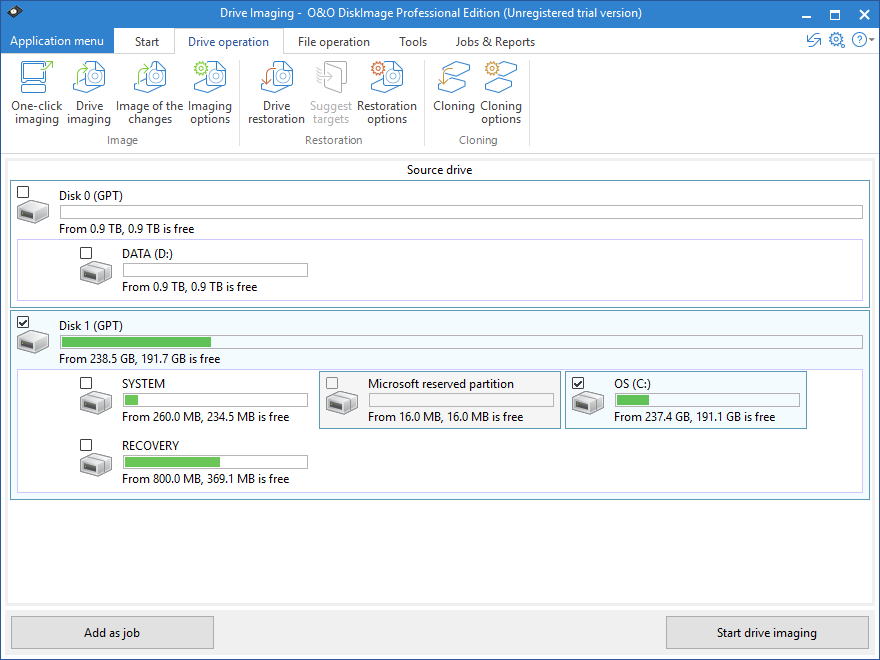 O&O DiskImage 14 is a rich suite of features and tools one needs in order to backup complete drives or certain files and folders selectively. The interface uses easy-to-interpret text along with some basic images to show you many of the available backup options. O&O DiskImage 14 has direct options to create disk-wise or file-wise backups, and allows you to choose between different sections of a local drive like System, OS, and Recovery sectors which you can select or deselect based on your requirements.
O&O DiskImage also sports features like "One-click imaging" letting you take backups of all the connected physical drives with the default options selected with a – you guessed it – single click. But if you want, you can customize the options to suit your needs. Besides backing up drives, you can also back up files and even encrypt the backup files. Furthermore, you get the option to take only incremental or differential backups in order to save space on the backup storage medium, alongside an option to split larger files into smaller ones so that you can store them on multiple flash drives (or god forbid, CDs).
O&O Disk Image 14 also lets you restore your backups on a computer with different hardware from the PC you backed up on, which can come in handy if you've upgraded your system with new hardware, or if you've bought a new PC. Disk Image 14 also comes with a brand new Disk Image to Go feature that automatically creates a new boot media on your backup drive, which
Besides these handy features, you can also define your own Settings profiles so that you don't have to modify the options every time you initiate a new backup. With O&O DiskImage, you can also create Windows PE-based recovery media if your hard drive crashes or gets corrupted. The software also allows you to use virtual and network-based storage drives and even lets you mount earlier backup images as local drives, so you can view them in the Windows Explorer, which we think, can come pretty handy if you just want a quick look through the backed up data.
The backup software, although elaborate, should not be overwhelming for beginners and as you learn more, you can start utilizing more and more options.
Key Features: Easy to operate, variety of features, support for virtual and network disks, one-click backup option
Price: 30-day free trial with a lifetime license for $49.95 per PC and $69.95 for 5 PCs.
Compatibility: Windows 10, 8.1, 8, 7, Vista, Mac
3. Paragon Backup & Recovery 17
Paragon Backup & Recovery is designed to let you back up certain partitions or entire hard disks in form of virtual drives. These backups can either be utilized to restore Windows machines in case of failure or data loss or to restore virtual machines.
Apart from the ability to back up the entire storage of your Windows computer as well as select volumes, you can also use Paragon Backup & Recovery to backup specific files or folders to the recovery media. Not only this, the backup software will allow you to compress the backup files as well as split them into smaller pieces so that you can transfer them to a portable storage device.
The backup software smartly scans the selected folders for any new files and creates differential backups based on the disk image of the sectors on hard disks. Further, there's a smarter option which lets users update data related to already backed up files and create an incremental backup using the sector-based logs.
Paragon Backup & Recovery also lets users filter out certain file types or directories which are to be excluded from the backup. Additionally, you also get the option to create WinPE-based bootable media such as recovery drives or DVDs which will let you run recovery tools built into Windows in case your PC is corrupted. This will also allow you to replace the corrupt disk with a previously created image of the disk.
Key Features: Customizable Backup and restore options, Create full System Image and create bootable media of your System.
Pricing: Free 30 trial and a paid version for $49.95 with lifetime access for 1 PC.
Compatibility: Windows XP, Vista, 7, 8, 8.1 and 10.
4. AOMEI Backupper
AOMEI Backupper is a decent backup software with both free and paid options. You can create a backup of Windows and all its settings to revert to it when required, and you get full control over what to backup. You can back up individual files/folders, partitions, and disks. A backup schedule can be created along with full backup sync to ensure all your files are properly backed up.
While creating a backup the software will not mess with any of the processes and you can keep using all the apps and the system without worrying. The data can be backed on external storage devices or PC's own hard drive and you can also save it to NAS (Network-Attached Storage).
Its free version offers all the backup and restore options, but it lacks some side features, such as disk space management, system clone, Command Line backup, and Backup Image merge. The professional version offers all these features that Standard version lacks. There is also a Server version which will let you backup data from data servers, perfect for businesses.
Key Features: Full backup options for free, full control over backup & restore and Create full system clone.
Pricing: Free version will limited features and a Professional version for a price of $49.95 for a lifetime for 2 PCs.
Compatibility: Windows 10, 8.1, 8, 7, XP
5. EaseUS Todo Backup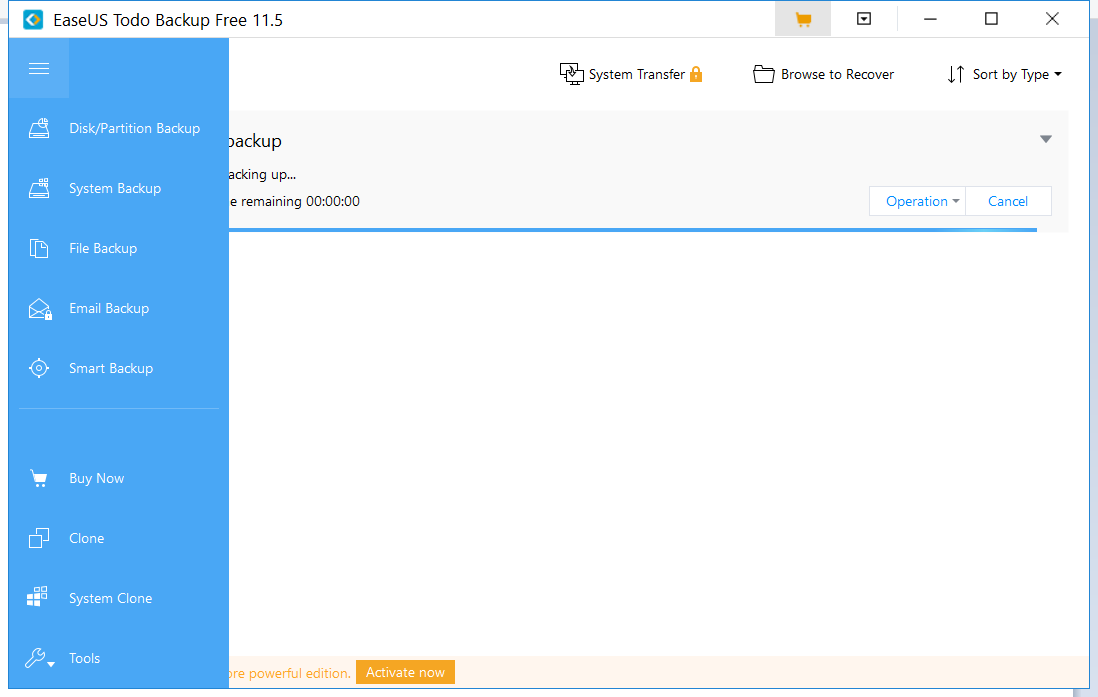 EaseUS Todo Backup is a versatile backup software for Windows which not only lets you back up your files, folders, or entire drives to a secure physical or network-based location but also upload these backups to popular drives such as Google Drive, Dropbox, and OneDrive. Apart from this, you can create disk images of drives or their partitions for a seamless recovery.
The backup software also comes with features to take incremental, differential, or full backups of drives as per schedule or with the addition of new data. Despite new increments, you can still choose to restore an older backup file.
Apart from the above-mentioned features, EaseUS Todo Backup lets users change the compressions settings of a specific backup, copies security settings and password protection when backing up a disk, wipe disks, and supports slicing of the backups into smaller sections.
Additionally, the option to backup Android devices which can be handy when you have to momentarily try a new ROM or factory reset your Android smartphone. Lastly, you can also create bootable WinPE recovery disks to recover your PC in case it is unable to start up.
Key Features: Cloud backup, options for creating clones of individual disks and full system, maintains password protection, and supports scheduled backups.
Pricing: Free version will limited features and a Home version for a price of $29 for a lifetime.
Compatibility: Windows 10, 8.1, 8, 7, XP
6. CrashPlan PRO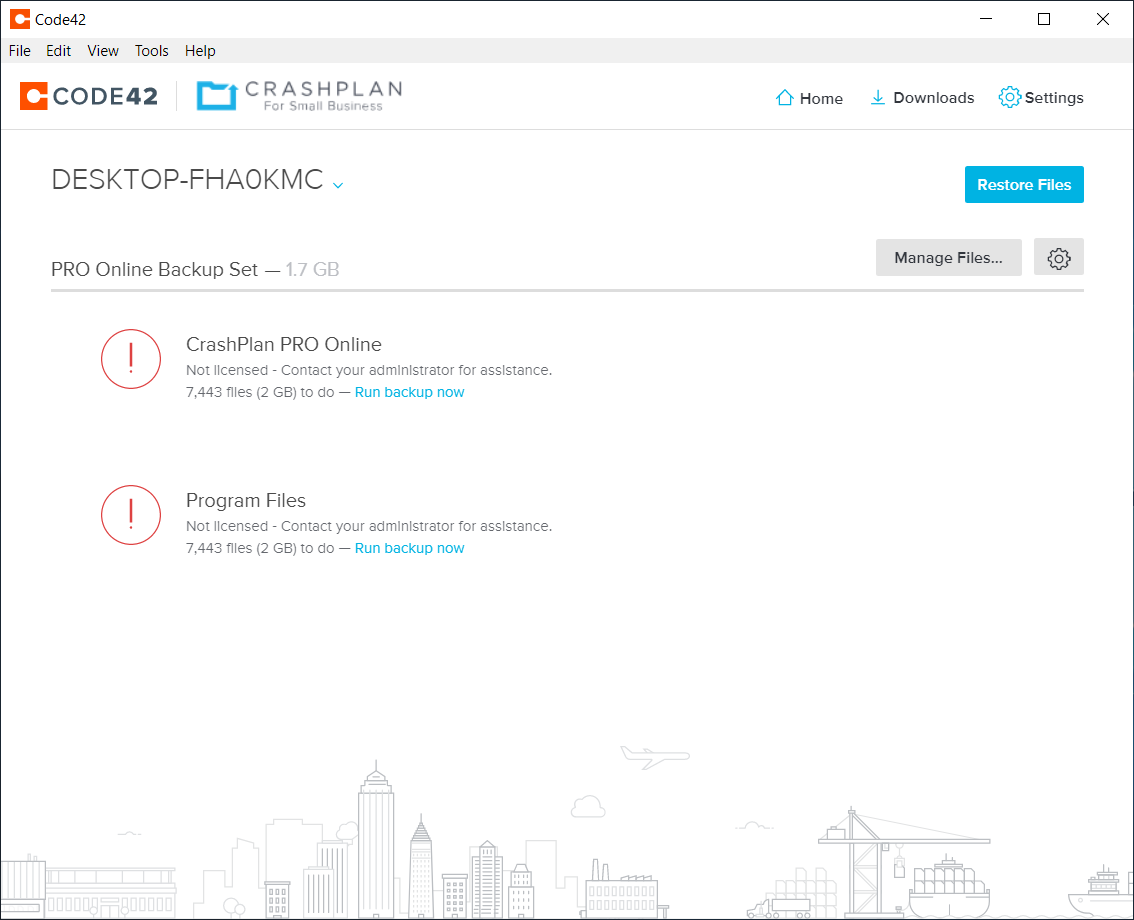 CrashPlan was among the noted backup solutions for home users until August 2017 which is when the company dropped support for home users, extending its services only to small businesses and enterprise users. This is now called CrashPlan for Small Business or CrashPlan PRO (or Code42 for enterprise users). Despite no dedicated plans for home users, there are some economical business plans which individuals can also use.
With CrashPlan PRO, users can either create backups of files, folders, or drives and save them onto another physical location or upload the backups to CrashPlan's own cloud storage. There is no limitation on the amount of data that can be uploaded online making CrashPlan one of the most utilitarian backup software for Windows.
Besides selectively backing up new files, users can also choose automatic options for scheduling incremental or full backups. For uploading files, there are options to exclude certain file types as well as to prevent duplications of files. Furthermore, Users can also limit the CPU consumption by the desktop client to prevent it from draining all resources. Users can also choose from different encryption levels with the highest possibility of 448-bit to double-secure their data.
Aside from the desktop client, you also get an online dashboard where you can manage your usage and payment options. Additionally, you can use mobile apps to access your files backed up online directly on your Android or iOS smartphone.
Key Features: Unlimited cloud storage, up to 448-bit encryption, Android and iOS apps
Pricing: 30-day free trial and $10 per PC per month after that
Compatibility: Windows 10, 8.1, 8, 7, XP
Cloud Storage Backup Services
Above, we have listed some of the most useful backup software which you can install on your PC. But with the growing demand for online storages, the list would be incomplete without some useful and feature-rich cloud storage options. Most of these options offer limited storage for free with some paid plans to expand it. Besides giving you freedom from carrying physical backup drives with you, cloud storages also give you the liberty of accessing your files from any computer or mobile device.
Here are the best cloud storage options which you can use as a replacement for aforementioned backup software.
7. Google Backup and Sync (Works with Google Drive)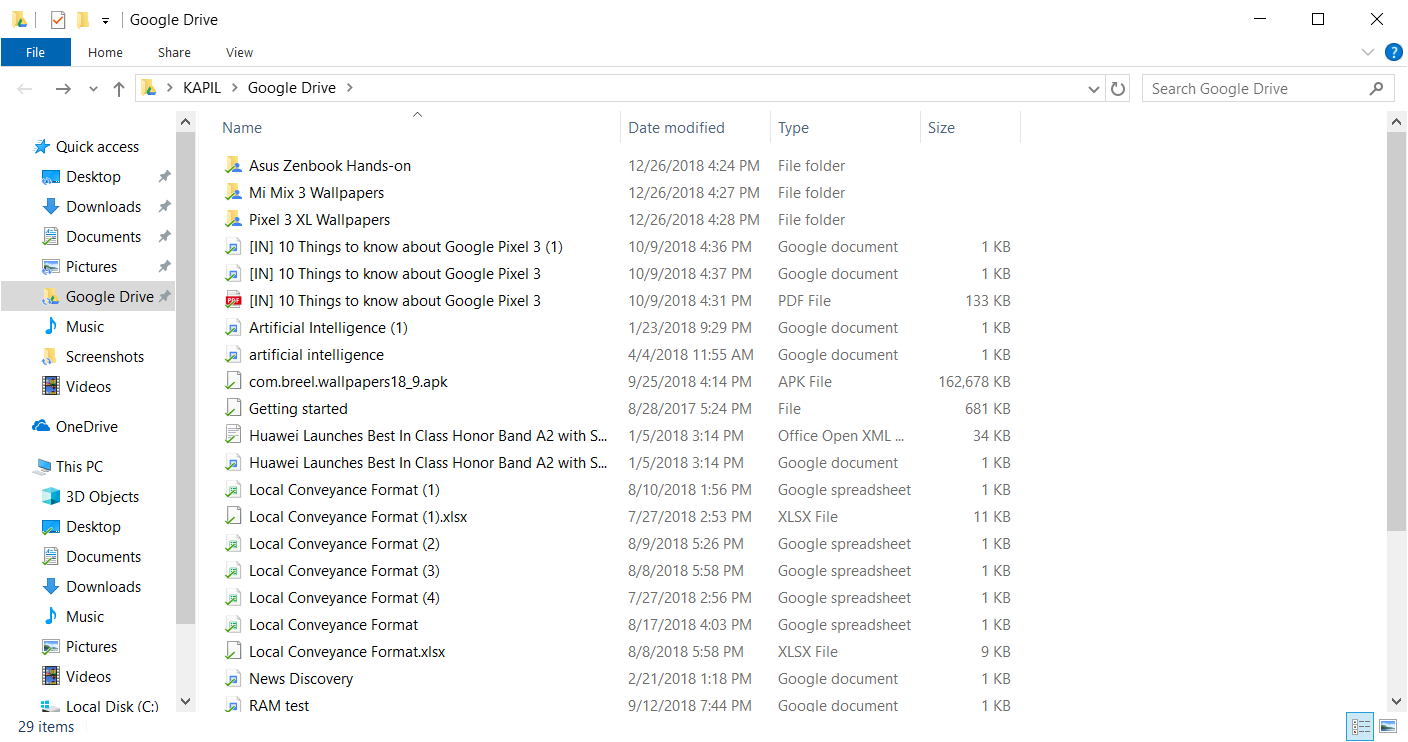 Google Drive is one of the best cloud storage services you can find. It comes with your Google Account which most of the people already have and it integrates well with other Google services. Aside from letting you access your Google Drive files from your browser, you can download a desktop client called Backup and Sync to manage your Google Drive files directly from your desktop.
Same attributes as Google Drive apply to Backup and Sync and you can store 15GB of files – irrespective of the file type – with the free account. In order to gain more storage, you can start by paying $1.99 per month for 100GB of storage, which will cover other Google apps such as Google Docs and Google Photos. There are other options too with options going all the way up to 30TB which costs $299.99 per month.
Coming back to Google Backup and Sync, it creates a dedicated folder in your PC where you can view all of your files in form of a folder. The tool will also install shortcuts for Google Docs, Sheets, and Slides.
Key Features: 15 GB free storage and integration with Google services.
Pricing: Free 15 GB and paid plans starting at $1.99/month for 100 GB
Compatibility: Windows, Mac
8. Dropbox
Dropbox is a simple to use cloud storage service with powerful features and compatibility. You can easily move files to the Dropbox folder in your PC and they will be uploaded and synced over every device. You get free storage of just 2 GB that can be increased to up to 18 GB by referring other people to Dropbox.
It covers a wide range of platforms, which makes sure you get to access your data from almost everywhere. If the free space is not enough, you can get 1 TB space for $8.25 per month with options of unlimited storage which may cost you $20 each month.
Key Features: Multi-platform support and very simple to use
Pricing: 2GB for free and paid plans starting at $8.25/month for 1TB
Compatibility: Web, Windows, Mac, Linux, Android, iOS
9. Microsoft OneDrive
Just like Google Drive integrates with Google products, OneDrive integrates with Microsoft products. It is built into Windows 8, 8.1, and Windows 10, and you can save all your office online documents into it. You will get free storage space of 5 GB and its paid plans are also affordable where 50GB  space only costs $1.99/month. Additionally, you can get Office 365 plans, which include Office 365 online suite, starting for $69.99 per year.
If you are a Windows user with at least one more Windows-based device, then you should definitely try out Microsoft OneDrive.
Key Features: Integrates with Microsoft products, Cheap pricing and 15 GB of free space
Pricing: Free 5 GB space and paid storage costing $1.99/month for 100 GB, $3.99/month for 200 GB and $6.99/month for 1 TB space.
Compatibility: Web, Windows, Mac, Android, iOS, Windows Phone
10. Box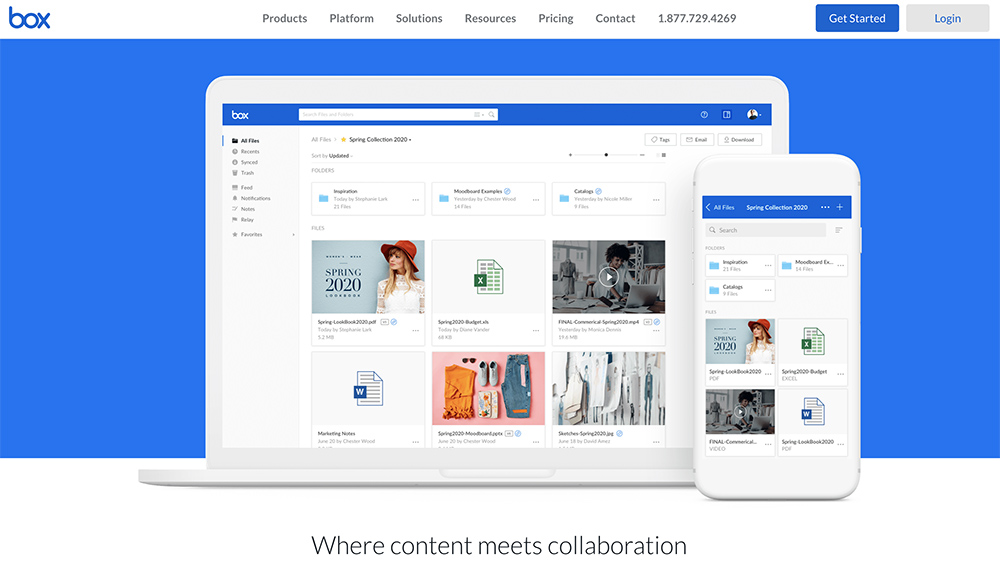 Box is specifically created for businesses, and while it does support individual accounts, the features work best for business use. Their main focus is on privacy and collaboration, you can easily share the uploaded files with other people (employees, preferably) and even add comments and specify who can access data and who can't.
You will get 10 GB of free space with your Box account and you can get 100 GB of space for $6/month. For individuals, it might be a bit pricey, but for businesses, it offers unlimited storage for up to 3 users just for $17/month. If you want to backup your data and also want to collaborate on it, then Box is the way to go.
Key Features: Collaboration tools with additional security, business-related features available and unlimited storage package.
Pricing: Free 10 GB space and $10/month for 100 GB. Business plans start at $5 per user per month offering 100GB of storage and to make use of the plan you need at least 3 users.
Compatibility: Web, Windows, Mac, Android, iOS
11. CloudBerry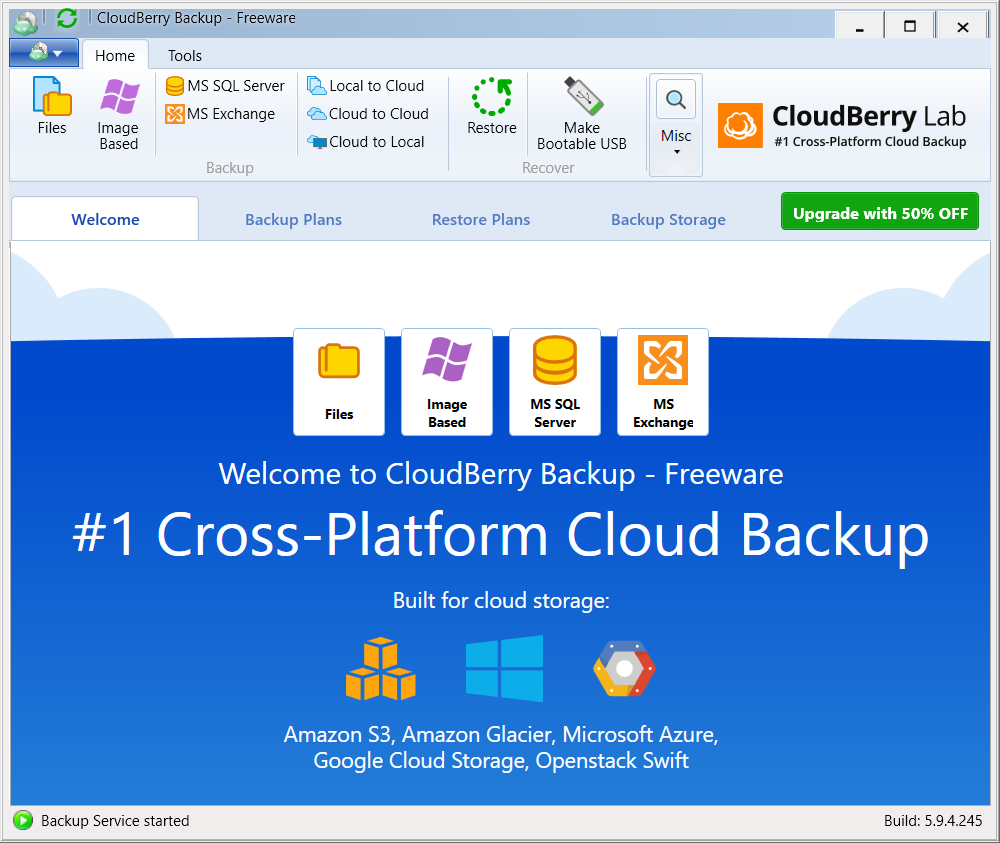 Cloudberry is designed for serious business users who do not want any compromise in terms of the security of their data. Its services are ideal for small businesses and large IT service providers alike. For cloud backup, CloudBerry uses lets its customers choose from among Amazon's AWS, Microsoft Azure, Google Cloud, OpenStack, Wasabi, and BackBlaze as their preferred cloud storage option including the option of signing in with existing credentials.
Besides a variety of choices, CloudBerry also encrypts the data uploaded online for higher protection against rogue elements. Like most backup software mentioned above, CloudBerry supports backing up of images of an entire physical or virtual hard disk in any professional setting. Aside from complete drives, users can also backup and restore individual files. Not only that, but CloudBerry also facilitates users to duplicate their files from Office 365 or Google Docs.
CloudBerry offers desktop clients for Windows, Linux, and Mac for a seamless, timely, and most importantly automatic backup of data directly from users' machines.
Key Features: Versatile cloud storage options, apt for IT professionals and service providers
Pricing: Free storage up to 200GB and paid plans starting at $49.99 for a lifetime for 5GB
Compatibility: Windows, Mac, Linux
12. iDrive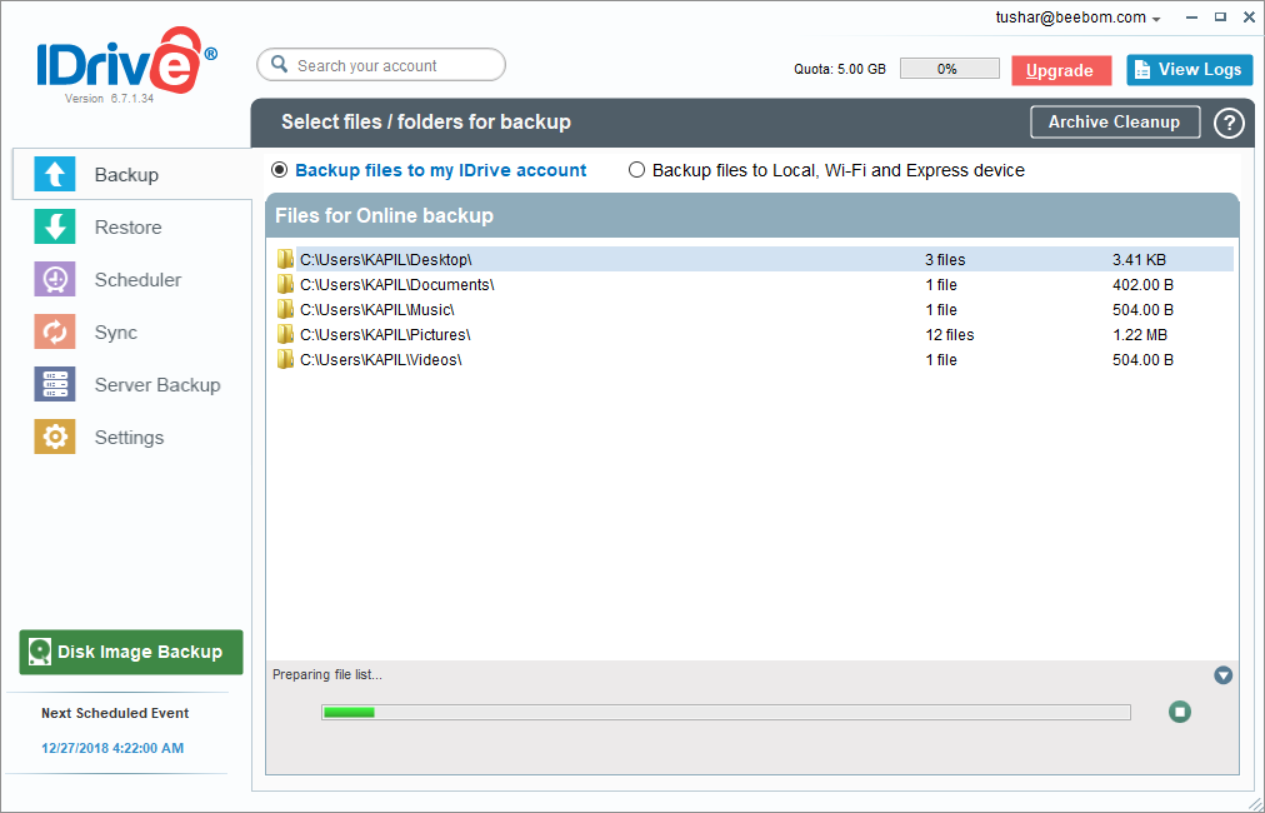 iDrive is an online storage solution which has a striking balance of value for money, feature-rich client applications, and an easy to use interface. The free plan allows you up to 5GB of space and you can use iDrive with an unlimited number of devices. Using the desktop client, you can automatically assign folders which need to be regularly backed up with the cloud and also set schedule for automatic backing up.
With iDrive, you get the choice to secure data with private encryption keys, which are also available to free users. While the interface might not be very attractive, the options are cleanly laid out and easy to spot. Besides letting you back up specific files or folders, iDrive also allows users to backup entire drives.
Apart from the free plan, users can choose the iDrive Personal plan starting with 2TB of storage and priced at $52.12 for the first year.
Key Features: Easy to use, support for unlimited devices, apps on major platforms, encryption keys for data protection
Pricing: Free storage up to 5GB and paid plans starting at $52.12 per year
Compatibility: Windows, Mac, Linux, Android, iOS
SEE ALSO: How to Set Up Activity Syncing on Windows
Best Backup Software For PCs
So, here are some options for the best local and cloud-based backup software and services which you can use to secure your data. Certain services such as O&O AutoBackup, CrashPlan, CloudBerry, and iDrive also support encryption of data for improved protection of data. If you want basic cloud storage, you can go for popular solutions like Google Drive or Dropbox. Alternatively, you can opt for CloudBerry if you own a business and want to keep your data backed up and protected on the cloud.
We have attempted to cover all possible options for backup software for saving files and taking drive backups onto physical drives as well as kept the growing popularity of cloud storage in mind. Do you think any other software deserves to a listed among these best backup software? Do let us know in the comments below!