Google's Android OS is dominating the mobile industry and there are absolutely no doubts about it. In Q2 2015, Android had the market share of 82.8%, followed by Apple's iOS with 13.9%, according to IDC's report. Android has grown immensely in the last few years and deservedly so.
Most of us love Android for the flexibility, customization and great features but there are times when we think of Android alternatives. There are some great mobile operating systems other than Android and although some of them aren't as feature-rich or mature as Android, they offer some cool interesting features.
Why do we need an Android alternative?
We surely love Android, as the market share suggests and Google is really working hard to keep the Android momentum going but as with most things in life, we like having options. Along with that, there are a number of reasons why we need an Android alternative. Google has been criticized across the globe for not making Android really secure and reports have suggested that Android is most prone to malware and viruses. Until recently, Google wasn't even transparent about the permissions in an Android app but with the Android 6.0 MarshMallow, it has updated its permissions page to match iOS' security.
There are also issues of Android fragmentation, as we mentioned. For people unaware, devices running different Android versions leads to bad app performance, development problems and security issues and this is Android fragmentation. For example, Android 5.0 and 5.1 combined have a share of 23.4% among all Android devices across the globe and it was released a year ago. Android 6.0 Marshmallow is yet to make a mark on the Android market share. Google has tried to address these issues with Nexus devices but the problem still prevails. We cannot blame Google entirely too, as manufacturers like differentiating their devices with skins and having control. Google has tried to take some control of Android but it's surely not enough.
The truth is there will never be a perfect smartphone or a perfect operating system because everyone has their own different needs. Well, Android and iOS are indeed close to fulfilling most of our needs but we like having options and diversity, don't we?
So, let's take a look at the Android alternatives we can use:
Best Android Alternatives
The Mighty
Android and iOS have been competing against each other since what seems like an eternity now. Android and iOS both enjoy a great user-base and there's nothing really to fight about. Google has the volumes, Apple has the profit. But at the end of the day, even iOS is an Android alternative and a great one at that.
Android and iOS borrow features from each other all the time and that's one of the reasons why both the operating systems are so feature-rich. However, iOS brings its own unique interface and features on the table. It has a unified interface across all apps unlike Android, smooth animations, Apple-exclusive apps, regular updates, no bloatware and arguably better quality of third party apps. On iOS, you also get the full suite of Google apps whereas you won't find any Apple apps on Android (barring the upcoming Apple Music app).
Overall, it all boils down to your choice of the ecosystem. iOS is not an alternative for everyone as such, considering the premium price Apple charges for its iPhones and iPads but if you want a mature mobile OS to match Android, then iOS is indeed your best bet.
Pros:
Beautiful UI
Smooth operation
Regular Updates
Great quality of apps
Cons:
Locked-down OS
Few customization features
The Contenders
Windows Phone/Windows 10 Mobile
When Windows Phone 7 was announced back in 2010, it got people interested, thanks to its cool new Metro UI and intuitive features. Sadly, that interest did not convert into numbers and the OS has been struggling to gain some major traction since then, even though Microsoft has worked hard and brought regular updates. While the OS has matured a lot, the low number of apps and their degraded quality on the platform has been the reason for its low user-base. However, Microsoft hasn't given up yet, as it's all set will release its new Windows 10 Mobile platform soon, which shares its code base with Windows 10.
Windows 10 Mobile brings a number of new interesting features like Continuum, Cortana, Universal apps, refreshed UI, new Edge browser and more. Continuum deserves a special mention, as it allows you to turn your Windows 10 Mobile device to a full-blown Windows PC through a simple dock. Pretty cool, right?
If you want to try something different other than the two big giants of the mobile industry but still want the basic apps, you can definitely give Windows 10 mobile a try.
Pros:
Fluid interface
Continuum
Universal apps
Cons:
Some popular apps not yet available on the platform
Lower quality of apps
Custom ROMs/Android Forks
There are mobile operating systems trying to become an Android alternative and there are custom ROMs based on Android. You must be wondering why we are placing custom ROMs as an Android alternative since they are more or less Android. Well, the recent past has given rise to various custom ROMs and companies that are building their own OS based on the Android code. Operating systems developed with the base-Android code are called as Forked Android Operating Systems and while they may be Android, they are as distinct as they could be. Custom ROMs and Android forked OSes have tried replacing Google services with various other alternatives to make them unique.
Well, let's check out the best custom ROMs and forked Android operating systems which give Android a run for its money:
CyanogenMod was a very popular custom ROM on Android and then, the guys at Cyanogen went further ahead and launched their very own Cyanogen OS. Cyanogen OS first came pre-installed with the OnePlus One and now, it is used by Indian manufacturer Micromax for its YU subsidy. There are also several other smartphone makers who pre-install Cyanogen OS on their devices. You can download its open source CyanogenMod ROM for most Android smartphones.
While Cyanogen OS looks and feels the same as Android, it lets you customize almost anything on the OS. The Android-based OS brings various themes, custom controls, better camera interface, integrated Gallery and more. The company also plans on taking Android away from Google with Cyanogen OS, as they have made a deal with Microsoft to use its services like Cortana, Outlook, OneNote and OneDrive instead of the Google counterparts like Google Now, Gmail, Keep and Drive. So, if you want Android but don't want the Google services, Cyanogen OS is for you plus you get some great customization features.
Pros:
Great customization features
Regular updates
Great community
Cons:
No Google services in the future

MIUI
Xiaomi has been making great inroads in whichever country they have expanded to. The company's success can be attributed to its aggressively priced devices but its MIUI OS also deserves some of the credit. MIUI has been known for its iOS-like looks and highly customizable features. The OS is not only available on Xiaomi devices but it's also available as a custom ROM for various other devices.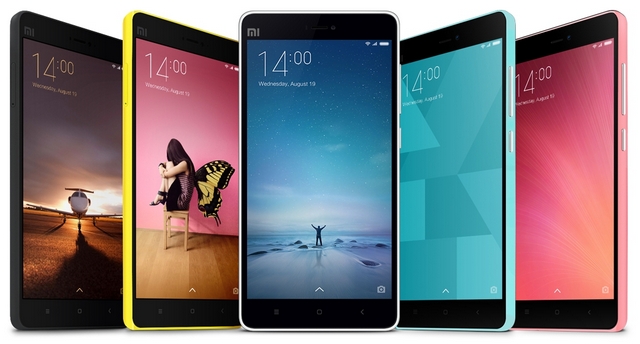 If you want the Android flexibility with iOS looks then MIUI should be pretty appealing to you. The OS also brings some great customization features and themes, which make it a great Android alternative.
Pros:
Themes and exclusive features
Customization options
iOS-like interface
Cons:
Slow updates
Vast difference from Android's stock interface
The Upcoming
Apart from the Android alternatives we just mentioned, there are a number of new upstart mobile operating systems trying to gain some fame in the mobile market. Well, let's check them out:
Among all the upcoming mobile operating systems, Tizen has got the most fame, thanks to Samsung's backing. Tizen was born after Nokia decided to kill Meego, which was an OS developed by Nokia and Intel. Well, Intel went to Samsung and they partnered to bring Meego back to life as Tizen OS. While Tizen looks similar to Samsung's Android skin TouchWiz, it's vastly different under the hood. The OS works mostly like Android but there are a lot of gestures for intuitive interaction. Tizen OS is an HTML5 OS, which should make it a lot easier for developers to develop apps.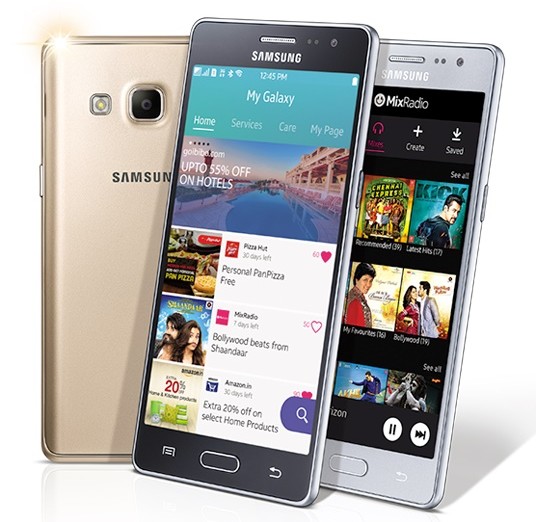 While Tizen has failed to garner a lot of traction with developers or users, Samsung's involvement has kept people interested. Samsung has already launched quite a few devices running the OS like the Samsung Z1, Z3 and the various Gear wearables, so we do know that the South Korean giant is indeed serious about it.
Pros:
Great HTML5 support
Intuitive gestures
Cons:
Very few apps
Looks like Android
We all know Mozilla, thanks to the very popular Firefox web browser and the company has been trying hard to make a mark in the mobile OS space. Mozilla launched the Firefox OS back in 2013 for smartphones, tablets and smart TVs. The company has so far aimed at the affordable smartphone market with Firefox OS and they have had some moderate success. There have been a few phones running Firefox OS but none of them made a great impact. Mozilla recently announced that it is working with a partner to bring a $25 Firefox OS smartphone.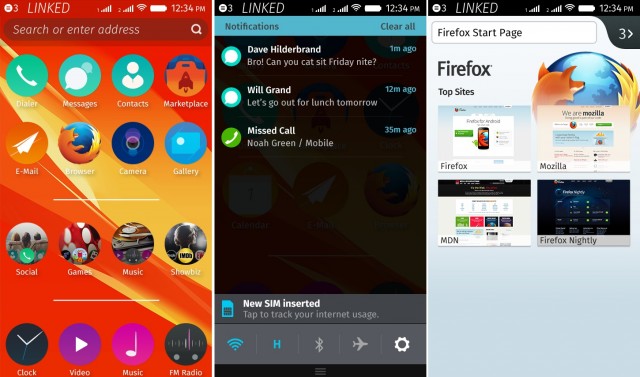 Firefox OS is a Linux-based open source OS, which is designed with HTML5, JavaScript and other open web standards in mind. Its main features include integrated search, web apps and more. While Mozilla's plan might bring the OS some traction, we believe it will take some time before Firefox OS can really become a viable Android alternative.
Pros:
Affordable smartphones
open web standards support
Cons:
Clunky UI
No great smartphones on offer
Very few apps
We all know the Ubuntu OS for PCs but Canonical has been working on developing a mobile equivalent of Ubuntu since a long time. Ubuntu Touch, as Canonical calls it, is an OS designed to run on all types of devices. The OS has a great new user interface, which should be pretty interesting to use. On the surface, Ubuntu Touch looks nothing unique but its demos suggest otherwise. Instead of icons, Ubuntu uses the four edges of the display for a gesture-based user experience.
While Ubuntu Touch smartphones have been released by BQ and Chinese smartphone maker Meizu, there is still some time before Ubuntu can become a major player in the mobile market and a real Android alternative. We hope it does!
Pros:
Intuitive user interface
Cloud-based services
Cons:
Jolla, the company started by ex-Nokia employees who worked on Meego garnered quite a few headlines when it launched its first smartphone "The Other Half" running a Meego-like Sailfish OS. The OS has always been praised for its button-less gesture-based UI but the operating system is still a work in development. While the OS is indeed unique, there is a lot of learning curve. Jolla also unveiled its Jolla Tablet, as a KickStarter project and it easily reached its aimed funding.
Jolla has been working on Sailfish OS 2.0 with new features and support for Android apps. Sailfish OS looks interesting indeed and you can give it a try if you are in a mood for some experiment. You never know, Sailfish OS might become a great Android competitor in the future. So, look out!
Pros:
Unique interface
Support for Android apps
Cons:
Lack of features
Android apps don't run too well
SEE ALSO: Top 6 Google Play Store Alternatives
These are the best Android alternatives, according to us and except iOS, Windows Phone and the custom ROMs, all of them are still in their early stages but from the looks of it, they might give Android a tough competition in the coming years. So, which one's your favourite Android alternative? Sound off in the comments section below.