Instagram started as a simple platform for sharing photos, but with in-line videos and IGTV, the platform has come a long way for sure. Now, people use Instagram for publishing personal, professional, and marketing videos. Working on the short-is-better principal, the platform has a lot to offer as well. When you want to make such videos, however, Instagram's built-in video editor won't help you much. If you put it in other words, you need dedicated Instagram video editor apps most of the time. As it happens, you can find many such apps across platforms, each of them offering something new. In this article, we have compiled some of the best Instagram video editor apps for Android and iPhone. We have tried including dedicated editors as well as hybrid (camera + editor) apps in the list, and you can choose according to your convenience.
Best Instagram Video Editor Apps in 2019
1. Horizon Camera
Horizon Camera is a hybrid Instagram video editor app you should check out. It does something superb: this tool allows you to record horizontal video even when you hold your phone vertically. Thereby, it addresses one of the biggest issues you have while uploading videos to Instagram. Now, you cannot use Horizon as an actual editing tool, but the hybrid function seems quite useful.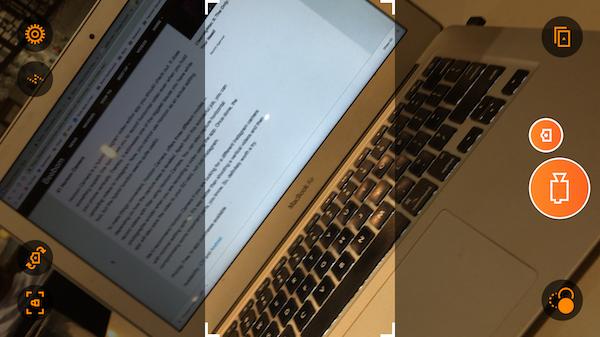 To make things convenient, Horizon Camera  offers three different modes — depending on how the capture area is levelled. Apart from this wonderful job, you can record videos with filter using Horizon Camera. You can also capture horizontal photographs amidst when you are recording a video using the app. Once done, the app will also save the video to your SD card, not just Instagram.
We'd recommend Horizon Camera if you are looking for a different Instagram camera with minimal editing options. It's way better than shooting a vertical videos and then compromising some important parts, you know. So, definitely worth a try.
Pricing: Free, in-app purchases available
2. Boomerang
Boomerang is a popular video editing app when it comes to Instagram content. In fact, you could even say 'do a Boomerang' and people would understand. Boomerang actually captures a number of continuous shots and combines all of them to make a mini-video.  The video will be of several seconds, but the action will be repetitive.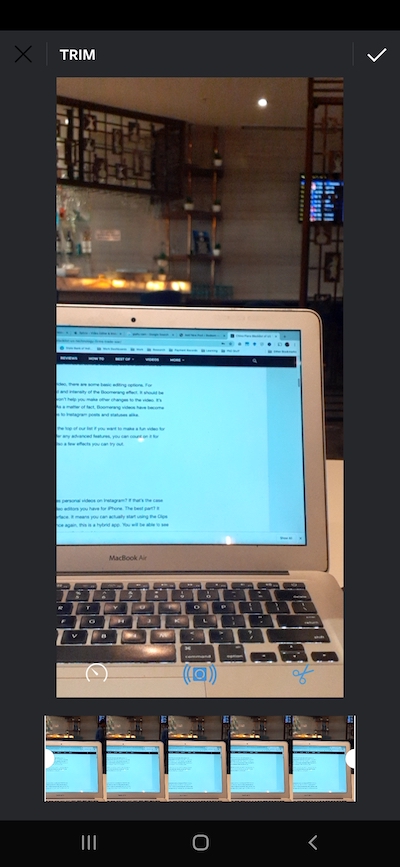 Once you have captured the video, there are some basic editing options. For instance, you can adjust speed and intensity of the Boomerang effect. It should be noted, however, that the app won't help you make other changes to the video. It's either Boomerang or nothing. As a matter of fact, Boomerang videos have become some status quo when it comes to Instagram posts and statuses alike.
Boomerang for Instagram is at the top of our list if you want to make a fun video for Instagram. While it does not offer any advanced features, you can count on it for boomerang videos. There are also a few effects you can try out.
Pricing: Free
3. Apple Clips
Do you post funny and sometimes personal videos on Instagram? If that's the case, Apple Clips is one of the best video editors you have for iPhone. The best part? It comes built into the software interface. Since it's made by Apple, it works flawlessly on iPhone. Once again, this is a hybrid app. You will be able to see the effects in real time, as you are recording the video.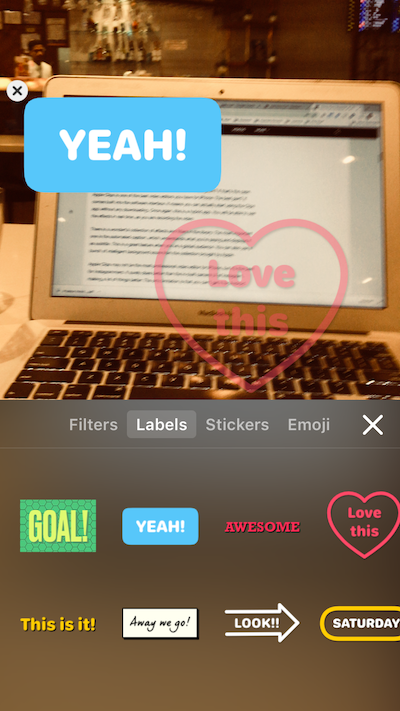 There is a wonderful collection of effects and filters in the library. The most important one is the automated caption, which understands what you're saying and displays it as subtitle. This is a great feature when you've a global audience. You can also use a bunch of intelligent background score from the collection brought by Apple.
Apple Clips may not be the most professional video editor for iPhone, but it's the best for Instagrammers. It surely does better than the in-built camera UI of Instagram, making a lot of things better. The only limitation is that you can't get it for Android.
Pricing: Free
Availability: iOS
4. FilmoraGo
FilmoraGo is what you would call the professional video editor for Android and iOS (somewhat). Compared to other video editors we have listed above, FilmoraGo offers a bunch of video editing option, suitable for a variety of Instagram video types. It doesn't matter if you are shooting a one-person recording or landscape, FilmoraGo will have the right effects for you.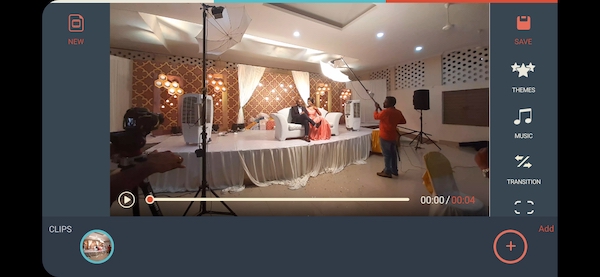 From video trimming to voice over and from cropping to overlays, FilmoraGo has almost every feature you'd find in a desktop-level video editor. It basically means you can make your Instagram videos more professional in terms of looks. That having said, there isn't a steep learning curve either. In fact, you can actually make a really cool video in just seconds.
So, if you need a truly professional video editor app for Instagram content, FilmoraGo is an option you can check out. Do note that although the app is available for both Android and iOS, the iOS version does not offer the same level of features.
Pricing: Free, with in-app purchases
5. Quik
Quik is a video editing app that is developed by GoPro, the same company behind the action cameras. If you didn't guess, the app is supposed to help you edit GoPro videos, but you can use it for normal videos as well. I'd say Quik is the quickest way to compile some photos and videos and make a stunning output video. Even in the free version, there are so many effects and transitions available.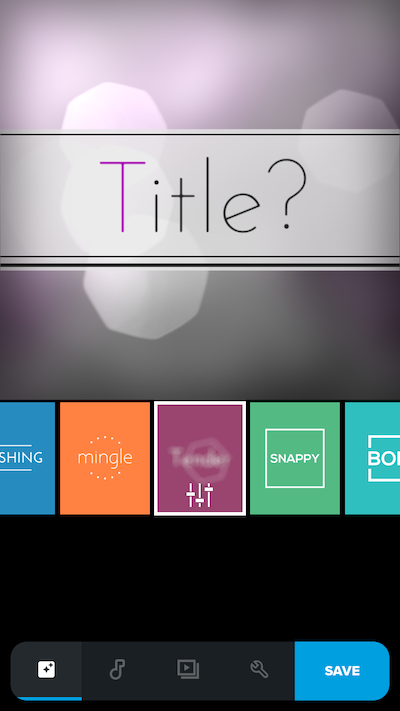 Despite the professional quality it assures, it's incredibly easy to make use of Quik. You can select the videos or photos you want to compile and proceed with the desired effect/transition. Quik also allows you to add a few customization into the videos. You can also bring in more collections of effects if you are bored with the existing ones.
We would recommend Quik if you are looking for a professional-quality video editor for Instagram. You've to make sure that the video is in the right size before you apply effects and transitions, though. Just keep it aside and Quik is perfect.
Pricing: Free
6. Lapse It
Lapse It is another hybrid Instagram video editor app you should check out. As you may have guessed from the name, Lapse It allows you to make time-lapse videos on your iPhone and Android. You can use this app to record tie-lapse video as well as to convert an existing video from gallery to time-lapse. In the second way, the app takes some time to render the output.
Even when there is an output, you can customize the result. For instance, you can trim the video or include some background music, and more. Once you have chosen everything, the output video is just a few seconds away. We should also mention the fact that Lapse It has one of the best User Interfaces we have seen. That having said, many features are for pro users only.
We would recommend Lapse It as the Instagram video editor if you are specifically looking for videos in the time-lapse sector. Of course, the app has limited features in the free version, but if you make lapse videos so often, you can consider going for Pro too.
Pricing: Free, $2.99
7. Foodie Camera
Do you capture photographs and videos of the food you savor? In that case, you should check out the Foodie Camera, available for iOS. As the name says, the app has been optimized for capturing food-related photos, videos and other content. In fact, to complement the experience, there is a wide variety of filters you can check out as well.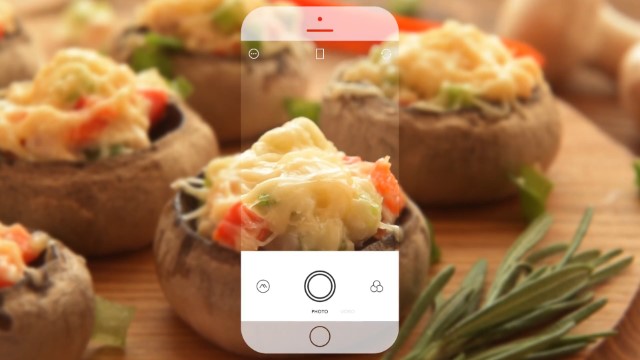 You could say Foodie Camera is a photo-oriented camera app, but the video section is equally impressive as well. For instance, you can combine some of the recent photos and make a season video. Similarly, Foodie Camera allows you to try out several live filters when you are recording. Once again, we won't recommend the tool for standard photography adventures.
So, if you take food-related photos and videos a lot, Foodie Camera is a great option. You can never go wrong with the filters on screen. That having said, we wished if Foodie Camera allowed some more options to keep the video customized.
Pricing: Free
8. Adobe Premiere Clip
Coming from the same line of Premiere, one of the most trusted video editors, Adobe Premiere Clip is a cool way to make stunning videos for Instagram and other purposes. Compared to other apps we've listed, Adobe Premiere Clip has more features and is optimized for mobile. Depending on the level of control you need, it lets you choose between modes.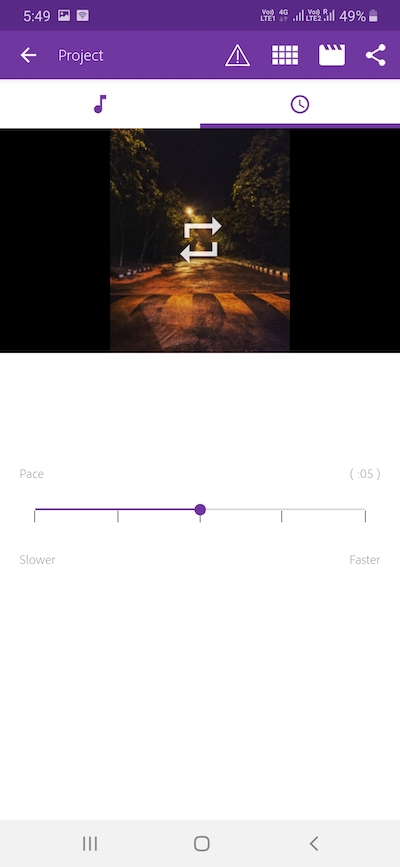 In the Automatic mode, Adobe Premiere Clip will generate the video. However, if you want to make more edits to the content — like basic trimming and sequencing, you can check out the Advanced mode as well. Basically, you can spend either a few minutes or a few seconds to make the best video from existing photos or video clips.
This is our top-notch suggestion when you need proper control over video editing. By the way, if you would like to have even more control over video editing, you can check out Adobe Premiere Rush, which although paid offers a ton of editing options that you cannot find on any other Instagram video editor apps on this list.
Pricing: Free
9. KineMaster
KineMaster is considered one of the most popular Pro video editors for both Android and iOS. You would've seen videos made with KineMaster across social media platforms. If you want to bring a lot of effects as well as transitions into your output video, this is a great choice. To begin with, you can choose from a variety of transitions and quick effects.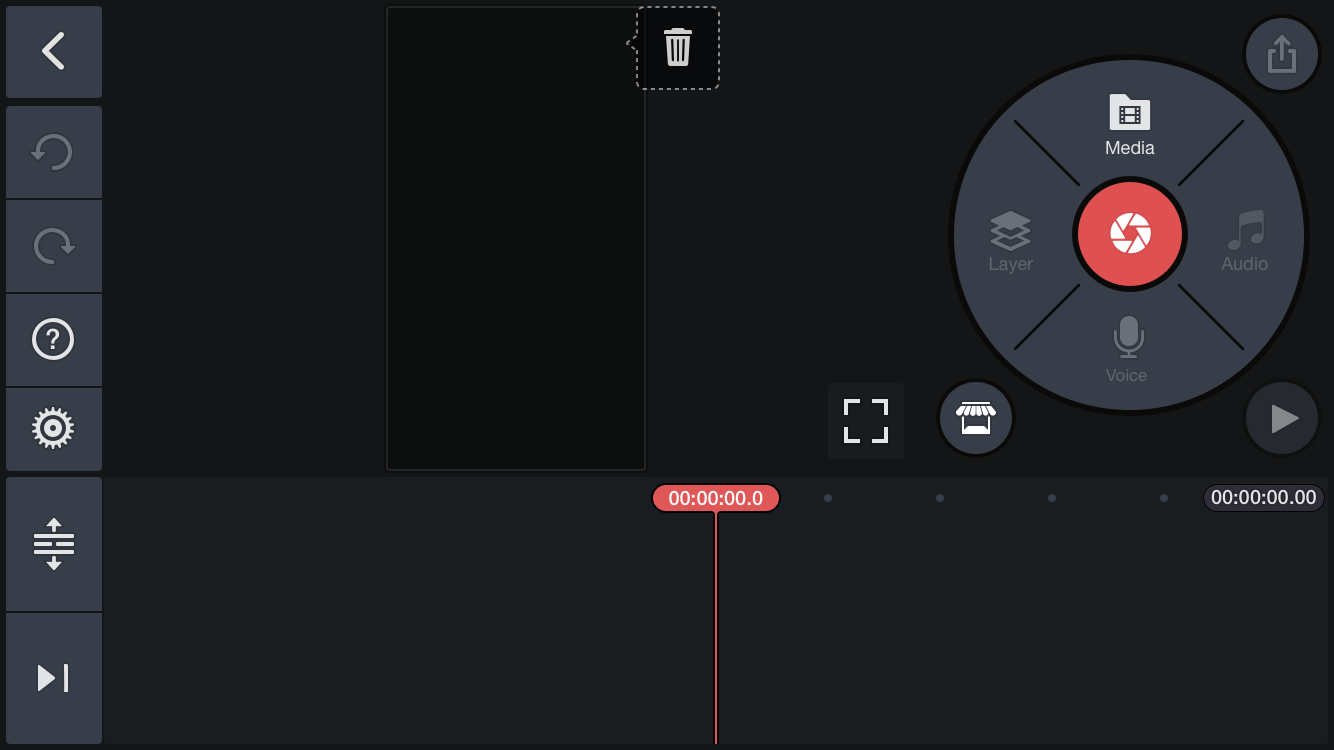 Keep the easy options aside, KineMaster is indeed an advanced video editing suite. You can have multi-layer video editing along with other features. The best part? If your device allows it, you can export 4K video at 30 FPS rate, which is great. That having said, KineMaster works better if you have a high-perfrormance device at your disposal.
KineMaster would be our top recommendation if you are looking for professional-level editing options within your smartphone screen. Some of the features may indeed be premium, but the overall deal is suitable for beginners. While it's not optimized for Instagram, a lot of users make use of it.
Pricing: Free with in-app purchases
10. Magisto
Magisto, as the developers say, is a smart video editor. When you have a bunch of videos or photos that you want to bring together, Magisto is the easiest way to do that. Once you have chosen photos and videos you want to combine, Magisto will do the rest for you and even upload the video to the cloud. It means you can access the same video from other platforms that support the app.
For one, Magisto does not offer you much control over the editing process. But, that's something you have to presume when you set out to use a 'smart' video editor. Due to the same reasons, Magisto is a great choice when you want to make a quick video for Instagram. If you are going with its paid version, however, you will have access to some advanced effects and transitions as well, and that's something great.
Altogether, Magisto is a great choice when you want the quickest video making experience. For instance, if you want to combine all the memories from a week and make a great Instagram story, you'd be able to do that with the help of Magisto. Don't expect it to help you customize, though.
Pricing: Free, $4.99/month
Bonus:
You can also check out the following options which are good for specific type of video editing that you might need for your Instagram.
1. Splice
Splice is a fully functional Instagram video editor you can try for making advanced videos. It comes with one of the intuitive UIs we have seen but the customization options are endless. You will be able to add effects and transitions to the video with ease. Despite the name, this app works more than as a splicing tool. My favorite feature of this app is that it supports not only portrait and landscape video editing but also square video editing which makes it great for Instagram. So, if you have an iOS device and want to have a different editing tool, you can try out Splice.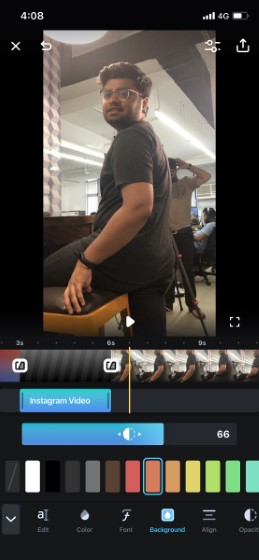 Price: Free, in-app purchase
Availability: iOS
2. Giphy Cam
Giphy Cam is another hybrid app you can consider for making Instagram videos. You may already be familiar with Giphy, because the app has been popular with GIFs. However, there is a section of the app that lets you convert videos and photos into GIFs, which work great on Instagram as well as other platforms. Because you are recording a GIF, you will be able to add a wider variety of effects and filters to the content.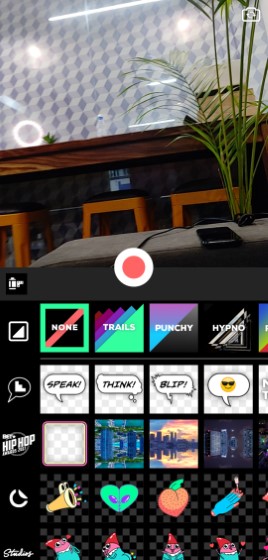 Price: Free
SEE ALSO: 15 Cool Instagram Tips and Tricks You Should Try
Make Your Video Post Shine with These Awesome Instagram Video Editor Apps
Apparently, these are the best Instagram video editor apps you can try on Android and iPhone. As we said, we have included both dedicated video editing apps and hybrid video editing apps. Choosing between them is completely up to you. For instance, if you want a professional-quality editing experience, you may want to go with the dedicated video editing apps like KineMaster. On the other hand, if you need a quick and easy editing, you should use Quick or Magisto. Do check out the list and let us know your favorite Instagram video editor apps by writing in the comments section below.