The lock screen on Android has gone through a number of changes over the years and the current lock screen on stock Android devices looks great and is equally functional. However, not everyone owns a stock Android device and manufacturers like to include their very own lock screen on their devices, which isn't that good. Thankfully, like almost anything else on Android, you can replace the lock screen on your Android device. Well, here is our list of the 7 best locks screen replacement apps for Android:
Note: Some lock screen apps might not play well with the default lock screen on your Android device. So, you can first disable the default lock options on your device by going to Settings->Security->Screen Lock and selecting "None". 
1. Next Lockscreen
Microsoft's Next Lock Screen app is the perfect lock screen app to get, if you want to keep things simple yet functional. The lock screen packs in contextual features, as it shows you your most used apps based on the time and location. Along with the apps, the lock screen also brings access to your favorite contacts, various shortcuts and toggles like WiFi, Bluetooth, brightness slider, camera etc.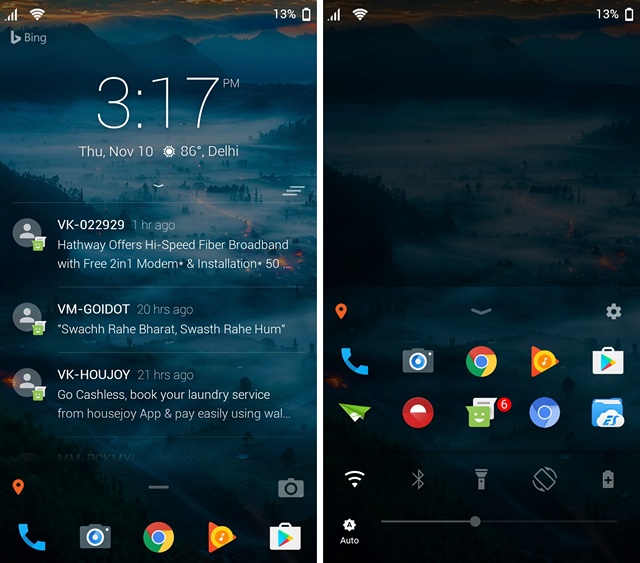 The Next Lock Screen brings beautiful Bing wallpapers to your lockscreen and shows you time, weather and notifications. Plus, it supports fingerprint unlock along with the usual locks.
Install: (Free)
2. Hi Locker
Hi Locker is a great lock screen app that brings a great mix of older Android lock styles and the modern ones. Talking about its features, the first thing I like about Hi Locker is that it supports various security locks including fingerprint lock and smart lock, which lets you set trusted devices and networks to make sure the phone is unlocked automatically. There are a plethora of features here, you can launch apps quickly from the lock screen, check out notifications, weather info and you can customize almost everything about the app. Plus, it includes a cool calendar pane on the lock screen, which should be handy if you quickly want to check out what's up for the day.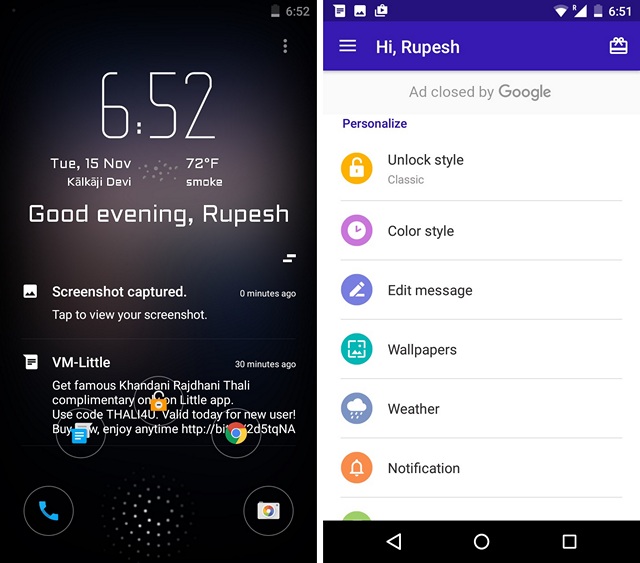 The lock screen also offers some very cool wallpapers and it also automatically changes the wallpaper after a period of time that you can set. Overall, Hi Locker is a lock screen app for people looking for a feature rich and customizable lock screen. While the app is available in a free version, some features are limited and it includes ads. To unlock all features and removed ads, you will have to get the Pro version.
Install: (Free with in-app purchase of $1.99 for Pro)
3. AcDisplay
AcDisplay is the lock screen app to get if you like things minimal. The lock screen brings you notifications in a very intuitive interface and you can jump to apps directly from the lockscreen. Plus, you get various shortcuts on the notification, like you would in the notification center. It also includes an Active Mode, similar to Android's Ambient Display, which detects when the device is picked up or taken out of a pocket and shows you your notifications.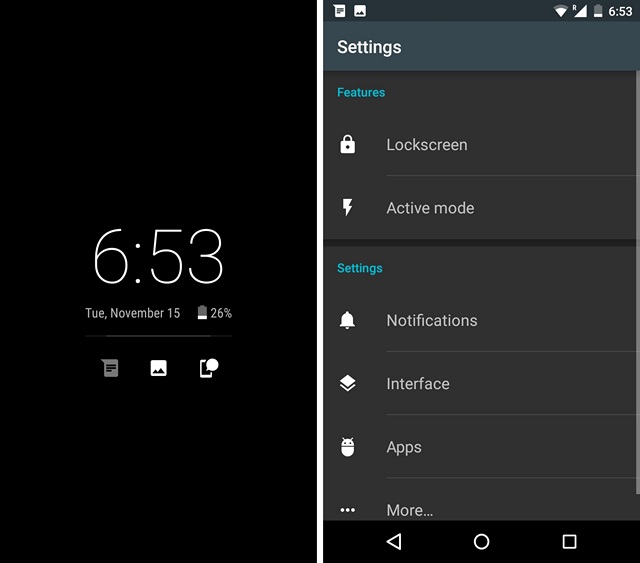 Other features of the app include ability to blacklist apps from sending notifications to lock screen, dynamic background, low priority notifications and more. The app is available for free and like most lock screen apps, there are a lot of customization options.
Install: (Free)
4. Echo Lockscreen
Another feature rich lock screen app, Echo Lockscreen is a pretty unique lockscreen app. The lock screen looks pretty cool, thanks to its minimal interface and while there aren't many customization options here, it looks great as it is. The best thing about Echo is that it groups various notifications under labels like Priority, Social, Work, Media etc. You can choose which apps go to which label and you can even add apps to the Hidden label, so that notifications of these apps don't arrive to the lock screen. There's also an option to Snooze notifications, so that you can get back to it later.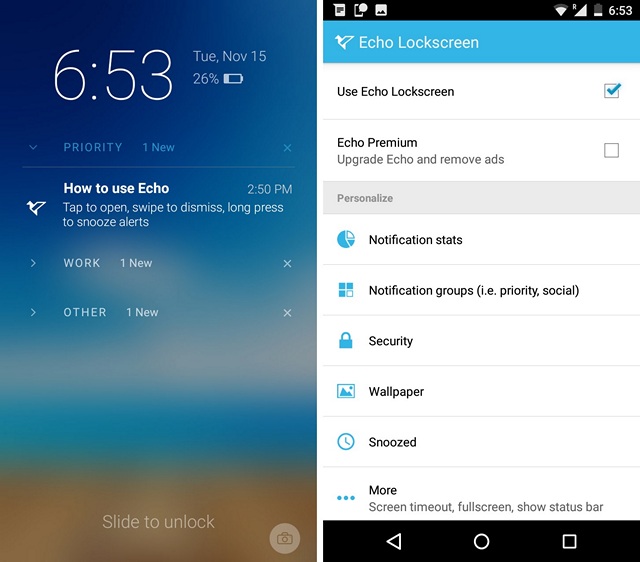 The Echo Lockscreen is available in a free version but it includes ads and if you want to get rid of them, you can get the Premium version via an in-app purchase.
Install: (Free with an in-app purchase of $2.99 for Premium)
5. Picturesque Lock Screen
Picturesque is another lock screen app by Microsoft and while it's similar to Next, it's still a pretty unique lock screen replacement app. The lock screen brings you new Bing backgrounds every day and the best thing is, it looks clean while offering you a number of cool options on the lock screen. You can directly search for apps, contacts or the web from the Picturesque Lock Screen and it also brings you app shortcuts and toggles. Other than that, the lock screen brings you date, time, weather info, notifications and a separate panel for all the news.
Install: (Free)
6. ZUI Locker
If you want total control over your device's lock screen, ZUI Locker is the app to get. While the lock screen might seem pretty minimal and simple at first, it includes a cool control panel, which features various app shortcuts, toggles for system settings, RAM usage, settings and more. The app lets you customize the lock screen, wallpaper, different layouts & styles and different lock styles. There are a lot of options to play with, so you can set up the lock screen the way you want. Along with the various features, the lock screen also includes a great SOS and intruder selfie feature, which when enabled, takes a snap of people who enter wrong passwords or pattern.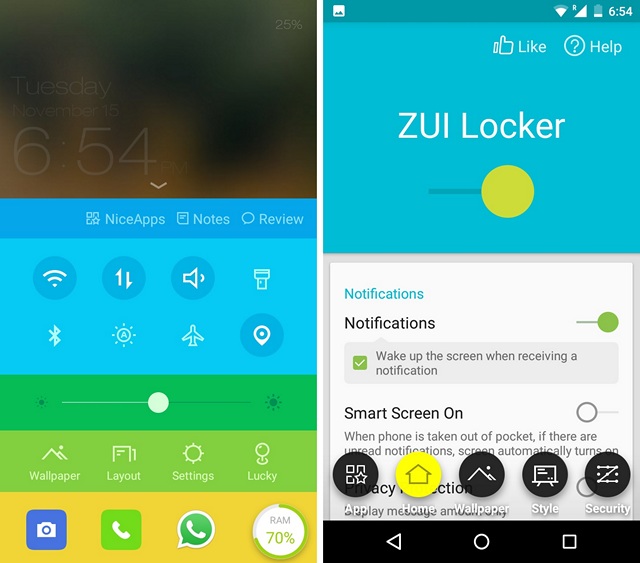 Install: (Free with in-app purchases)
7. Gesture Lock Screen
The last app on our list is the Gesture Lock Screen and as the name suggests, the app lets you unlock your Android device with a cool gesture. It's simple, really, you can just enable and create a gesture and you are good to go. The simple lock screen brings you app notifications and you can customize the lock screen, change the unlock animation, lock delay, sounds and background. The app is available in a free version with ads and if you want an ad-free version, you should buy the Pro version.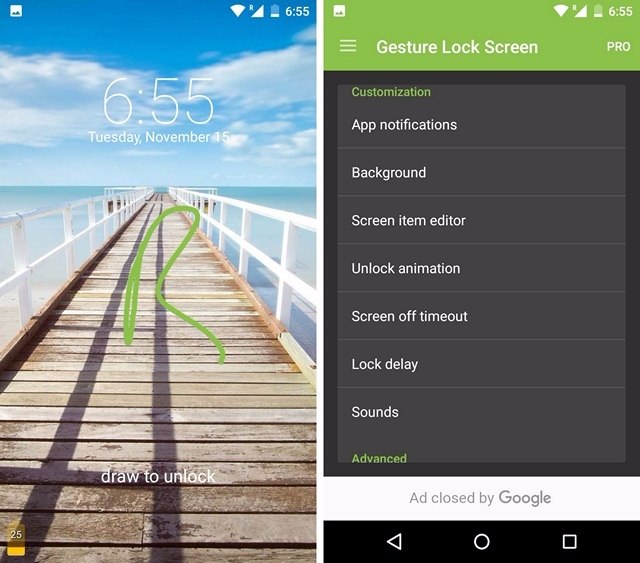 SEE ALSO: 15 Must Have Android Apps You Should Install
Try out some alternative lock screens for your Android device
These are definitely the best lock screen apps you can install on your Android smartphone right now. There are various other lock screen apps available for Android but a number of them are bloated and some just look bad.
So, that's all from our side, try out these lock screen replacement apps and let us know if you know of any other great lock screen app that deserves to be on our list. Sound off in the comments section below.