Twitter is undoubtedly one of the most popular social networks on the web. With more than 300 million monthly active users, Twitter is arguably the biggest social media network alongside Facebook. Chances are, you use the micro-blogging network religiously on the web and on your smartphone. If you are using the official Twitter app, you might be missing out on a lot. While the official app is no slouch when it comes to features, it lacks customization options, features like various mute options and users have been complaining about performance issues as well. Thankfully, there are various third party Twitter clients for Android and iPhone that bring more functionality, customization options and better performance. So, if you are Twitter power user, here are 8 best alternative Twitter apps you should be using: 
1. Fenix
Fenix is a highly popular Twitter app for Android and along with the features present in the official app, it brings some more. Firstly, you will love the interface and the gestures/swipes to navigate the app. Moreover, you can customize the look (dark, Blue or true Black themes) and navigation in the app. If you don't use sections like Direct Messages, you can simply hide them. It certainly makes using the app a pleasure. Along with that, the app brings support for TweetMarker, which is a web service that lets you sync the reading position on Twitter across various devices.
Also, you can mute users, hashtags, Twitter clients and custom keywords. Other features include multiple drafts, clickable timeline links, image & video previews on timeline, internal browser with Readability support and more.
Install: ($4.99, Android)
2. Tweetbot 4
If you want a fully-featured Twitter app for your iPhone or iPad, there's nothing better than Tweetbot 4. The app integrates a number of third party services for videos, images, read later and timeline sync to make your Twitter experience amazing. It features a cool statistics and activity view, which lets you see how you are doing on the platform along with all your recent activity. The app also lets you mute tweets by users, hashtags, tweet sources, keywords along with more granular mute filter settings.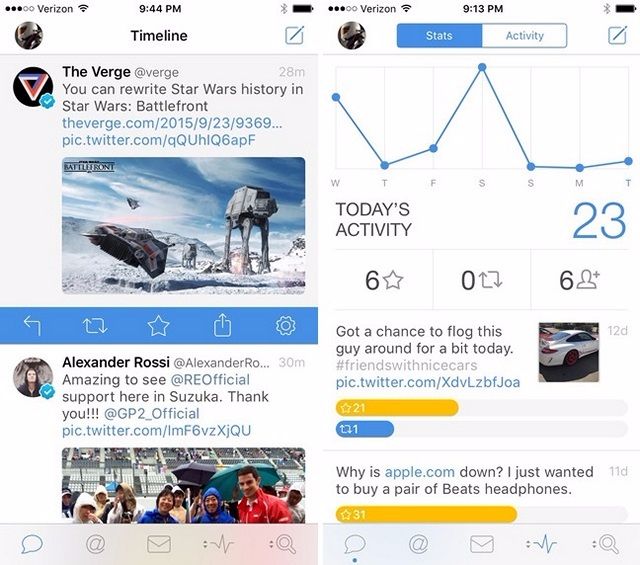 That's not all, there are some more cool features like the ability to save & tweets drafts, WiFi timeline streaming, timeline sync across multiple devices, smart gestures, customization, a night theme for low light reading and more. The app is pricey, no doubt about that, but if you want a great Twitter experience on your iOS device, it's worth it.
Install: ($9.99, iOS)
3. Twidere
Twidere is the app you should be using if you want a free, fast performing, fully customizable Twitter experience. Firstly, the app looks great with its clean interface, plus it's fast and sleek. Then, there are the plethora of customization options. You can customize the look of the app with a light or dark theme or a background and you can even change the fonts and colors used in the app. Moreover, you can customize the tweet cards along with various custom tabs.
The open-source app packs in plenty of features as well, like keyboard shortcuts, support for tweet shorteners & extensions, configurable share formats, bandwidth saving mode, powerful filters, drafts and way more.
Install: (Free, Android)
4. Twitterific 5
Twitterific 5 is another fine Twitter app for iPhone and iPad users. The elegant looking app brings features like live streaming on the timeline, ability to mute tweets by users, hashtags or URLs, list management, voiceover support and more. There are tons of customization options too. In the theme panel, you can switch between different themes, customize avatars, fonts, image thumbnails and more. Also, there's an option to automatically enable the dark theme at night.
While the free version of the app brings the aforementioned features, it lacks support for push notifications, which can definitely be a deal breaker for people. However, you can get push notifications and other premium features like tweet translation via in-app purchases.
Install: (Free with in-app purchases, iOS) 
5. Talon
Talon is another gorgeous looking Twitter app, which brings a great mix of unique features and performance. Talking about the unique features, Talon lets you "peek" into profiles, images, GIFs and videos without ever leaving the timeline. The app also lets you receive notifications for favorite accounts and lets you mute tweets by users, hashtags, retweets, Twitter clients and expressions. Other features of the app include do not disturb mode, compact timeline layout, TweetMarker support, functional notifications, native playback of most media types and more.
Along with the cool features, you can even customize the app's swipe-friendly pages. Plus, you can customize the look of the app with its Material Design theme engine. The app is totally free but if you like it, you can donate some bucks to the developer through an in-app purchase.
Install: (Free, Android)
6. Plume
If you want a free, customizable Twitter app for your Android smartphone, Plume is a great option. With Plume, you can customize your experience with colors, different sections and more. Plus, all the different sections are available at swipes, which makes the interface a lot more easier to navigate. Other than that, the app brings features like support for live streaming from timeline, mute through users, apps & words; internal browser, bit.ly support, inline conversations, scrollable widgets and more. Moreover, you can also add your Facebook account to see its timeline and even post updates.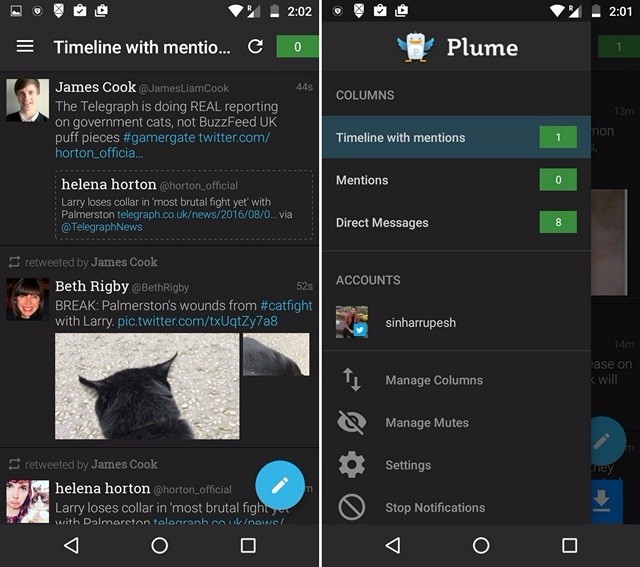 Install: (Free, Android)
7. Flamingo
The Flamingo Twitter app for Android might still be in beta and its early stages of development but it has already gathered a fan following among Android enthusiasts. While the app may not be as feature rich as some of the other Twitter apps on the list, its beautiful interface, fast performance and simplicity make up for it. The app lets you hover over (long pressing) on an icon or image to quickly preview profiles, photos, GIFs and more.
Also, the app lets you theme multiple accounts in different styles, so that you remember the account you are tweeting from. Flamingo is a fantastic Twitter app already and we believe it has the potential to become our favorite Twitter app over time.
Install: ($0.99, Android)
8. Tweetings
Want a customizable Twitter app with a lot of features? Well, Tweetings is an app that brings the best of both worlds.  You can change the look of the Twitter app on the go with 36 beautiful themes, 18 dark and 18 light, plus there's a theme builder too. Also, the app brings a stacked timeline, which lets you view tweets grouped by users. It also features sections that you can add or remove with ease. Moreover, Tweetings brings features like clickable links on timeline, quick actions when you long press tweets, real time streaming updates, GIF & video support, drafts, parallax timeline effect and more.
Tweetlonger also brings support for Twitlonger, TweetMarker, DashClock and Chrome tabs and lets you sync muted users with the official Twitter app. You can mute tweets by users, keywords, hashtags and client. There's also a muffle feature, which makes sure you don't see tweets from a selected user regularly.
Install: ($2.99, Android)
SEE ALSO: 10 Best Reddit Apps For iPhone, Android and Windows Phone
Boost your Twitter experience with these alternative apps
The official Twitter app should be good enough for most users but if you are someone who uses Twitter a lot, you should definitely install one of the apps listed above. The aforementioned third party Twitter apps bring better performance, more features, customization and work great too. So, check out these Twitter apps and let us know your favorite Twitter app in the comments section below.