Kodi (previously known as XBMC) is a powerful online media player that lets users watch from almost anything to everything. Best part is that it's completely free and offers a wide range of entertainment channels such as Music, Sports, Movies, and even live TV.
If you are looking for a free way to watch live TV, without having to pay hundreds of dollars to cable companies, you are at the right place.
As I already mentioned, Kodi is completely free and open source. So, all you have to do is to install Kodi on any of your device (Mac,Windows, Android, Raspberry Pie etc.). After installation, you will have to add any of the addon mentioned below.
In this article, we have handpicked 5 best add-ons for watching live TV on Kodi, you can choose the one that suits you the most. So, shall we begin?
1. Phoenix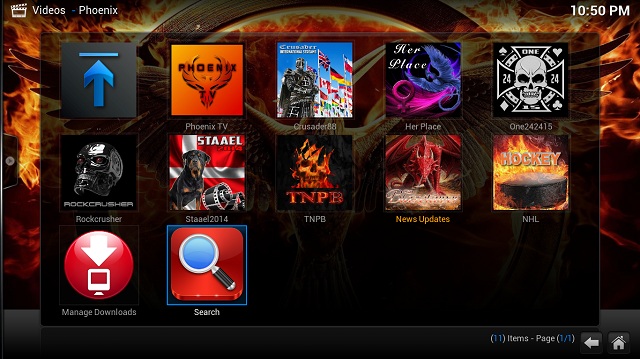 Phoenix is relatively new addon but that doesn't make it any less deserving of the topmost spot on the list. Phoenix offers wide variety of international channels, it won't be wrong to say that Phoenix offers channels from most of the countries on the planet. It is regularly updated by the community, so you can always expect something new. For viewing international channels, choose Crusader88 category. Apart from this, you also get wide variety of movies, music, news, etc.
Above all, it works pretty smooth.
2. USTVNow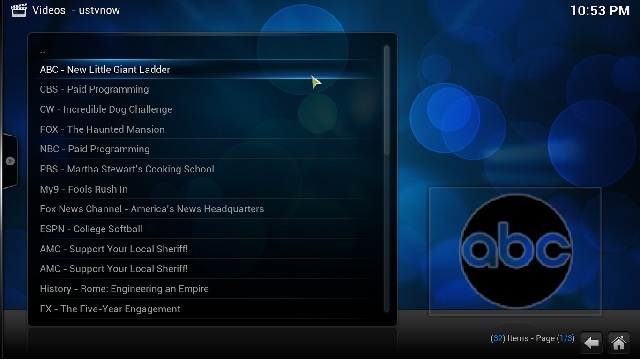 USTVNow is a subscription based service. You need to subscribe for it, through their official website. It offers 6 free US based channels for free and if you want more channels, you need to go with the paid subscription for $19 a month offering 28 channels.
If you are looking for US based channels such as CBS, Fox News, ESPN, History, NBC, etc, you should go with this addon. Even though it doesn't have much to offer, when it comes to variety of content but it is very popular in the United States and that's why it is ranked higher in the list.
3. Navi-X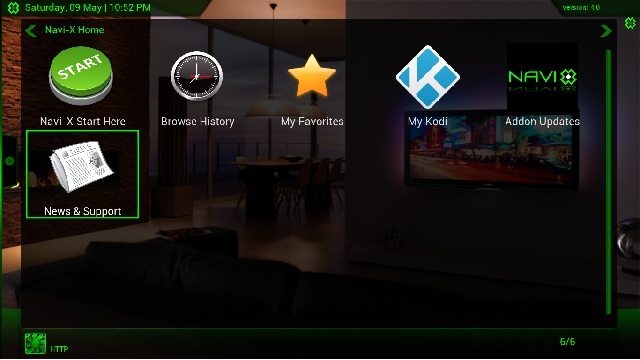 Navi-X is one of the oldest live TV addon for Kodi and has millions of users. It gives users suggestions based on what is most popular/most viewed in last 24 hours/last 7 days, etc. I believe, it is a great feature for the times, when a user isn't sure about what he/she should watch next.
It offers live international TV,  live sports action (ongoing NBA matches, football matches, Golf matches, IPL cricket matches, etc). You can also watch latest hollywood movies, your favorite music, TV shows and what not.
You can also mark any channel as 'favorite' and it will help you access them directly from the favorites tab. Navi-xtreme search is a handy feature for filtering search results.
4. Vdubt25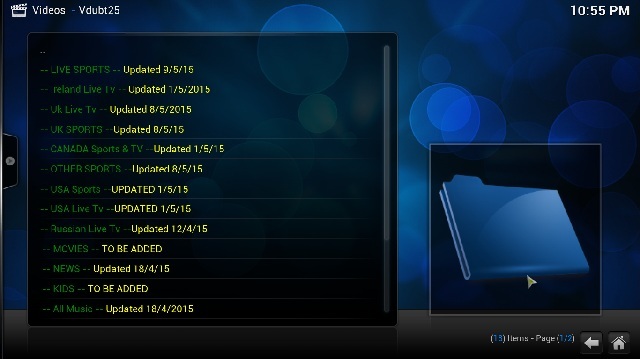 Vdubt25 is very basic in its look but it gets the work done. It offers good variety of channels across categories such as Live sports streaming, world news, movies, music, etc. It also has specific country based channels such as UK Live TV, Ireland Live TV, etc. It offers various HD TV shows such as Game of Thrones, How I Met  You Mother, The Bing Bang Theory, etc
You can clearly see when was the last time a particular category was updated. (Coming soon is a category for kids).
5. Stream Engine
Stream Engine is a simple yet effective Kodi addon to watch TV online. The best part about this addon is that it has categorized channels based on their categories unlike every other addon.
Some of the available channels are Discovery, FX, Fox Movies, MTV, Cartoon Network, CBBC, ESPN HD, Sky Sports, Fox Sports, NBA TV, etc.
Also, you can binge watch your favorite TV series since it has got collection of some of the most popular TV shows.
Apart from the generalized Live TV Kodi addons mentioned above, below is one notable Kodi addons that lets you watch specific genre of Live entertainment or information (in the form of Live news).
For Live News Enthusiasts: BBC iPlayer
If you like to keep yourself informed with what's happening in the world, you should install this Kodi addon. It gives you access to all BBC news channels for free. Isn't that great?
If you are from UK, this addon will work fine and if you are from some other country, first install the VPN and set UK location for accessing BBC news channels without any interruption.
SEE ALSO: 10 Best Kodi Skins
So, now you have the list of best Kodi addons to watch Live TV, your cable bill will reduce magically. All thanks to Kodi and its amazing community.
In case you we missed out on any deserving Kodi addon that fits well in the list, let us know in comments section.