Streaming has become the new poster child for music industry. Not only the service makes it easier for users to discover and access unlimited music on their smartphone, but it also allows publishers to earn money. I don't have the stats but I can bet that music piracy must have decreased since the music streaming services became a mass market thing. After all, who wouldn't want to have access to a catalog of more than 40 million songs at their fingertips. Since the music streaming market is still growing, there are a number of music streaming services on the market right now. So, if you are confused as to which service you should give your money to, here are the 8 best iPhone music streaming apps that you should check out to make your decision.
Note: If you are looking for iPhone music player apps to play your offline music collection, we already have an article on that. Click on the link to check it out. 
Best iPhone Music Streaming Apps You Can Download
1. Apple Music
Apple Music, as we all know, is not a new player in the iPhone music streaming apps paraphernalia. In fact, Apple bundles this particular app with all its new iPhones and iPads. It's one of the best-designed music streaming apps on the platform. The app's UI is very reminiscent of Apple's design language with white and grey accents, which makes you feel like you are using a well-designed and premium app.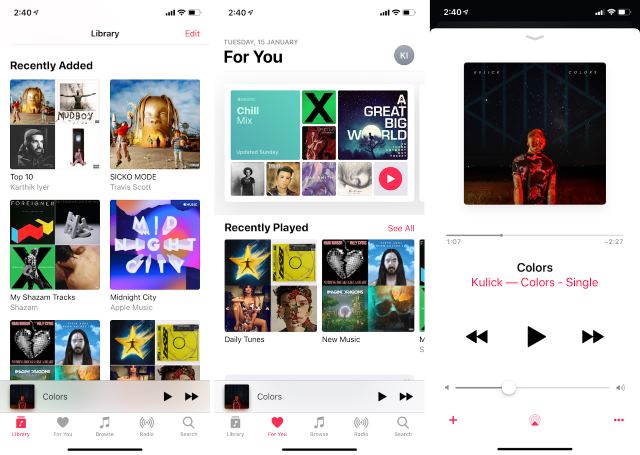 The content is well organized, and you can find genre-specific music very easily. You can create your own playlist with a specific selection of songs or simply go with the playlists that are curated by Apple Music itself. There's also an option to download the music and listen to them offline. Apple Music streams music on 256Kbps, and it's also available on Android, macOS, and Windows. Apple Music gives you three months of free trial after which it's priced at $9.99 per month for a single user and $14.99 month for up to six users.
Download Apple Music (Free trial, $9.99/month)
2. Spotify
Spotify is known to be one of the best music streaming apps in the game and rightfully so. The service has over 80 million paying subscribers, and it has over 40 million tracks. Spotify is truly the place to be if you are looking for international tracks. One of the main advantages of using Spotify is that it offers a free tier with which you can listen to its huge catalog without having to pay for it. It is, however, worth pointing out that the free account only lets you listen to songs in shuffle mode.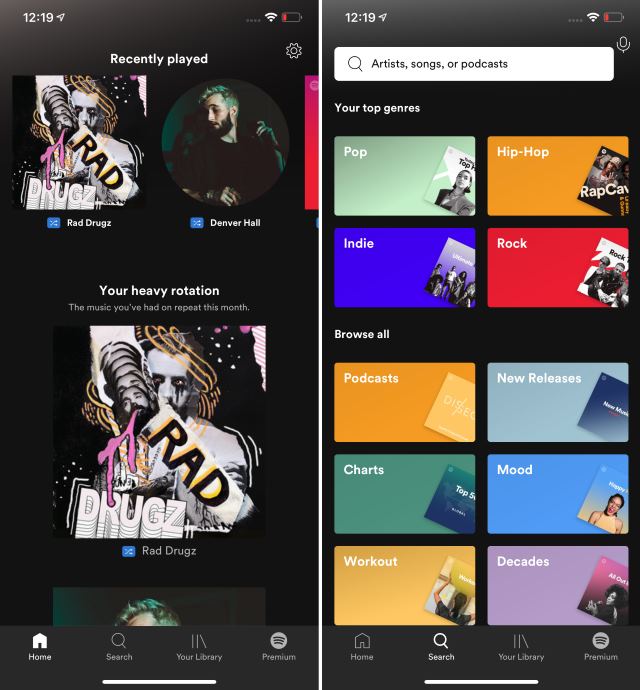 Spotify also has cross-platform support with which you can seamlessly switch between the app, web player, and more. You can go ahead and download the Spotify app for free and get a free trial for 30 days. After that, you'll have to cough up $9.99 per month for the premium version which will unlock offline support, ad-free music and more.
Download Spotify (Free with ads, $9.99/month)
3. YouTube Music
YouTube Music, much like the other apps in the list, is a full-fledged streaming app that lets you stream music from your favorite artists. YouTube Music includes everything ranging from music radio to official music videos. You can either use YouTube Music's ad-supported version for free or shell out $11.99 YouTube Music Premium, which includes background listening, offline downloads, and more. One of the best things about YouTube Music is its recommendations. To me, it's the only service which has as good a recommendation engine as Spotify. Plus you get all the video content that is not possible on other streaming apps.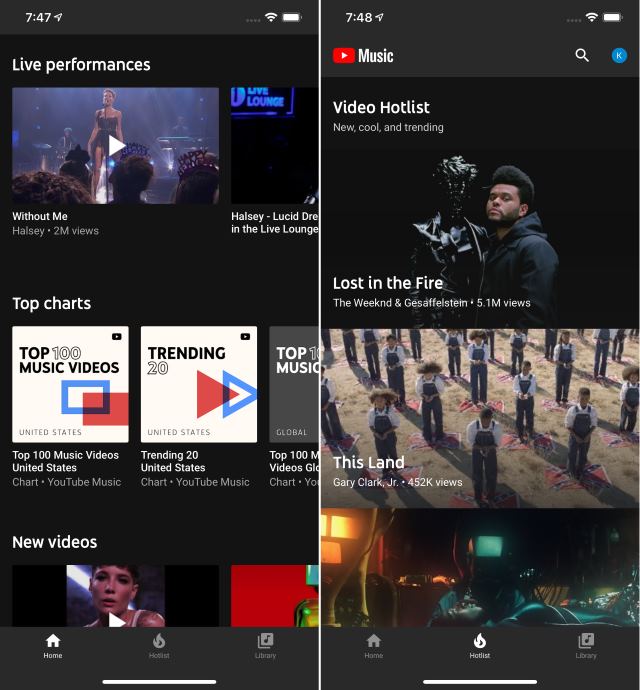 Download YouTube Music (Free, $11.99/month)
4. Amazon Music
Amazon Music has a vast and growing catalog of over 50 million songs, playlist and radio stations. You can also play your entire Cloud Player library, including the songs you've uploaded and the ones which you've purchased from the site. The app is also neatly organized and it has features like Alexa, with which you can use your voice to play the music of your choice.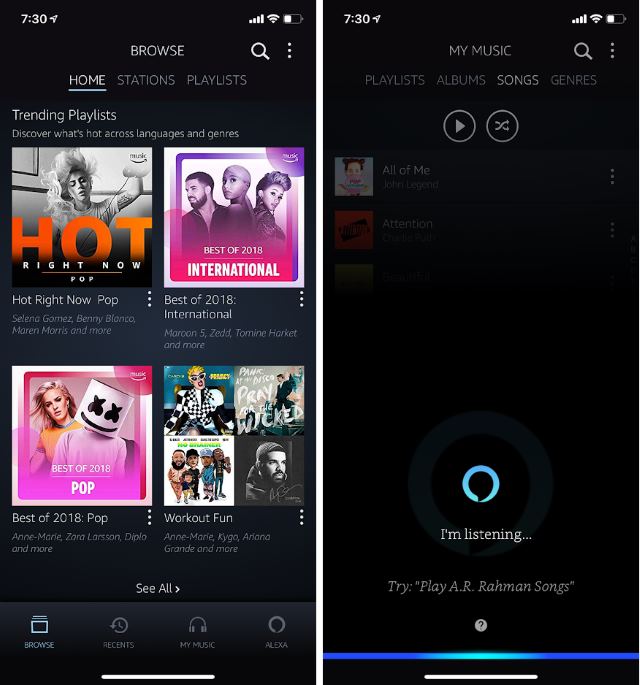 The Amazon Music Unlimited subscription is priced at $7.99 per month which gives you access to its entire catalog along with the ability to download the songs for offline listening. If you are an Amazon Prime member, then you can get a pared-down version of Amazon Music that lets you stream a catalog of over 2 million songs, playlists, and radio stations for free.
Download Amazon Music (Free with Amazon Prime)
5. TIDAL
TIDAL is also one of the popular names in the music streaming space as it boasts over 60 million lossless-quality tracks. Besides music, you can also find new and popular music video content including exclusive in-depth interviews covering stars like Jay-Z. It's, however, worth pointing out that the curated content on TIDAL is heavily focused on hip-hop, R&B and more.
TIDAL is the only service in the list which has a variety of different subscription options. The prices start at $4.99 for the "Student Premium" tier and go all the way up to $29.99 for the "Family HIFi" plan. You can check out other subscription options here.
Download TIDAL (Free trial, $9.99/month)
6. Soundcloud
If you are looking to discover some new and independent artists to listen to, then Soundcloud is the way to go. Soundcloud is essentially a community of musicians, bands and podcasters that are looking to reach out to their fans across the globe. It's also very popular among musicians who are looking to get their songs out without going through the hassle of signing a contract.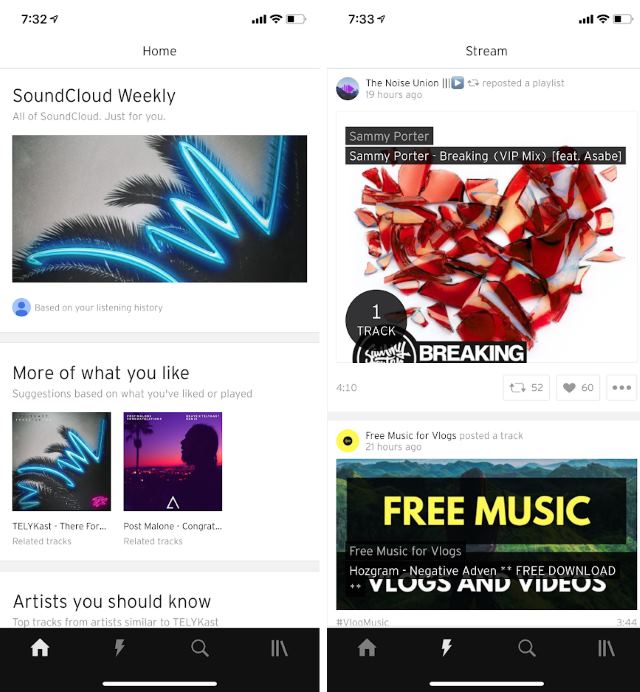 Soundcloud lets you follow your friends, bands, etc. to see what they're listening to. Your followers can also listen to a stream of music you have reposted or uploaded. Soundcloud is completely free to use, but if you are a musician, then you can check out some pro packages starting at $6 to get things like more upload time, advanced stats, etc.
Download Soundcloud (Free, starts at $5.99/moth)
7. Pandora
Pandora is also a popular music streaming app that lets you stream songs for free. It uses a radio-style approach as it creates a station of music that you like. If, for instance, you like listening to Ed Sheeran, then Pandora will curate a station with songs from the same artist or other similar music. You can choose to add more artists or songs to your station or simply rate the music by giving thumbs up or down to each song and let Pandora do its job. The service has an extensive database, so it's a great tool for discovering new music.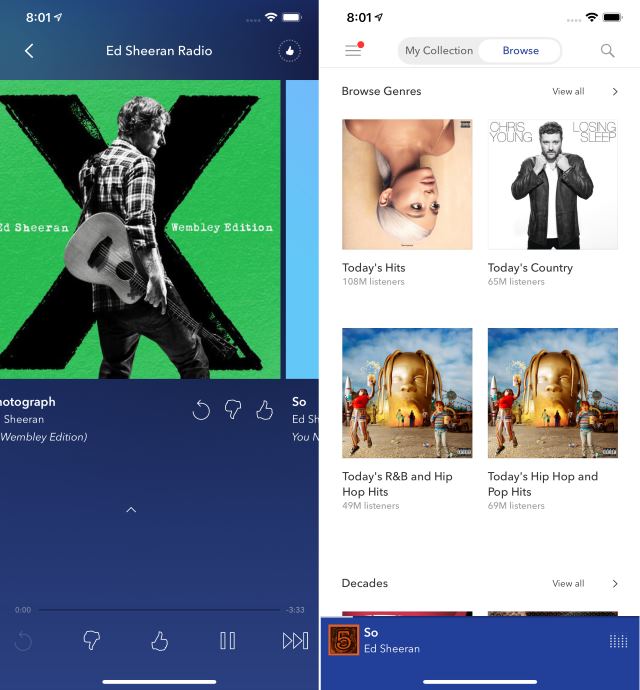 The free version of Pandora lets you create stations, but you also have to listen to ads. It also limits the number of times you can skip a song in an hour. You can pay as low as $4.99 for Pandora Plus to remove ads, get unlimited skips and replays, get higher quality audio, and more. You can also choose to buy Pandora Premium for $9.99 to unlock other features like the ability to search for any song, make your own playlist and more.
Download Pandora (Free, $4.99 for Pandora Plus)
8. Deezer
Much like every other music streaming app in this list, Deezer is also a truly capable app with a massive library of tracks. But Deezer also has a neat feature called "Flow" which leans about your favorite types of music and curates a mix just for you. In our usage, the Flow feature worked pretty well and it suggested some really good tracks to us. Deezer also has a premium subscription option which gives unlimited access to all songs, offline playback, and more for just $10. If you are looking to stream music in the highest quality, then you can also choose splurge $20 for a HiFi subscription that uses high-definition FLAC codecs.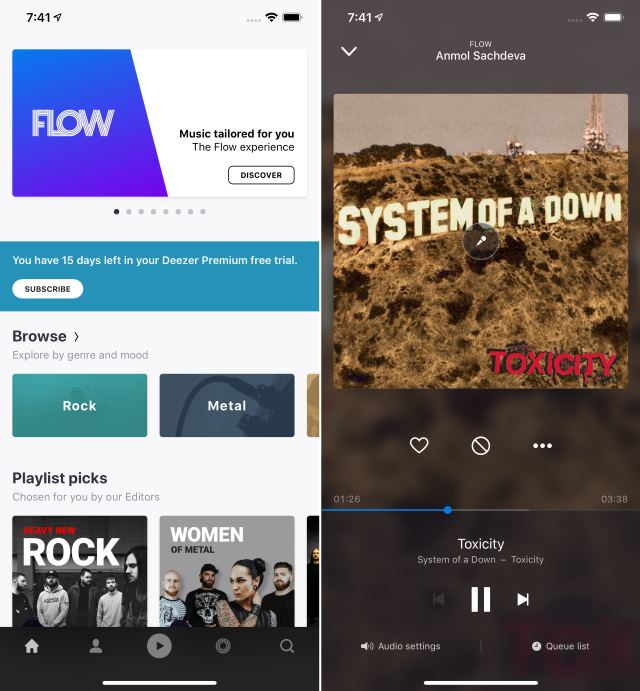 Download Deezer (Free , $9.99/month)
Bonus: iHeartRadio
If you are someone who loves the traditional radio experience, then you'll have a great time using iHeartRadio. The app primarily brings you live streams of all radio stations in one place. In addition to radio, you can also listen to other things like news, podcasts, and more.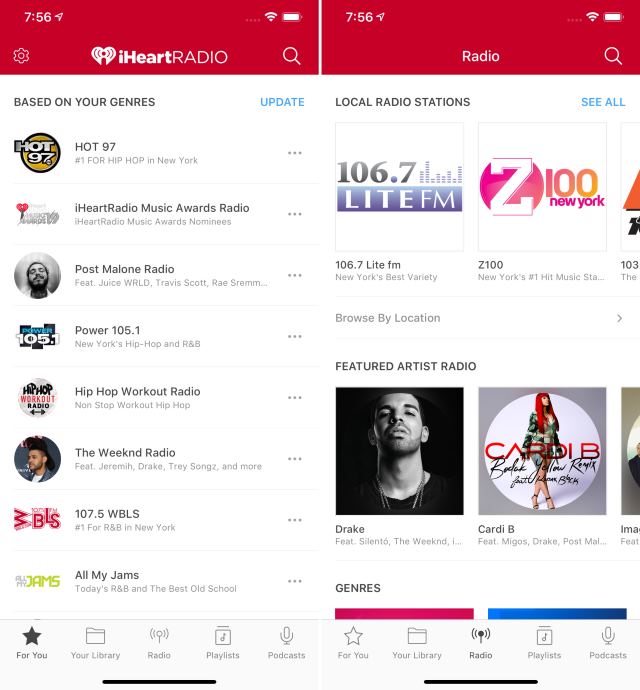 Just like Pandora, iHeartRadio also lets you create custom stations by searching for a song or a particular artist. Besides all this, you can choose to pay $4.99 per month to search and listen to virtually any song of your choice and use the app as, well, a music player. The premium version also gives you unlimited song skips and also the ability to immediately replay a song you just heard on a radio station. You can also choose to buy iHeartRadio All Access for $9.99 per month to get full offline listening.
Download iHeartRadio (Free, starts at $4.99./month)
SEE ALSO: 12 Best Third-Party iOS Keyboard Apps for iPhone and iPad in 2019
Your Favorite iPhone Music Streaming Apps Are?
Well, that wraps up our list of the best iPhone music streaming apps that you can download. Do check them out and let us know which music streaming apps are you going to choose for your iPhone. Let us know all your thoughts on the subject by writing in the comments section below.