Android is a versatile platform that allows OEMs to try out new hardware concepts. If you happen to own any decently specced Android device, you enjoy the benefits of a lot of sensors on it. One of them is the IR blaster, which has been part of high-end phones for a long time. Generally located on the top of your smartphone, it can control a lot of your home appliances that have remote control functionality built in. Your TV forms a major part of your appliance list and if you happen to lose its remote control, you can control it easily through your phone. However, you will need an IR Blaster aka TV Remote app that lets you do so. So, coming up is a list of the best IR Blaster apps aka best TV remote apps that let you control your TV or any other appliance, smartly from your phone in 2019.
Note: Your phone needs to have an IR sensor built in for the IR Blaster apps to work, obviously. You can check the availability of the sensor by going through the spec sheet of your device. You can also ensure its availability by looking for a small darkened piece of glass on top your device.
Best TV Remote Apps for Android in 2019
1. Twinone Universal TV Remote
Twinone Universal TV Remote is a free and easy to use remote app for your Android device which allows users to control their TV, cable boxes, and much more using the IR sensor of their smartphone. My favorite feature of this app is that it supports various different TV manufacturers including LG, Samsung, Sanyo, Toshiba, Visio, Pansonic, and many more. That means, no matter which TV you own, chances are that this app will allow you to control it. I also love the fact that this remote app has a troubleshooting mode which you can use to solve any connectivity error that you receive while using the app on your TV. Lastly, the app is completely free to use with ads which are not so intrusive. I really like this app and you should definitely check it out.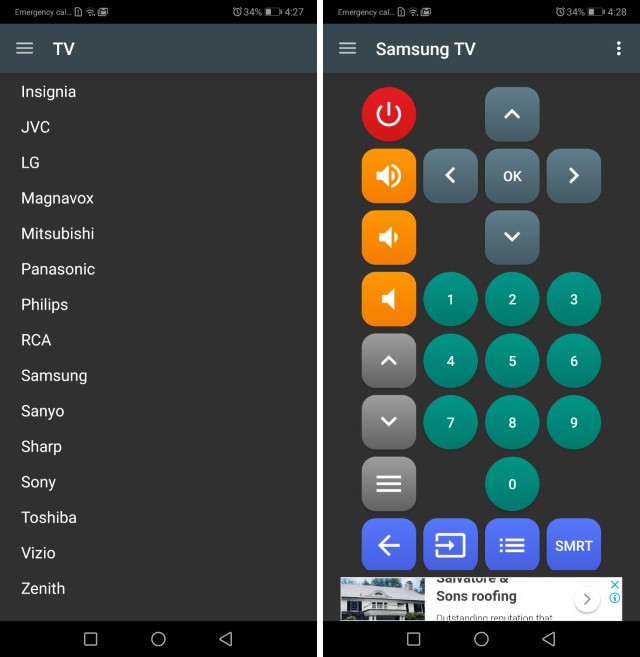 Install: Free with ads
2. Mi Remote Controller
Mi Remote Controller is one of the most powerful remote controllers that you can use. Firstly, the app not only works with TVs but also with set-top boxes, air conditioners, fans, smart boxes, projectors, and more. Secondly, the app features a minimalist and ad-free UI despite being totally free which makes it stand out from other apps on this list. The app also supports various Android smartphone manufacturers including Samsung, Xiaomi, LG, HTC, Honor, Nokia, Huawei, and more. So, there's a high chance that your device is supported.
When it comes to TV brands, the supported brands include Samsung, LG, Sony, Panasonic, Sharp, Haier, Videocon, Micromax, and Onida, among others. As you can see, Mi Remote Controller offers versatility both in terms of supported smartphones and TVs and other appliances that can be controlled using it. You should definitely try it out.
Install: Free
3. ZaZa TV Remote
The next app which can help you control your TV using your phone's IR blaster is the ZaZa TV Remote app. Just like the Mi Remote Controller, the ZaZa TV Remote can not only be used to control TVs but also other appliances including air conditioners, set-top boxes, projector, DVD player, and more. The app supports over 800 different appliance brands so no matter which TV you own, there is a high probability that it will be supported. When it comes to smartphone compatibility, the app works with any smartphone that has an infra-red sensor.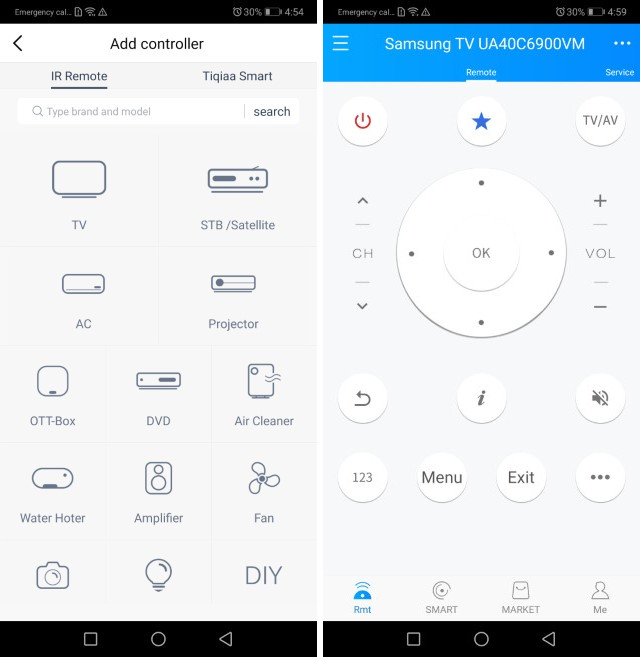 In fact, if your smartphone does not have an infra-red sensor, the company provides a tutorial to create your own infra-red accessory (link on the app's page) that will work with your smartphone. If you cannot do that you can order the accessory directly from them. That being said, I have not tested the accessory so you will have to take that with a grain of salt.
Install: Free with ads
4. Smart IR Remote – AnyMote
If you want an app that provides you with a comprehensive control over all your home appliances, then look no further. The Smart IR Remote – AnyMote app supports 9,00,000 devices and increasing, making it much more than just a TV remote app. You can control your Smart TVs, simple TVs, air conditioners, streaming devices and anything that has an IR sensor. Oh, and did we say that this also works with your home WiFi network to connect to your modern smart devices. It also lets you automate a stream of functions, i.e., switching on your TV will automatically switch on the set top box and your home theater system.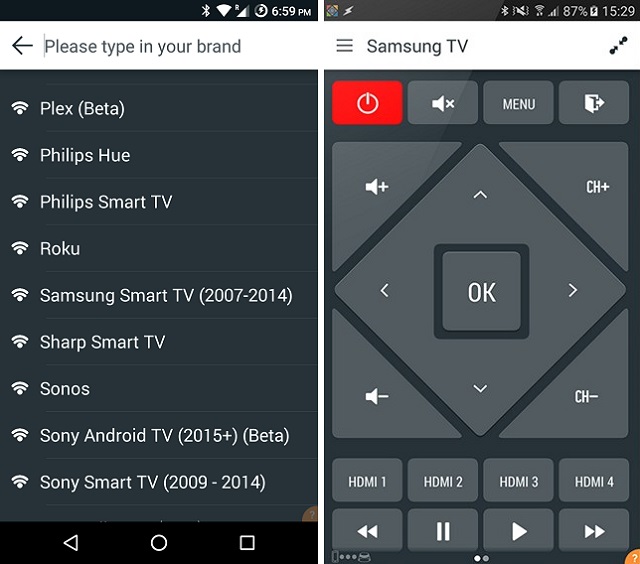 You can also use certain gestures to do specific actions, apply themes to remotes for individual pages and use the remote from any page through its floating remote widget. In short, it has been loaded with features to an extent that you will never need those analogue remotes. The app is available in a free version but it has limited features and you will have to buy the full version to unlock all the features.
5. Unified TV
If you are looking for an efficient TV remote app that does not make a hole in your pocket, you will like Unified TV. With the app, you get a comparatively lesser support for various appliances and devices (80+). But, it packs in a lot of smart features built right into it. For starters, it detects nearby devices with IR sensors (or devices on same network/ WiFi) automatically, which eradicates the need to search for your appliance manually. Then, you have widgets and home screen shortcuts, which makes accessing the remote way more easier.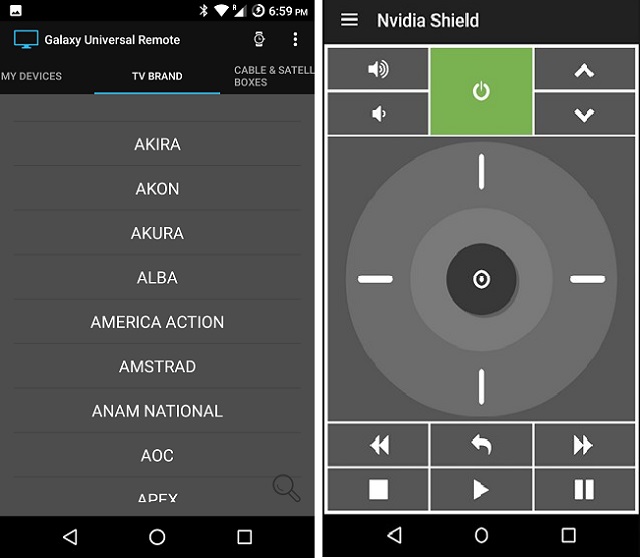 You are also provided with Tasker and Flic integration along with NFC actions. At $0.99, it lacks a bit on devices supported but is a must buy if you want a functional TV remote app.
Install:  $0.99
6. SURE Universal Remote for TV
The SURE Universal Remote for TV app is one of the few free IR remote apps that does its job very well. The app supports over 1 million devices, which is great considering some paid alternatives provide lesser device support than this. You have the option to use it with WiFi-control enabled smart devices with a WiFi-to-IR converter. But, the standout feature is the ability to stream content from your phone/tablet to your TV through WiFi and DLNA, which some of the paid alternatives lack.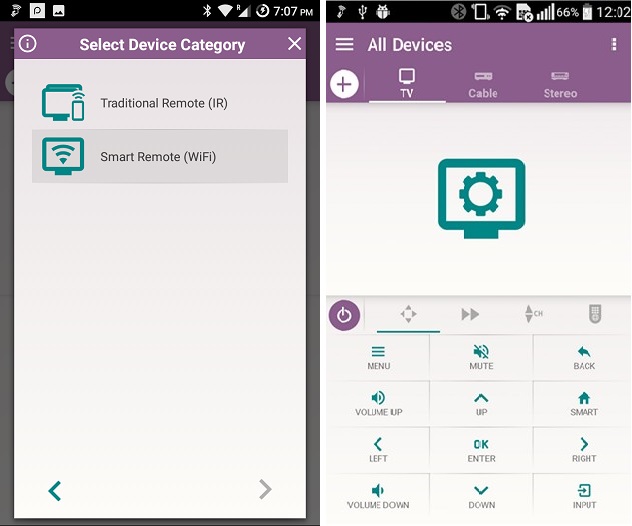 It also lets you have a custom panel with custom buttons, tailored as per your needs. Overall, this is a worthy IR Blaster app to consider if you are looking for a free TV remote app.
Install: Free with in-app purchases
7. Galaxy Universal Remote
The Galaxy Universal Remote is an app that is effective and efficient in what it claims. Like all the mentioned apps here, this also supports a lot of devices. What makes it unique though, is that it lets you build your own personalized remote and control all your devices from a single screen, in a free-form layout. You can also save a sequence of actions (macro) to be executed one by one along with the option to save your own custom IR code to a button.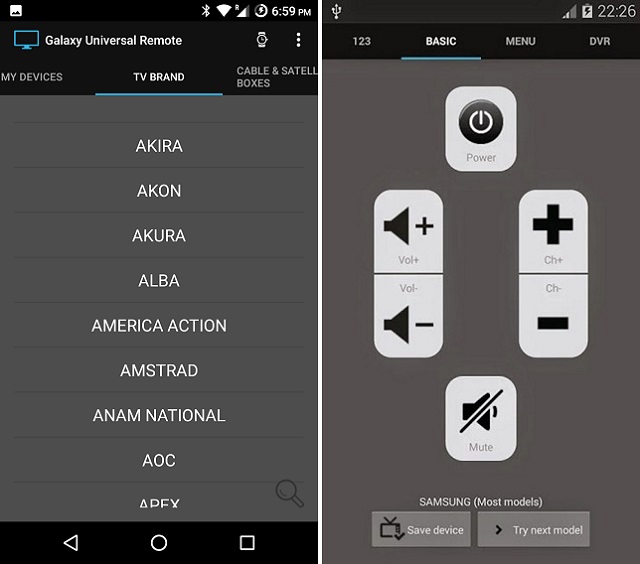 There are neatly designed widgets that save you from the effort of opening the app constantly for an action. However, there's one major drawback, that is, no support for WiFi enabled smart devices, which makes it an IR Blaster app only. However, try this out if you are looking for an TV remote app that works efficiently.
Install: $3.99
List of Android smartphones with IR sensors
List of Phones
Gionee Marathon M5
Honor 10
Honor 20
Honor 20 Pro
Honor View10
Honor View 20
Honor View 20
HTC One (M7)
HTC One (M8)
HTC One (M9)
HTC One M9+
HTC One Max
Huawei Honor 6
Huawei Honor 6 Plus
Huawei Honor 7
Huawei Honor 8
Huawei Honor 8 Pro
Huawei Honor 9
Huawei Mate 10
Huawei Mate 10 Pro
Huawei Mate 20
Huawei Mate 20 Pro
Huawei Mate 20 RS Porsche Design
Huawei Mate 20 X
Huawei Mate X
Huawei P9 Plus
Huawei P9 Plus
Huawei P20 Pro
Huawei P20 Pro
Huawei P30 Pro
LeEco Le 2
LeEco Le 2 Pro
LeEco Le Max 2
Lenovo Vibe X3
LeTV le 1s
Letv le Max
LG G2 Mini
LG G3
LG G3 S (Vigor)
LG G4
LG G5
LG G5
LG G Flex
LG G Flex 2
LG G Pro Lite
LG G Vista
LG L90
LG Optimus F6
LG Optimus G Pro
LG Optimus L9 II
LG Spirit H
LG V10
LG V20
LG Volt
Oppo Mirror 5
Oppo Mirror 5s
Panasonic P55 Novo
Samsung ATIV SE
Samsung Galaxy J
Samsung Galaxy Mega
Samsung Galaxy Note 3
Samsung Galaxy Note 3 Neo
Samsung Galaxy Note 4
Samsung Galaxy Note Edge
Samsung Galaxy S4
Samsung Galaxy S4 Active
Samsung Galaxy S4 Mini
Samsung Galaxy S5
Samsung Galaxy S5 Active
Samsung Galaxy S5 Duos
Samsung Galaxy S5 Duos
Samsung Galaxy S5 Mini
Samsung Galaxy S6
Samsung Galaxy S6
Samsung Galaxy S6 Active
Samsung Galaxy S6 Edge
Sony Xperia Z1 (Japanese version only)
Sony Xperia Z (Japanese version only)
Sony Xperia ZL
Xiaomi Max
Xiaomi Max
Xiaomi Mi 3s Prime
Xiaomi Mi 4
Xiaomi Mi4c
Xiaomi Mi 4s
Xiaomi Mi 4s
Xiaomi Mi 5
Xiaomi Mi 5
Xiaomi Mi 5s Plus
Xiaomi Mi 6
Xiaomi Mi 8 SE
Xiaomi Mi 9
Xiaomi Mi 9 explorer
Xiaomi Mi 9 SE
Xiaomi Mi A1
Xiaomi Mi A2
Xiaomi Mi A2 Lite
Xiaomi Mi Max 2
Xiaomi Mi Max 3
Xiaomi Mi Note 3
Xiaomi Redmi 3
Xiaomi Redmi 3s
Xiaomi Redmi 3s Prime
Xiaomi Redmi 4A
Xiaomi Redmi 4 Prime
Xiaomi Redmi 5 Plus
Xiaomi Redmi 6 Pro
Xiaomi Redmi Note 2
Xiaomi Redmi Note 2 Prime
Xiaomi Redmi Note 3
Xiaomi Redmi Note 3 (Snapdragon)
Xiaomi Redmi Note 3 Pro
Xiaomi Redmi Note 4
Xiaomi Redmi Note 4
Xiaomi Redmi Note 4
Xiaomi Redmi Note 4X
Xiaomi Redmi Note 5 Pro
Xiaomi Redmi Note 5 Pro
Xiaomi Redmi Note 7
Xiaomi Redmi Note 7 Pro
Xiaomi Redmi Y2
ZTE Grand Memo II LTE
ZTE Grand X Max
ZTE Grand X Max+
ZTE Nubia X6
ZTE Nubia Z5S
ZTE Nubia Z7
ZTE Nubia Z7 Max
ZTE Nubia Z9
SEE ALSO: 10 Best Movie Sites to Legally Watch Movies for Free
Use these Best IR Blaster Apps to Control Your TV
So, these are some of the IR blaster or TV remote apps that work very well. These surely make it easy to use your TV without the inconvenience of a separate remote controller. If you have an IR remote app pre-installed, you can check if those apps work efficiently or not. Because if they don't, our list features the best IR Blaster Apps you can get on Android. So, try them out and let us know how you like them. Also, if you feel we have missed out on some worthy TV remote app, do let us know in the comments section below.