Apart from persuasive content on the slides, a few other factors determine the success of your PowerPoint presentations! These include your posture, your choice of body gestures, easily understandable explanations, and your ability to control your presentation slides. If you want to focus on these aspects of presentations, you should certainly find a way to have control on the slideshow without staying in front of your laptop. Similarly, you also need a way-out to point out an important section in a particular slide, especially if you need an interactive and into-the-audience presentation. To help you with this, we have come up with a list of top 10  laser pointers and wireless presenters that can help you in delivering power-packed PowerPoint presentations.
Best Laser Pointers That You Can Buy in 2019
1. DinoFire Wireless Presenter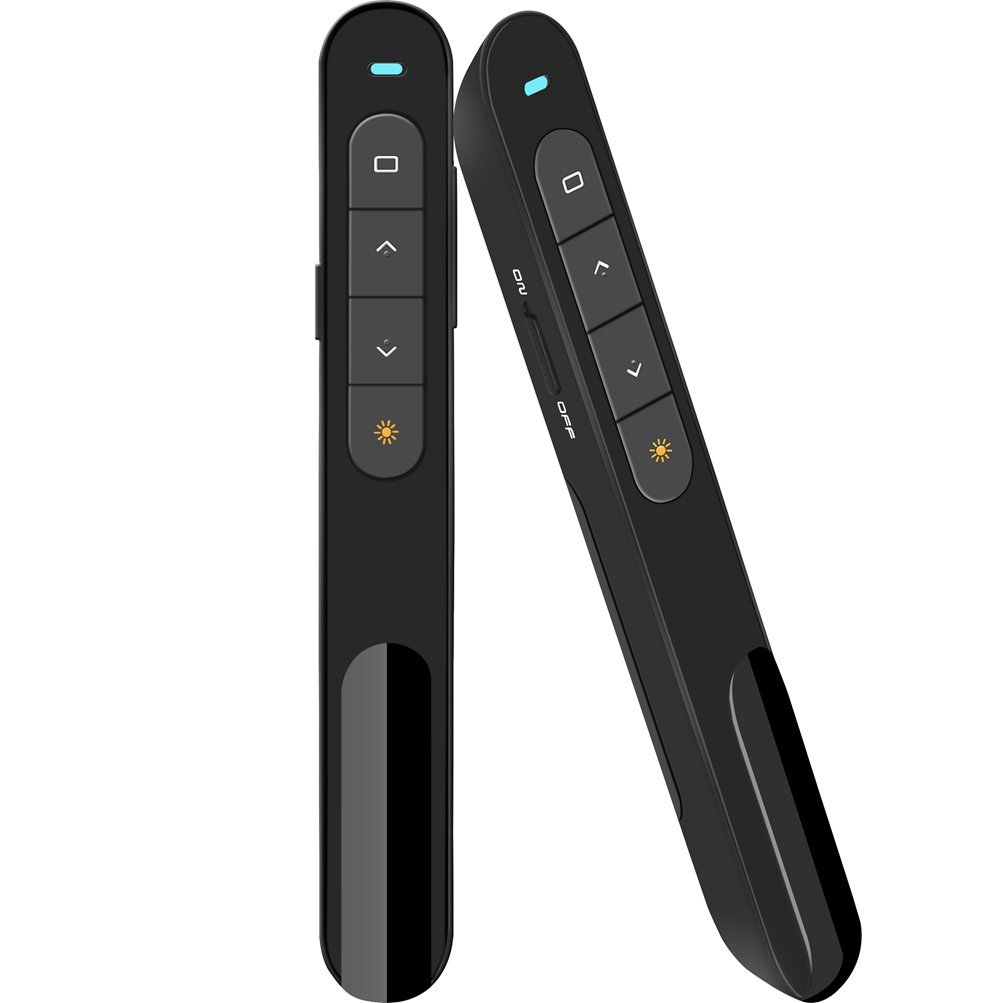 DinoFire's wireless presenter and laser pointer is a stylish and slender tool to complement your on-stage presence. Besides dedicated buttons for moving the slide up or down, the wireless presenter features a multipurpose button on the top which can be used to open hyperlinks or to switch windows. The laser pointer comes in either green or red color and the clicker supports Windows XP and newer versions, Mac, Linux, and Android. It can be used to toggle slides or pages in software like Microsoft Word, Excel, and PowerPoint as well as counterparts by Apple (Pages, Numbers, and Pages), and lastly Google Slides. The laser pointer with a 98 feet range is available in both – recharge and AAA battery options.
Buy From Amazon: $14.99
2.
Satechi Aluminum Wireless Presenter Pointer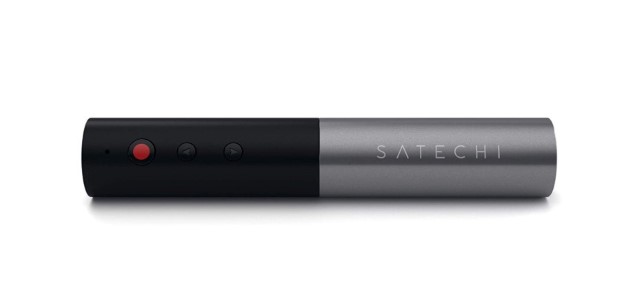 Satechi's Smart Pointer is lightweight and connects to devices via Bluetooth which makes it a versatile laser pointer and presenter. I love Satechi's use of material here. it is using hiqh quality aluminum which not only looks cool but is also easier to carry an operate. Talking about compatibility, the presenter is not only compatible with computers and mobile devices but also with gaming consoles and casting devices such as Apple TV. The pointer runs on Bluetooth 3.0, it has a range of 33 feet. It comes with an inbuilt rechargeable battery which you can easily recharge with included cable which means you won't have the battery dying on you at the most unappropriated moments.
Buy From Amazon: $39.99
3. Kensington Wireless Presenter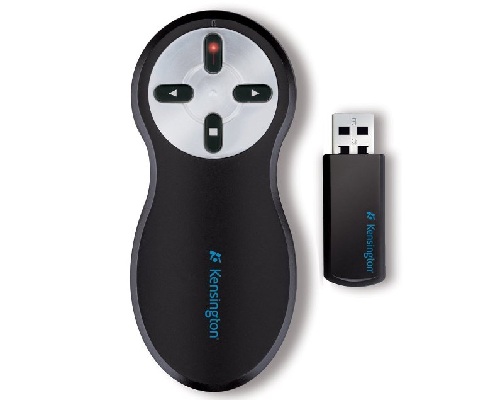 Kensington Wireless Presenter is a good choice when you need a wireless presenter and laser pointer that does fit in your palm! The receiver can be detached and connected during the presentation; when it is in rest, you can keep the adapter within the presenter itself. Altogether, Kensington Wireless Presenter has a professional & convenient sort of design that becomes handy in several instances. It offers range up to 60 feet and the power consumption is just 2 AAA batteries that do not make the weight intolerable. Considering all these features and smaller dimensions, it is an awesome decision to go with Kensington Wireless Presenter.
Buy From Amazon: $34.99
4. Logitech Wireless Presenter R400
Logitech Wireless Presenter R400 is a combination of a bright laser point and an intuitive wireless presenter! Using it while you present a slideshow will help you manage the slides quite easily — so convenient than you expect it to be! It offers a maximum range of 50 feet, meaning that you have the freedom to move, keeping in control the show. The most important thing about Logitech Wireless Presenter R400 is that its support for plug-and-play, meaning that you do not have to install anything for controlling your slideshow presentation using the device. Just plug in the receiver, switch it on and start using.
Buy From Amazon: $30.90
5. Quartet Wireless Remote & Laser Pointer
Quartet Wireless Remote & Laser Pointer is yet another pen-style slideshow presenter in the list, accompanied by an impressive laser point to highlight what needs to be so. You just have to insert 1 AAA battery and it will help you take care of your presentation, given the presence of three buttons for distinctive functions, such as moving between the slides and turning on the laser pointer. As it has a pen-like structure, Quartet Wireless Remote & Laser Pointer has its receiver kept with the pointer, which is way too portable in the long run. Altogether, this laser pointer from Quartet is powerful enough, we believe.
Buy From Amazon: $47.61
6. Infiniter 4-in-1 Function Wireless Presenter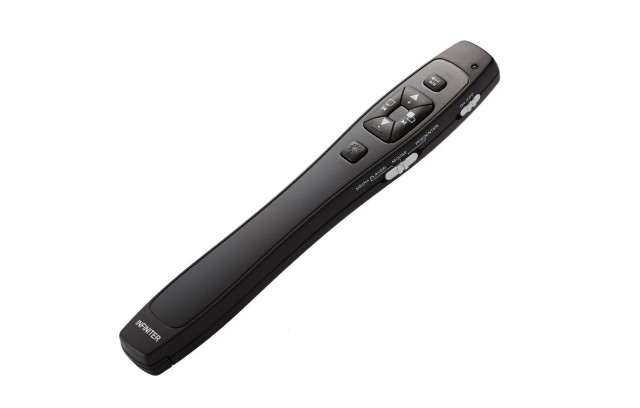 The Infiniter 4-in-1 function wireless presenter is one of the best laser pointed presenters on the market. First of all, it offers a slick body which is both easier to handle and operate. What I love most about this presenter is the dedicated hot keys for executing functions such as page down, page up, play/ESC, and screen blank/back and more. The presenter also has a good range of 30 feet which allows you to move around while you are giving your presentation. One drawback of this presenter is that it's not compatible with macOS devices. That said, Windows compatibility is phenomenal with it supporting Windows 10, Windows 8, Windows 7, Windows Vista, and Windows XP, right out of the box. It also supports Android devices running Android 4.2 or later versions.
Buy From Amazon: $24.95
7. Linkte Red Laser Wireless Control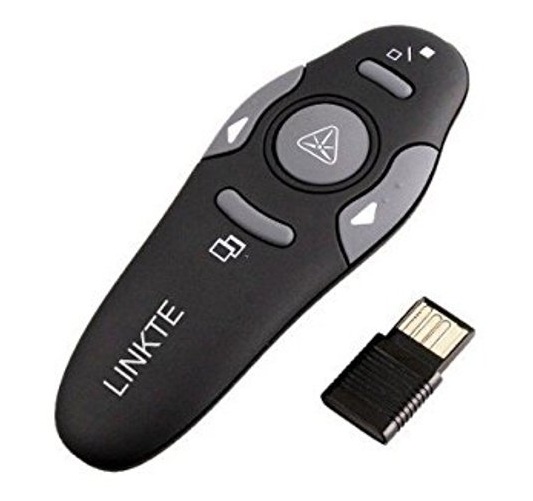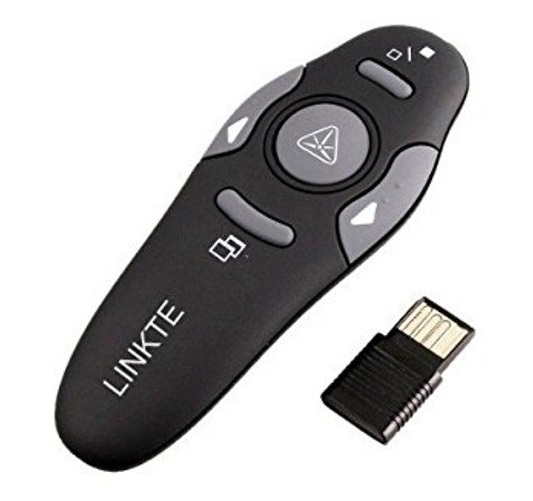 If you're looking for rather a conveniently designed and easy-to-use laser pointer and presentation controller, Linkte Red Laser Wireless Control is a truly affordable choice you can make. Even with the adaptor, the weight of Linkte Red Laser Wireless Control is comparatively lower and you can keep it in your hand so comfortably and the range is up to 10 meters, which is good, we would say. Talking of the power supply, Linkte Red Laser Wireless Control needs 1 AAA battery to power up and the support is also worth noting.
Buy From Amazon: $10.99
8. Zoweetek Presenter with Mouse Functions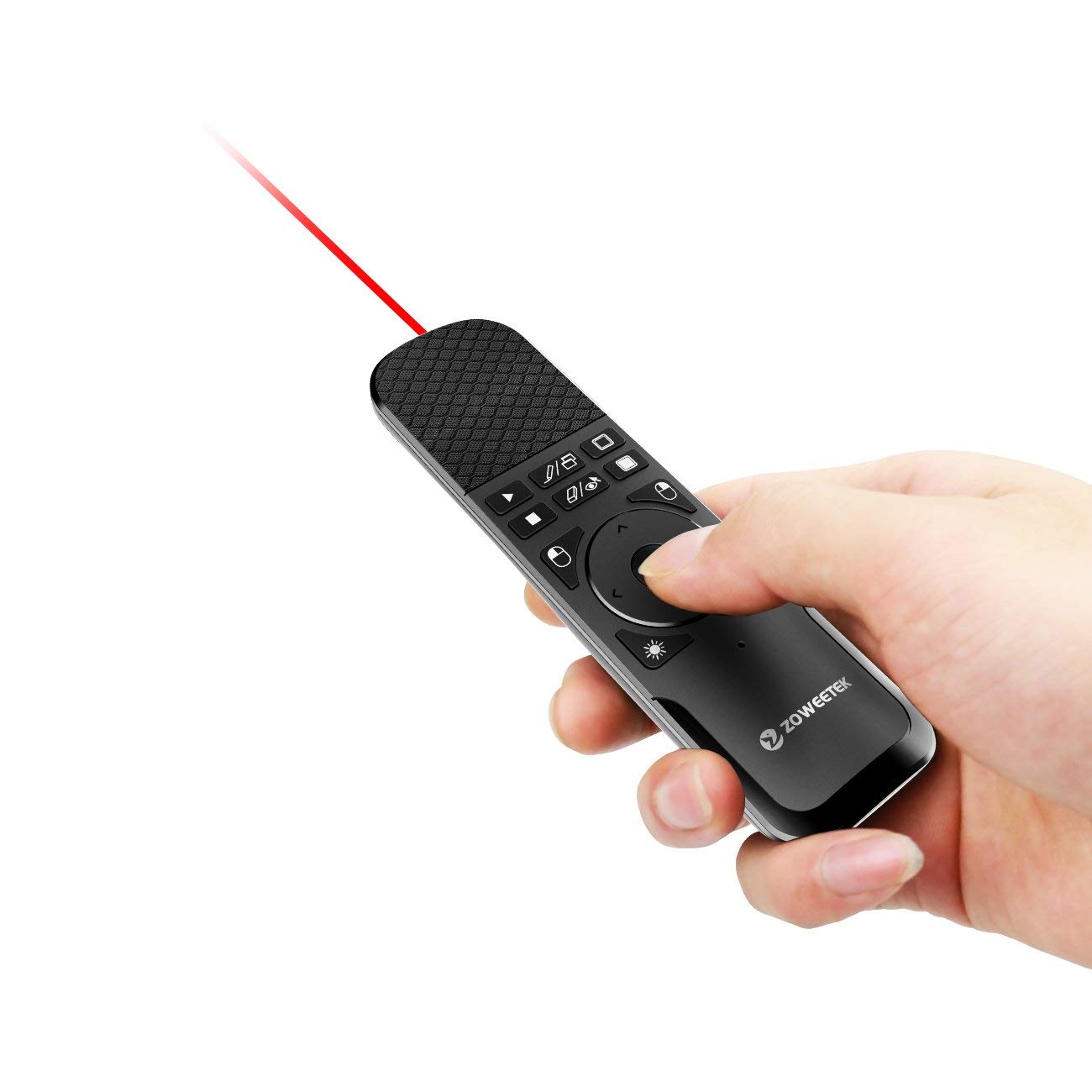 The wireless presenter from Zoweetek is a versatile solution to make your presentations even better. It comes with dedicated keys for all four directions which can be used to cycle between slides during a slideshow, media during normal usage, and for navigating the mouse pointer while using the mouse mode. Additionally, there are buttons for the laser pointer, for left and right mouse click, for toggling mouse mode on or off, and even buttons for drawing (and erasing) on top of a slide during a presentation. The controller runs on a couple of AAA batteries and has a range of 33 feet.
Buy From Amazon: $24.90
9. Logitech Professional Presenter R800
Logitech Professional Presenter R800 is indeed a professional solution when it comes to managing your PowerPoint presentations in a comfortable manner, mainly due to the easy-to-handle design and the high range that is up to 100 feet. One of the most noticeable features of Logitech Professional Presenter R800 is the LCD Display and Timer that help you keep track of the time you spend on each slide without the help of a watch or clock. Just like the other presenter in the list from Logitech, Logitech Professional Presenter R800 has intuitive control and plug-and-play support. Thus, if you are ready to spend more and need professional features, Logitech Professional Presenter R800 is the best choice to go for.
Buy From Amazon: $47.12
10. Kensington PresentAir Bluetooth Wireless Presenter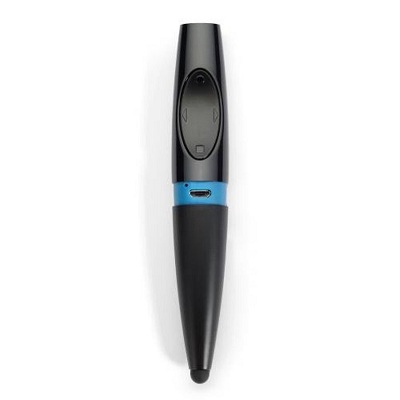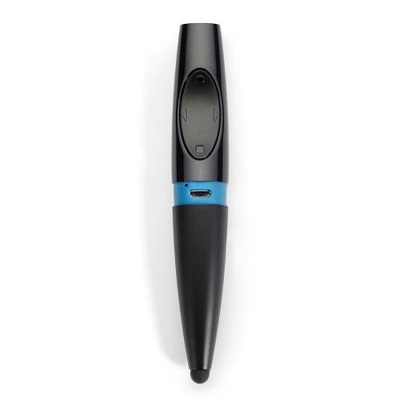 Kensington PresentAir Bluetooth Wireless Presenter is a professional presentation controller with a pen-like design, which is quite comfortable to use when you are in a hall or something. As opposed to aforementioned controllers, it works based on Bluetooth and it offers superb compatibility as well. Talking of the presentation-oriented features, it has 4-button control and support for Mac OS X Keynote along with a laser point that gives a range of 30 feet. If we're to consider all these and given that your device has Bluetooth support, Kensington PresentAir Bluetooth Wireless Presenter is a superb product to check out.
Buy From Amazon: $59.99
SEE ALSO:  Best Projectors That You Can Buy
Best Laser Pointers You Should Buy
The ends our article on the best laser pointers that you can buy in 2019. We have tried to cover laser pointers at all price points so that you can buy one no matter what your budget allows. Do you use any other worth-listing presentation controllers and laser pointers? Let us know your thoughts on the subject by writing in the comments section below.