As many of you may know, Gitorious – a website that let you host (open source) projects using Git version control – was recently purchased by GitLab, and it is to stop operations from May, 2015. In relation to this, we have a roundup of 7 GitHub alternatives for you to check out.
GitHub
GitHub is the world's largest, and most popular code hosting site. GitHub users have a choice of using either Git or Subversion as their VCS (Version Control System), to manage, maintain and deploy software projects. GitHub allows for free unlimited public code repositories all users. To maintain private repos, a monthly subscription is required. GitHub lets you create 'organizations' which basically function as regular accounts except that they always have at least one user account listed as their owner.
All users and organizations get to host one free website on a GitHub pages subdomain username.github.io as well as unlimited project pages at username.github.io/project-page and you can switch to your own custom domain (if you have one) anytime for free. GitHub has desktop apps for Windows and OSX.
List of Best GitHub Alternatives
1. Bitbucket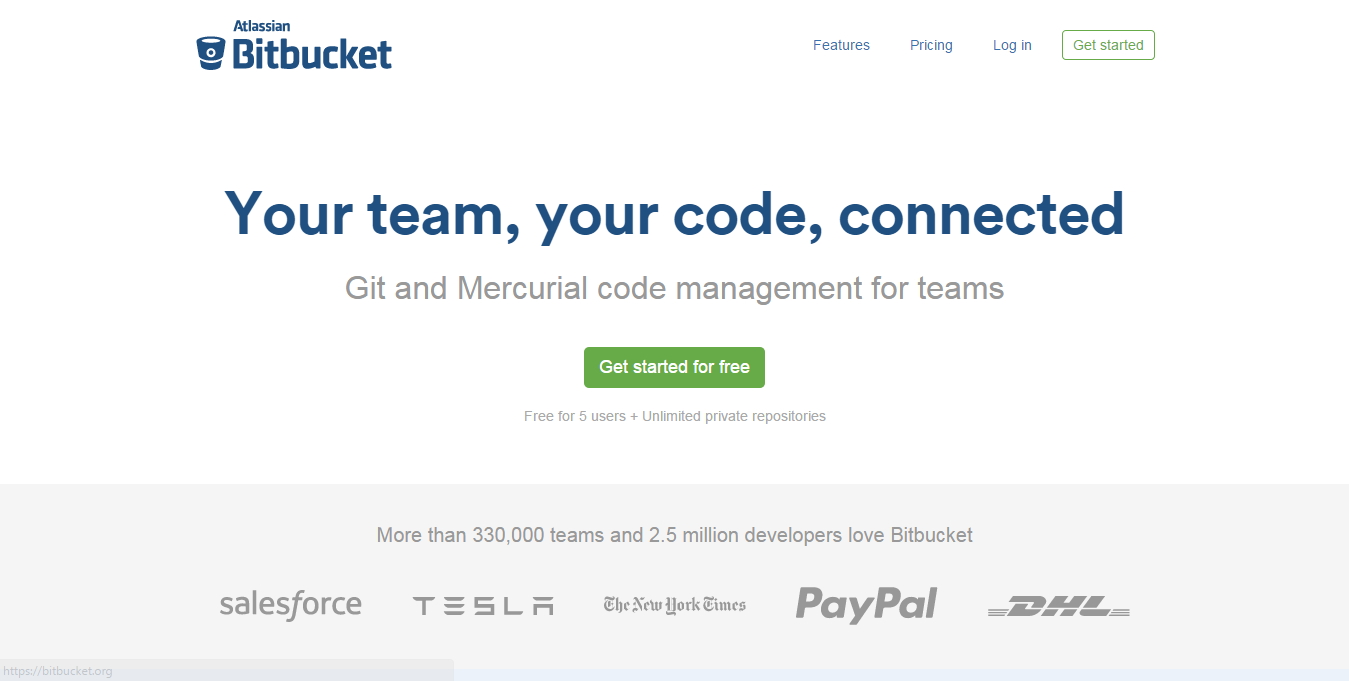 Bitbucket is second only to GitHub in terms of popularity and usage. Bitbucket is free for individuals and organizations with 5 users or lesser, and it lets you have unlimited public and private repositories. Bitbucket allows you to push files using any Git client, or the Git command line.
Atlassian also has its own Git and Mercurial client Source Tree which is available for free on Windows and Mac. Bitbucket can also be controlled through its web interface.
Bitbucket, like GitHub, lets you host a website for free at accountname.bitbucket.org and project pages at accountname.bitbucket.org/project.
You can also use your own domain name for your Bitbucket website. Bitbucket lets you make teams at bitbucket.org/team-name.  As mentioned before, bitbucket lets you have unlimited public and private repos for teams with up to 5 users.
Teams with can have unlimited users for free if they have fully public repos.
Developer: Atlassian
Link
2. SourceForge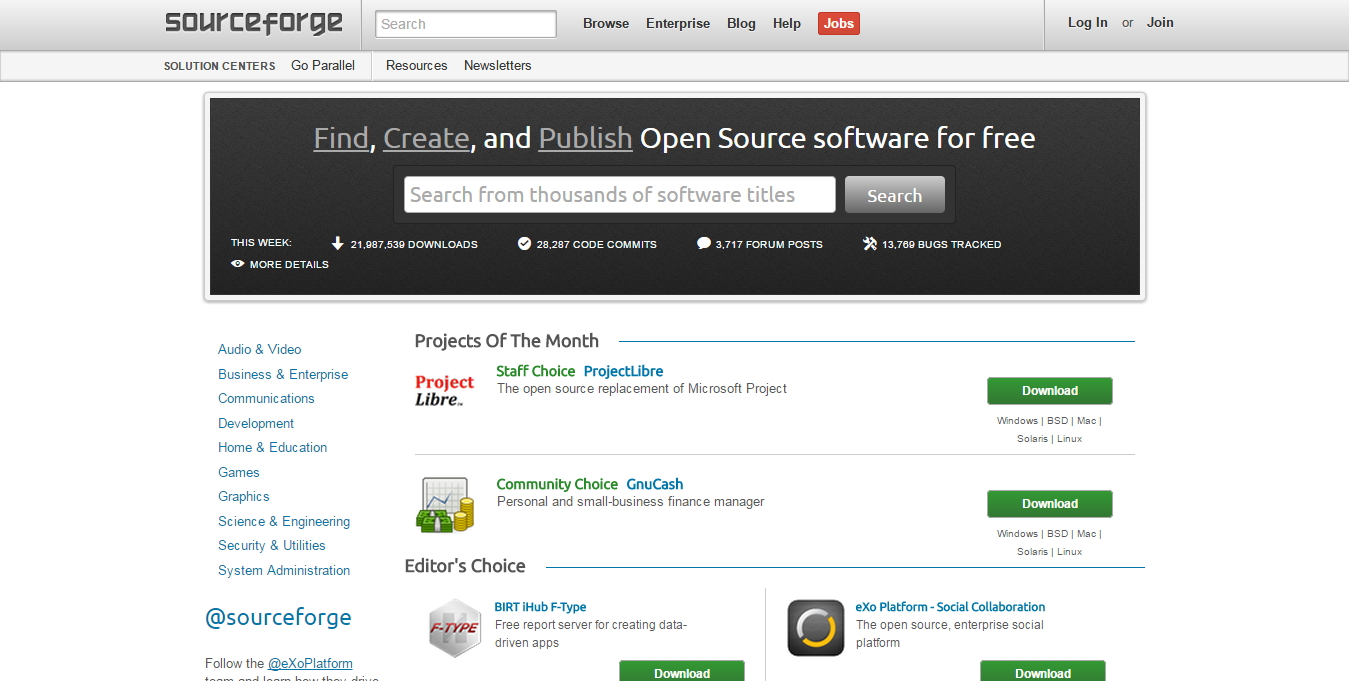 Sourceforge has been around longer than most, and it has the projects to prove it. Lots of open source Linux, Windows and Mac projects are hosted on SF. It has a totally different project structure when compared with GitHub. You can only create projects with a unique name. SF unlike others, also lets you host both static and dynamic pages, with the option of integrating a CMS too. Sourceforge lets you create a website for each of your projects, at proj.sourceforge.net.
Sourceforge servers support for PHP, Perl, Python, Tcl, Ruby, and shell scripts. You can upload to SF through a SFTP client. You also get the option of using Git, Subversion (SVN) and Mercurial (Hg) as your project's VCS on Sourceforge.
Developer: Slashdot Media
Link
3. GitLab
GitLab's sub-motto seems to be "Better than GitHub", ironic for a project that is itself hosted on Github. One if its unique features is that you can install GitLab onto your own server. This gives you the option of using GitLab on a custom domain as well as with a custom host. GitLab also claims to handle large files and repositories better than GitHub. GitLab also lets users have unlimited public AND private repos for free.
GitLab sacrifices the ease of use of GitHub for more privacy, security and serving speed. Getting started with GitLab is much harder than getting started with GitHub. As of now, GitLab does not have any feature like GitHub pages for creating web pages for your repos in a few clicks. You need (groan) the command line and things like manually generated SSH keys and web hook configuration for creating a simple web page. Github is also better in terms of documentation and a larger community.
Developer: GitLab.com
Link
4. Kiln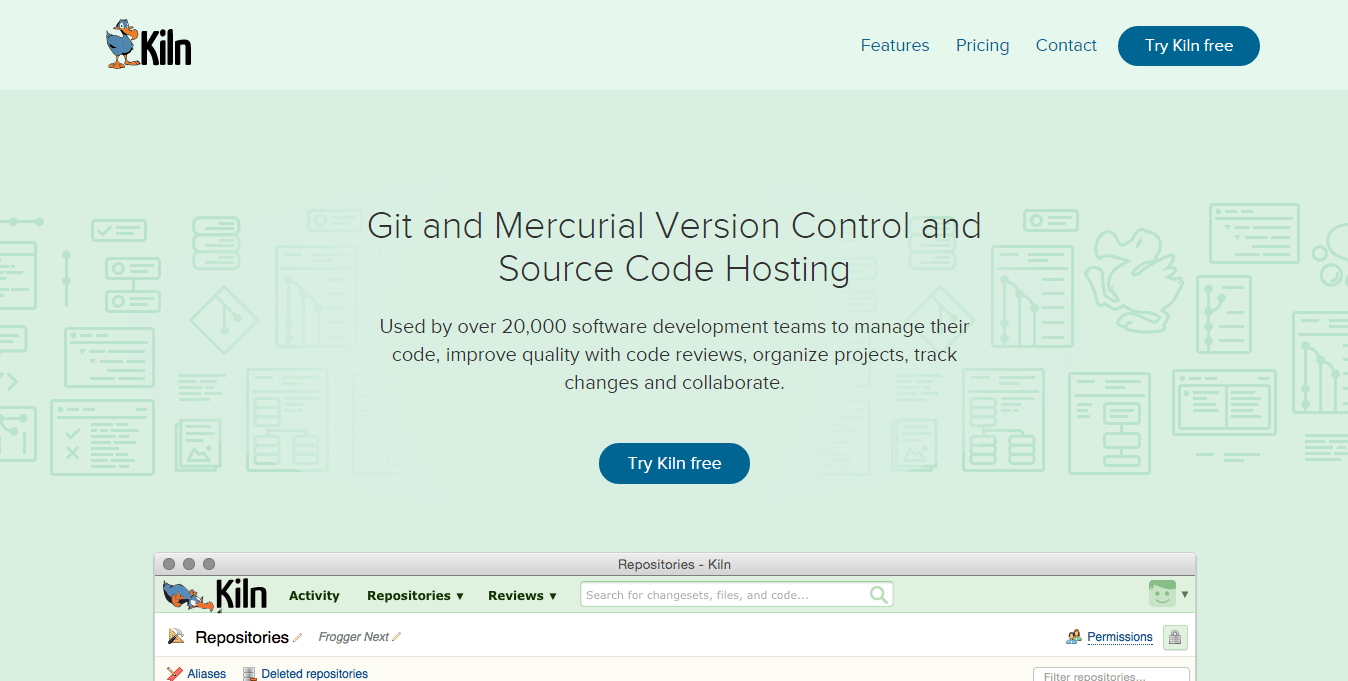 Kiln is a paid source code host. You can try Kiln (with all the bells and whistles) free for 30 days. Packages start from $18 a month, billed yearly. Kiln offers Git and Mercurial Version Control. You will need to pay separately for the Code Review Module. Overall, Kiln is more suited for medium to large organizations of 100 -500 people.
Kiln makes a domain for your company at companyname.kilnhg.com
Developer: Fog Creek
5. Codeplane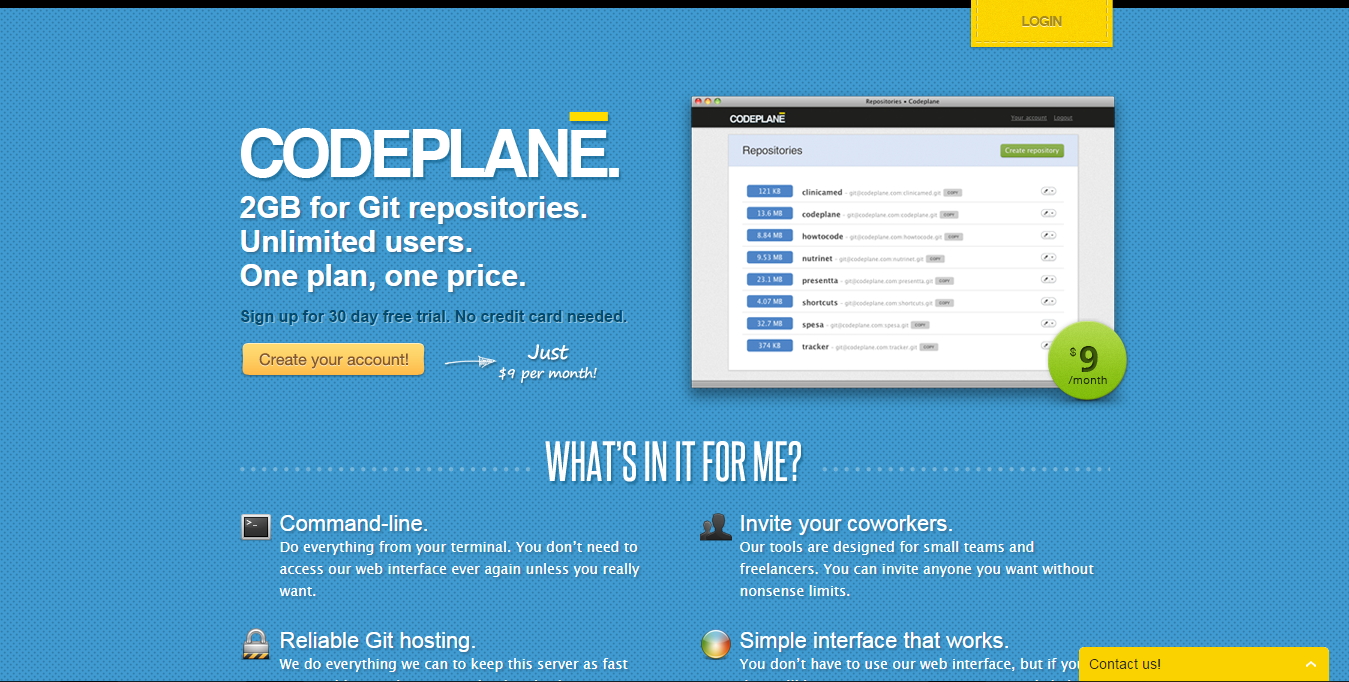 Codeplane is again a paid service, which offers a 30 day free trial.
Codeplane's VCS -of choice is Git. It allocates 2 GB for your repositories with no limits on users or number of repositories at $9 a month. Suitable for small companies and freelancing teams. Codeplane also automatically takes a backup of your repositories and stores them in the Amazon S3.
Developer: Codeplane
Link
6. CodePlex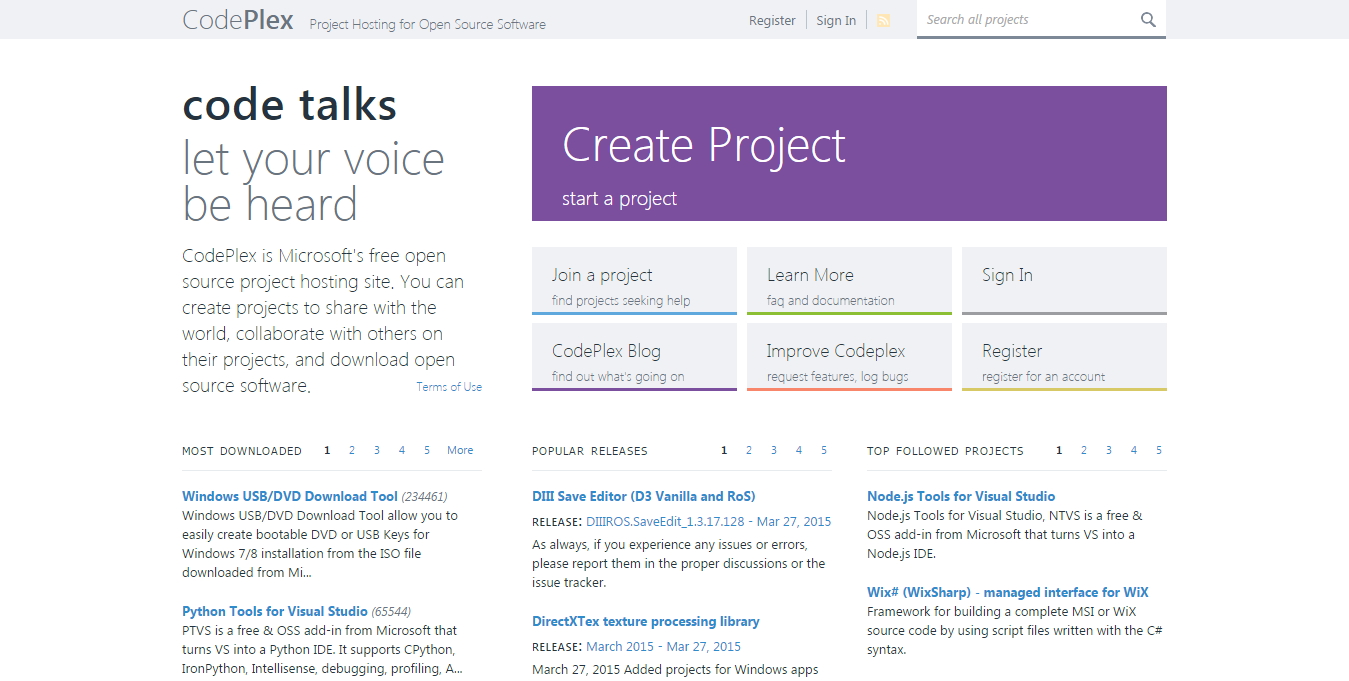 CodePlex is Microsoft's free open source code hosting service. It lets you create projects each of which get a domain customname.codeplex.com
Like Sourceforge, this means your Projects need unique titles which have not been used before by another project. CodePlex gives you the option of either Git, Mercurial or Team Foundation Server (TFS) as your Version Control. All CodePlex projects are private for a maximum duration of 30 days, after which they will be removed if not made public before the expiration date. You do not need to pay to use any CodePlex feature and neither does CodePlex set a cap on the number of users contributing to a project.
Your project's domain leads to your project's info page. CodePlex does not let you create a custom website for your project.
Developer: Microsoft
Link
7. Beanstalk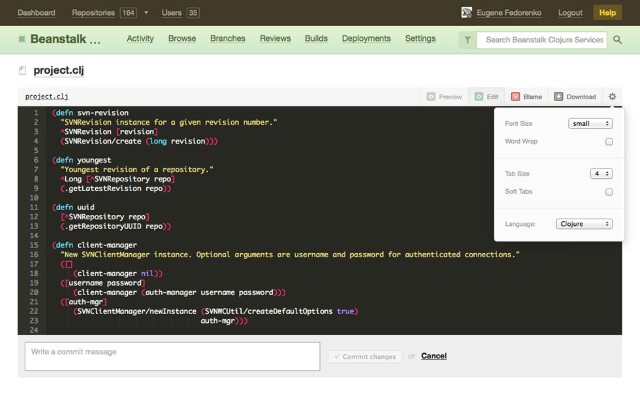 Beanstalk is again a paid alternative to GitHub. It lets you try it out for 2 weeks free of cost, after which you need to pay. Its cheapest package "Bronze" costs $15 and allows up to 5 users, 3 GB storage and a maximum of 10 repositories. Subversion and Git Version Control Systems are supported by Beanstalk.
Like GitHub, it allows you to edit your code in the browser itself, so you don't always have to switch over to the command line.
Developer: Wildbit
Link
Comparison Table
Here is a complete comparison of all the features across all 8 (GitHub and 7 alternatives) source code hosts discussed in this article :
| Features | Github | Bitbucket | Sourceforge | Gitlab | Kiln | Codeplane | Code Plex | Beanstalk |   |
| --- | --- | --- | --- | --- | --- | --- | --- | --- | --- |
| Pricing* | Free | Free | Free | Free | $18/mo | $9/mo | Free | $15/mo | |
| Private Repo | Paid | Unlimited, Free | Yes | Unlimited, Free | Paid | Unlimited, Paid | Unlimited, Upto 30 Days | 10 | |
| Public Repo | Unlimited, Free | Unlimited, Free | Yes | Unlimited, Free | Paid | Unlimited, Paid | Unlimited | 10 | |
| Storage Limit | 1GB per repo | 2GB | None | None | None | 2GB | None | 3GB | |
| Users | Unlimited | 5 & Unlimited if public | Collaboration not possible | Unlimited | 5 | Unlimited | Unlimited | 5 | |
| VCS | Git, SVN | Git, Hg | Git, SVN, Hg | Git | Git, Hg | Git | Git, SVN, TFS, Hg | Git, SVN | |
| Graphs | Yes | No | No | Yes | No | No | No | No | |
| Web Hosting | Static sites. Page generator | Static sites | Dynamic Sites, CMS | Static | Yes | No | No | No | |
| Code Review | Yes | Yes | Yes | Yes | No | No | No | Yes | |
| Wiki | Yes | Yes | Yes | Yes | Yes | No | Yes | No | |
| Bug Tracking | Yes (Login Required) | Yes | Yes | Yes | Yes | Yes | Yes | No | |
| Discussion Forum | No | No | Yes | No | No | No | Yes | No | |
*Free versions considered for this table. For services which have only paid versions, lowest priced versions have been considered.
* The comparison table is best viewed in Desktops
SEE ALSO: 15 Best Free PHP Frameworks
Please share this article if you found it useful. Please leave any suggestion/queries in the comments below.