Apple has just released the iPhone 11 and it's shaping up to be a really good phone. Despite bringing more powerful hardware and better cameras, iPhone 11 is priced cheaper than last year's iPhone XR. At just $699, iPhone 11 is certainly a good buy. I also love the new matte design of iPhone 11 which makes it look a bit more stealthy. That being said, it is still featuring a glass back and no matter how tough a glass Apple is using, it is going to break if you drop your device. Well, if you don't want to suffer the consequences of dropping your phone, you better slap a case on it. In this article, we are going to list out the 10 best iPhone 11 cases and covers that you can buy.
Best iPhone 11 Cases and Covers You Can Buy
1. Spigen Ultra Hybrid Case for iPhone 11
Let us start our list with one of the best case makers, Spigen. Spigen is an industry leader in smartphone case industry and their Ultra Hybrid case is one of my favorites. The best part about the Ultra Hybrid case is that not only it brings desired protection to the brand new iPhone 11 but it also lets you flaunt the new design language. Since the case is crystal clear, it enhances the look of your iPhone. Also, it packs in a hardback which brings ample protection against drops and falls. I also love the fact that it features a slim profile which does not add noticeable bulk to the device. Finally, it brings Spigen's AirCushion technology which is great for providing extra drop protection.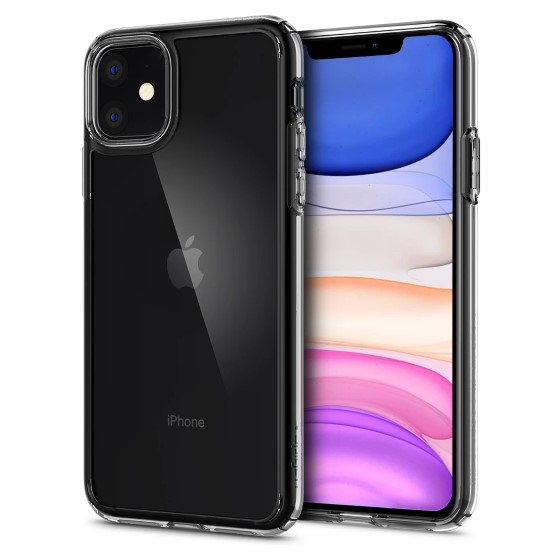 Buy from Amazon: $11.99
2. Official Apple Cases for iPhone 11
With the launch of iPhone 11, Apple is also launching its official case series for the phone. If you love the premium design language of Apple, you should check them out. For starters, the new crystal case for iPhone 11 from Apple just looks gorgeous. Available in the matte finish it enhances the look of iPhone 11 while bringing drop and scratch protection. If you are looking for something more sturdier, you should check out the silicon line of cases from Apple. Not only they provide extra protection but they are also available in multiple colors. Finally, there are the leather and leather folio cases for anyone who wants that premium leather touch. The clear and silicon cases are available for $39 while the leather and leather folio cases cost $49 and $129 respectively.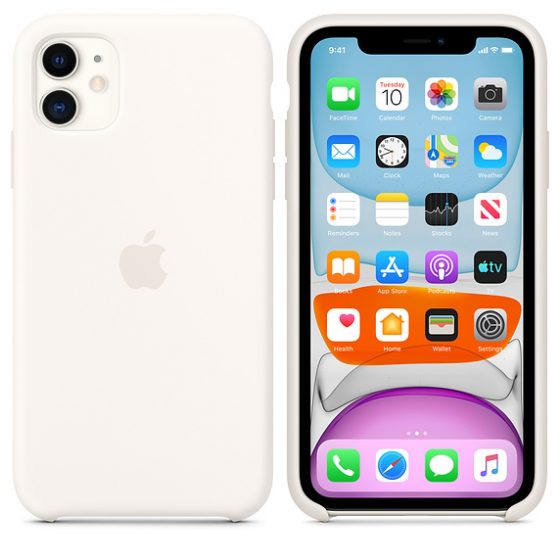 Buy from Apple: Starting at $39
3. OtterBox Defender Series Pro Case
If extreme protection is what you desire then OtterBox cases are for you. The company is known for making tough cases for iPhones and their Defender Series Pro Case for iPhone 11 is one of the best in the market. Not only the case protects your iPhone against drops and falls thanks to its hard and rugged design but it also protects your phone from becoming a playground for germs. The anti-microbial coating on this case ensures that your phone remains free of most common germs. The case also brings a built-in hands-free kickstand which is perfect for watching videos for long periods. The case does ask for a premium but it is worth it if you can afford it.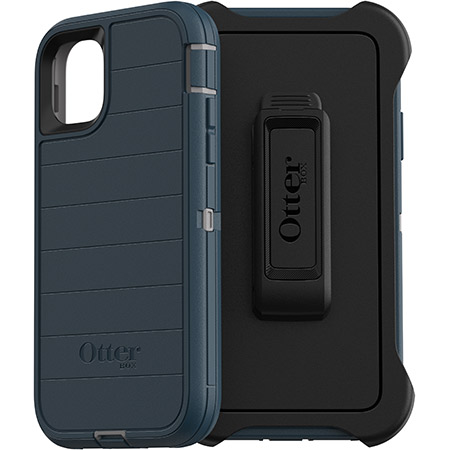 Buy from OtterBox: $69.95
4. Caseology Skyfall Case for Apple iPhone 11
If you are looking for a quality case but don't want to spend a premium then Caseology cases are for you. The company is known for manufacturing quality iPhone cases for a budget price and I enjoy their products. The case we are featuring here is called the Skyfall case. It brings a hybrid design which pairs a clear hard-back with a protective bumper. This allows the case to protect your iPhone 11 despite managing a slim profile. The clear hard-back ensures that you can see the beauty of your iPhone 11 while keeping the scratches and scuffs at bay. The bumper brings air cushion technology along with reinforced corners thereby providing drop protection. And you know what, it doesn't burn a hole in your pocket.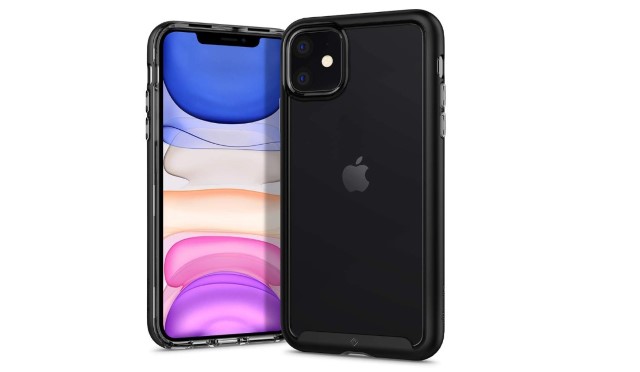 Buy from Amazon: $13.99
5. Eonfine Shockproof Full-Body Heavy Duty Protection
If you cannot compromise with protection and want something that can protect your brand new iPhone 11 from all sides, then you should check out this case. The Eonfine shockproof case brings full-body heavy-duty protection to the table. That means, not only it protects the back and sides of your iPhone 11 but also the front. Made of a combination of hybrid hard Polycarbonate and Thermoplastic Polyurethane (TPU) materials, the case can handle drops easily. The sensitive screen protector at the front also ensures that while the screen is protected, you don't encounter and touch inconsistencies. Finally, it also looks great. I mean just look at the picture below. It brings a rugged look which very few cases can match.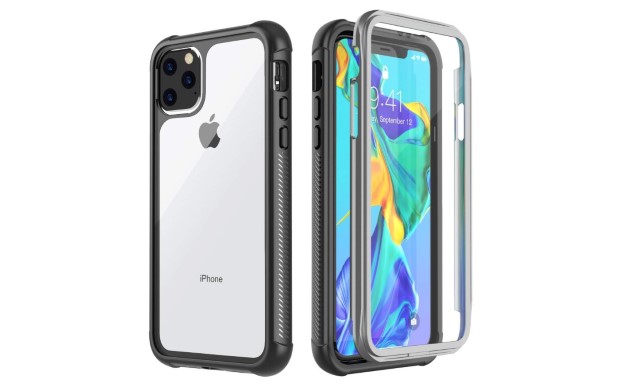 Buy from Amazon: $17.69
6. Fly Hawk Wallet Case for iPhone 11
I love wallet cases as they allow me to carry a few cards and some cash right with my phone. That means, if I am going out for a quick bite or meeting, I don't have to carry my full-time wallet. If you also enjoy the multi-purpose nature of wallet cases then you are going to like the Fly Hawk wallet case. First of all, the case is made with PU Leather which lasts longer and retains its original color. Also, since it's not real leather, you can easily carry your Apple Card without fearing any discoloration. Talking about the case itself, it brings two pockets allowing you to carry multiple cards or a single card and some cash. The edges on the case have raised lips to protect against minor drops and falls. That said, the case is pretty light and slim so it won't add much bulk to your iPhone 11.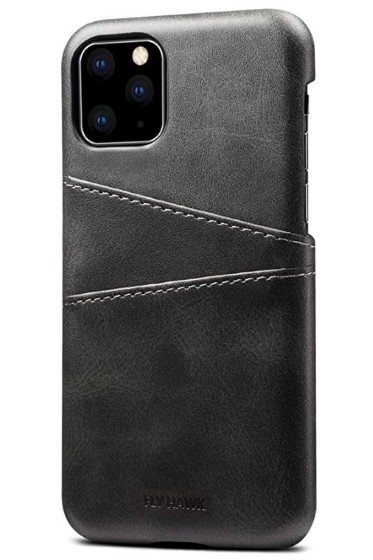 Buy from Amazon: $14.99
7. Spigen Neo Hybrid Case for Apple iPhone 11
Another Spigen case that I enjoy is the Neo Hybrid Case as it brings ample drop protection while maintaining a somewhat slim profile. The Neo Hybrid case features a dual-layer design with rigid frames and textured back. The case also feels slightly curved to bring an ergonomic in-hand feel with extra grip thanks to the textured back. The rigid frame ensures that your brand new iPhone 11 is protected against any daily mishap. The case also enhances the acoustic of the phone by bringing a new 3D sound tunnel which amplifies the phone's audio rather than dampening it. The Spigen Neo Hybrid is one of the best iPhone 11 Cases that you can buy right now.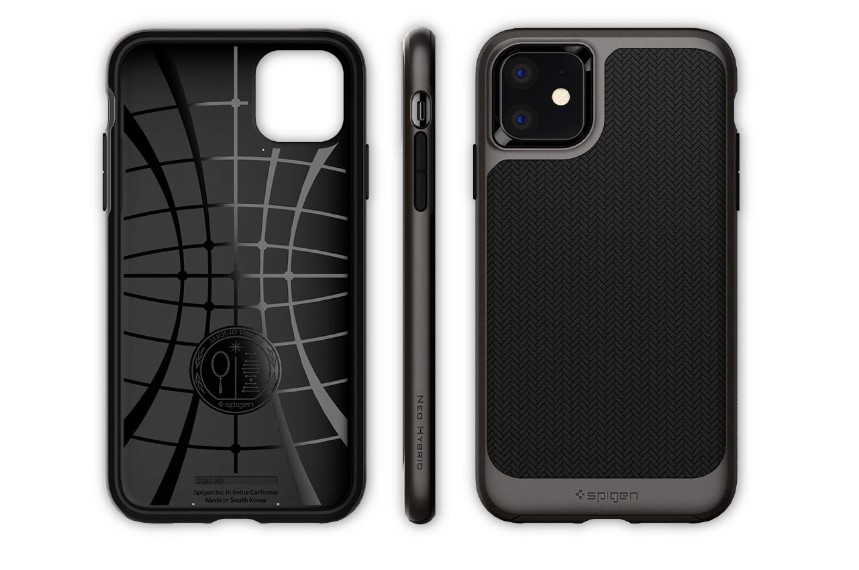 Buy from Amazon: $13.99
8. Razer Arctech Case for iPhone 11
Razer has just unveiled a new Artech series of cases for the new iPhone 11 which promises to keep the phone cool even during extended gaming sessions. We all know that the A13 Bionic chipset that is powering the iPhone 11 is a beast and with the new Apple Arcade looming on the horizon, it's the perfect device to get your game on. The cases are available in three variants; the Arctech Slim, the Artech Pro, and the Arctech THS edition. The Arctech slim is for people who want a slimmer case while the Pro and Pro THS is for users who want enhanced drop protection. You can buy the cases directly from Razer's website. The Arctech Slim case starts at $29.99, while the Arctech Pro and PRO THS cases are priced at $39.99 and $44.99 respectively. These are some unique cases and you should check them out.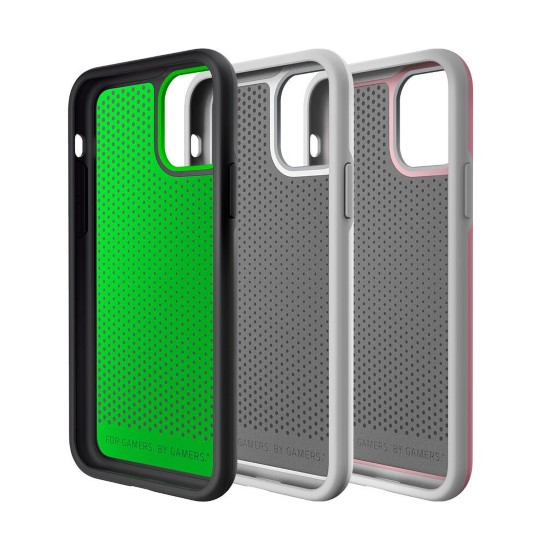 Buy from Razer: Starting at $29.99
9. Fly Hawk Folio Case
If you love folio cases but don't want to drop a staggering $129 on Apple's leather folio case then this should suit you just well. The Fly Hawk Folio case for iPhone 11 is made using PU leather which is durable and lasts long. The case is multi-purpose like other folio cases and brings three card-carrying slots along with a big slot for carrying cash and receipts. It provides 360-degree protection to iPhone 11 thanks to the front cover featuring a magnetic lock design. The case gives you easy access to all the ports and even supports pass-through wireless charging. That means you won't have to take out the case for charging your device. For its price, this a feature-rich case and probably the best folio case that you can buy for your iPhone 11.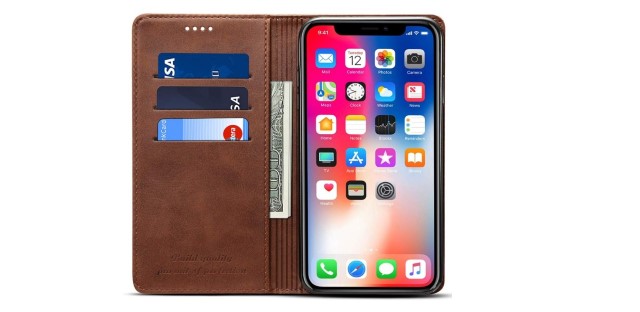 Buy from Amazon: $16.99
10. DTTO Slim Fit Case
The last case that we are featuring on this list is a slim fit case which is perfect for anyone who doesn't like bulky cases. Despite being slim, it brings ample protection to the table thanks to its triple-layer design. Made of silicone, the case is soft to touch and enhances the grip of the phone. The case also features raised lips at the front to provide some protection to the display. The inner side of the case features a honeycomb grid patter which is best for heat dissipation. This means it will keep your phone relatively cooler. Finally, it just looks cute and awesome. It is currently available in three different colors; black, crystal pink, and mint green with the last being my favorite.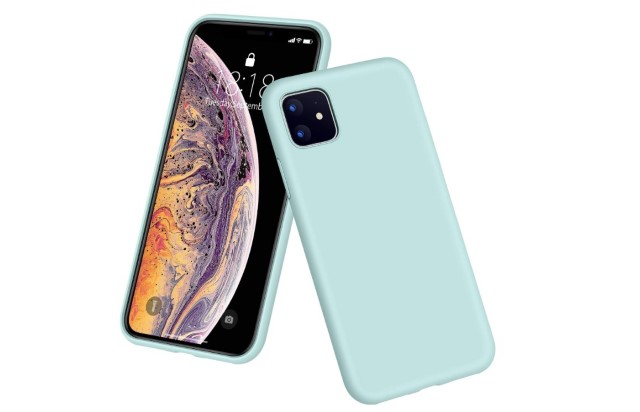 Buy from Amazon: $17.99
SEE ALSO: 10 Best iPhone 11 Skins and Wraps You Can Buy
Choose the Best iPhone 11 Cases to Protect Your Phone
That ends our list of the best iPhone 11 cases and covers that you can buy. I have featured clear cases, hard cases, hybrid cases, folio cases, and many other kinds of cases in this article. All the cases mentioned on this list are quality cases and you won't regret purchasing any of them. Except for the Razer Artech case, as it is new and we have to wait and see how they perform. Anyway, do let us know which iPhone 11 case you went with by writing in the comments section below.